The year 2013 was the year advertising officially went mobile in a big way. Mobile advertising revenues surged 105% in 2013 capturing US$18 Billion in sales, and the entertainment and retail categories were among the biggest spenders. By the end of 2015, there will be an estimated 2 billion smartphone users on the planet, effectively pushing the annual spending on mobile advertising to even larger amounts. Mobile advertising firm Millennial media has released its S.M.A.R.T. report for 2013, which provides key insights on the upcoming trends in mobile advertising.
The Main Highlights Of The Report Are:
Entertainment category moved to first place in mobile spending, pushing retail to second position.
Spending on sports related campaigns grew by a whopping 489% in 2013 followed by employment which grew at 209%.
34% of all advertising campaigns on mobile including the installing of applications, especially in the entertainment category.
The main campaign goal of advertisers in 2013 was to attract traffic towards a mobile website. The goal of brand awareness was especially important for retailers.
In the automobile and education segment, rich media and video ads received far more attention than standard banner ads.
Game applications have maintained the top spot among all application categories for the past three years. Communication apps have moved up to third place.
Android OS accounted for 54% of the platform impression in 2013, while iOS had 38%. Among devices, smartphones accounted for three-quarters of advertising impressions.
Based on all the trends, a clear picture of how different categories market their services becomes clear. Aspirations are also clearly different for advertisers in various fields. Nevertheless, most of the categories have increased their advertising spending on mobile by triple digits in 2013.    


Entertainment Industry Is Focused On Brand Awareness
The entertainment category was the biggest spender on mobile advertising in 2013. This trend is likely to continue as the industry is supported by movie studios, television studios and major video games. For this category, brand awareness of shows and products is important and that explains their dominance. The industry is targeting mobile devices aggressively as video viewership among mobile device users is set to reach 50% by the year 2016.
It was also interesting to observe the actions undertaken after an entertainment ad was clicked on. 32% of entertainment advertisements were directed toward installation of applications while 53% included a watch video option. The motive of launching or releasing a new product was included in 20% of all entertainment campaigns in 2013. Android OS has the largest impression share of 54% among all mobile OS platforms, hence the entertainment industry will need to aggressively promote its campaigns on Android.
Sports campaign advertisement spending grew by a massive 489% Y-O-Y. This is not surprising given that the largest viewership time on online videos are tilted towards sports. Global sporting events such as the Olympics and the upcoming FIFA 2014 World Cup are big attractions for advertisers.
Retail Industry Aspires For More Mobile And Foot Traffic
Advertisers in the retail industry are the most frequent users of post click actions. The most frequently included post click application was m-commerce, with a frequency rate of 45%. The other two major actions were store locator and retail promotions. A new segment called dynamic functions includes unique features such as swiping, shaking and tilting the phone. This is an action which is steadily gaining popularity among advertisers and it was featured on 7% of all campaigns in 2013. Retail was the largest user of this application with a frequency rate of 14%. The main goals of these campaigns were to increase site/mobile traffic and to bring more customers into standard retail outlets. Apple Inc. (NASDAQ:AAPL) iBeacon technology promises to revolutionize the industry even further. Apple iOS users are also more likely to make online purchases, hence targeting this segment will be the key for all major retailers.
Media And Video Ads Are The Best Ways To Increase Traffic
One of the highlights of mobile advertising in 2013 was the powerful impact of interactive ads. These include features such as gamification, voice recognition, video and beautiful animations. Compared to standard advertising banners, the impact on click-through rates (CTR) is much higher in media rich ads.
The automotive industry saw an average rate of 3.5 times more CTR for media and video ads. Advertisers used videos to highlight the car, and dynamic ads enabled customers to see different car models. Other industries such as Education also had exceptional rates of CTR when interactive tools such as short quizzes, animation and video were used.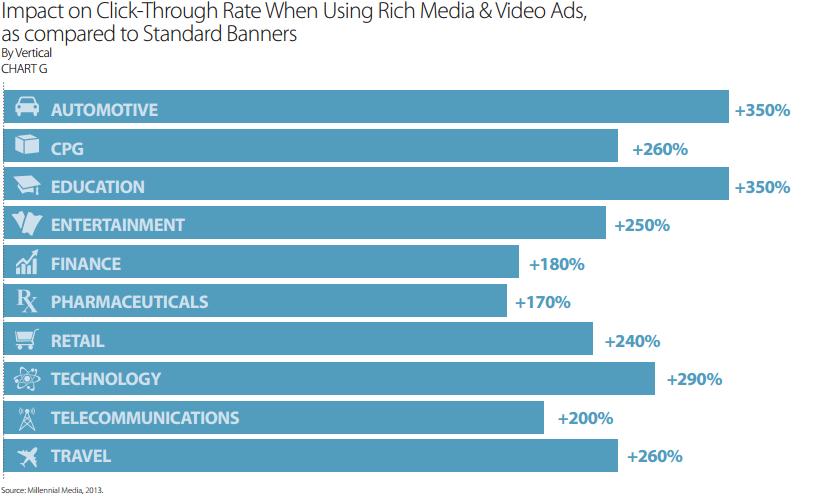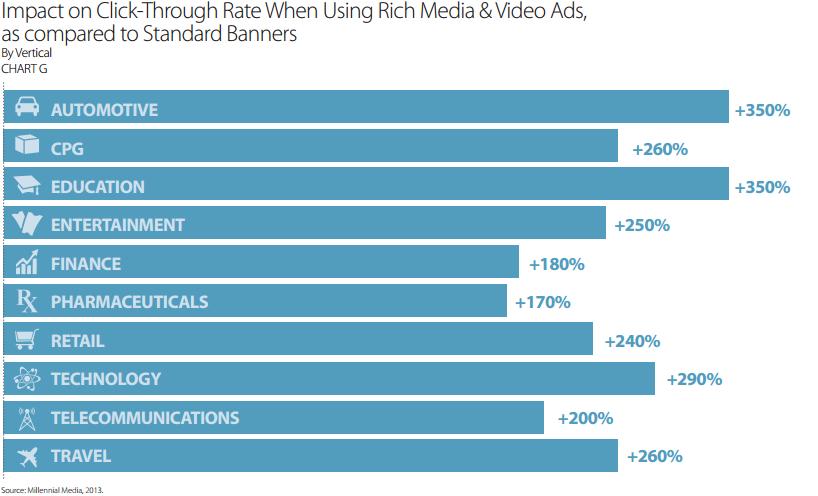 Android Continues To Dominate In Platform Impressions
The declining relevance of BlackBerry Ltd. (NASDAQ:BBRY) OS as a mobile platform has paved the way for advertisers to target other operating systems. In 2013, the Android operating system accounted for 54% of platform impressions, a rapid increase from 48% achieved in 2012. Android OS powers 80% of all smartphones worldwide, and has a market share of 62% among tablets hence it will continue to be the most popular platform with advertisers in coming years. Meanwhile, Microsoft Corporation (NASDAQ:MSFT) is facing a difficult challenge in attracting more advertisers, as the impression share of  Windows Mobile slipped to 1% in 2013 from 3% in 2012.
Apple iOS is the second largest mobile advertising platform with 38% of ad impressions in 2013 increasing from 32% in 2012. 50% of promotional e-mails were opened on Apple devices during the crucial holiday season and its users are far more likely to spend on ads. Fears of Apple's declining market share are unlikely to affect mobile advertisers in the long run.
Impressions from non-phone connected devices increased to 24% in 2013. While tablets form the largest devices in this category, other devices such as connected TVs, gaming systems and wearables are increasingly gaining attention. In the coming years, advertisers who leverage on all platforms effectively with well planned and effective campaigns will reap the full benefits of mobile advertising.