Despite of beating market projections for fiscal Q2 2014, Apple Inc. (NASDAQ:AAPL) has disappointed critics once again. Though the iPhone maker has recovered some of its momentum through strong sales of the iPhone 5s in Europe, Japan and Australia during a three month period ending March 31, 2014, it's constantly losing grounds to Android in its home territory. Meanwhile, Microsoft Corporation. (NASDAQ:MSFT) has emerged as the latest smartphone OEM vendor, after the acquisition of  Nokia Corporation (ADR) (NYSE:NOK) devices and services. Nokia Lumia devices currently account for  93.5% of all Windows Phone 8 powered devices, and Nokia remains a popular brand globally. However, going by the latest Kantar World Panel ComTech sales report for the three months ending March 2014, the Windows Phone faces an uphill battle in most countries, even as sales of cheaper Android phones are growing in China, U.K and U.S.. 

For the year 2013, the market share of Windows OS was still a dismal 3.3%, compared to Android's 78.6%. The most popular Windows Phone device is currently the Nokia Lumia 520, with a 34.3% market share of Windows powered devices. In Europe, Asia and U.S, the Windows Phone OS is still a distant third, and is lagging behind Android and Apple iOS. The delayed arrival of Windows 8.1 update to all WP devices, is also discouraging  customers from purchasing a Windows Phone.
Sales of Android Phones Are Growing In U.S., Leaving Apple Behind
Smartphone penetration in the U.S currently stands at 68%, with 80 million users still without a smartphone. Android phones remained enormously popular in U.S, and had a market share of 57.6%  for the 12 weeks ending March 2014. This is an increase from the 50.3%  market share during the end of November 2013, and a big 8.3% increase from Q1 2013. Apple iOS is not far behind with a 35.9% market share, a decline of 7.8% from the same period a year earlier. Apple is still the top OEM vendor in U.S, and currently has 41.3% of the smartphone OEM market. Windows Phones are still the least selling, with just 5.3% of the market share, an overall decline of 0.3% from the same period last year.
Android Has An 80% Share of  The Smartphone Market in China In Q1 2014
Sales of Android powered devices were a whopping 80% in China, for the three months ending March 2014. This gain of 8% from the same period last year is significant, as local vendors such as ZTE Corporation.(SHE:000063) and Xiamoi have waged a price war to bring out the cheapest Android products. In a country with 700 million smartphone users, most of whom can't afford a premium model, this ensures Android's dominance. Apple iPhones accounted for 17.9% of market share, a decline from 23.3% market share achieved during the three months ending March 2013. Despite the decline, Apple's Q1 results were excellent, thanks to strong sales of iPhones from China. Windows Phones have had little or no impact, and accounted for just 1.0% of the market share, declining from 1.9% during the same period for 2013.  High-end Lumia models are more popular in China, than low-cost models. Local vendors have not yet divulged any plans to develop Windows phones.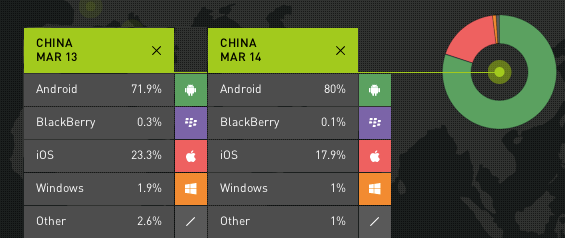 Windows Phones Are Popular In Australia
Australia presents a unique scenario and a ray of hope for WP OS. Sales of Android powered devices actually declined by 4.3% in one year, and currently account for 57.3% of market share. All other major Operating systems including Windows OS have picked up sales, with iOS gaining the most to 33.1%.  Windows phone also grew by 2.8% in one year, to control 6.9% of market share.
Japan Has Fewer Smartphone Users, But Loves The iPhone
The Popularity of Apple iPhone remains unsurpassed in Japan, and accounts for a whopping 57.6% of  the smartphone market, a big gain of 8% in one year. The decline of Blackberry OS, lack of momentum in Android sales, and a tie-up with NTT Docomo has helped iPhone get to the very top. The popularity of Apple iPhone can be attributed to good design, 4G capability and device reliability. The market share of Windows phones was under 1%, despite the low 40% Smartphone penetration in Japan. Since penetration is far below that of Europe and U.S., plenty of scope still exists for disruption.
Declining Sales Of Windows Phone In Europe Is Bad News For Microsoft
In all the top five European countries, Great Britain, France, Spain, Germany and Italy, the decline of Blackberry and other operating systems has produced big gains for Android OS and Apple's iOS. For Q1 2014, Android phones accounted for 70.7% of the smartphone market, while Apple iPhone stood at 19.2%. The market share of  iPhone has risen steadily in France, Great Britain and Spain during the first quarter of 2014.
The share of Windows phones jumped to 10.0%, towards the end of November 2013, but have slumped ever since to 8.1%, a decline of 20%  in just four months. Despite a 1.6% growth from last year, Microsoft is facing serious challenges and remains a distant third in Europe. During  Q1 2014, 13.9% of smartphones in Italy were Windows powered and it remains the best market for Windows phones, despite a decline from 16% market share, during the three months ending November 2013.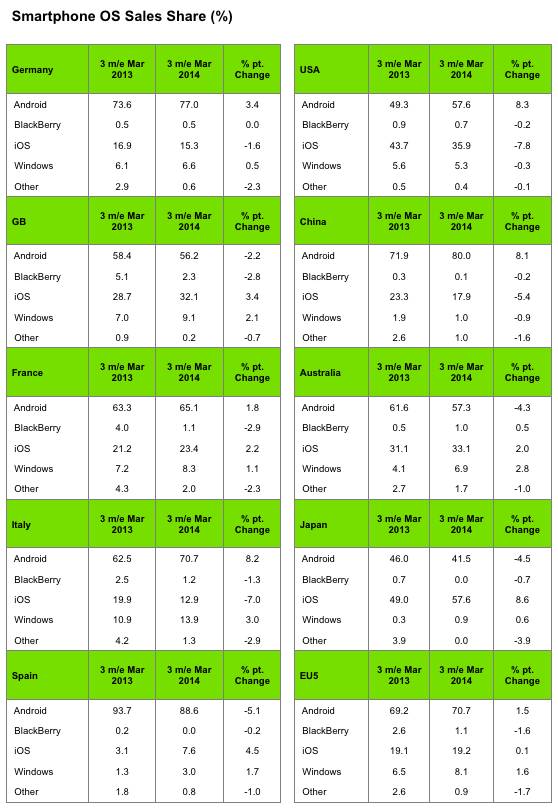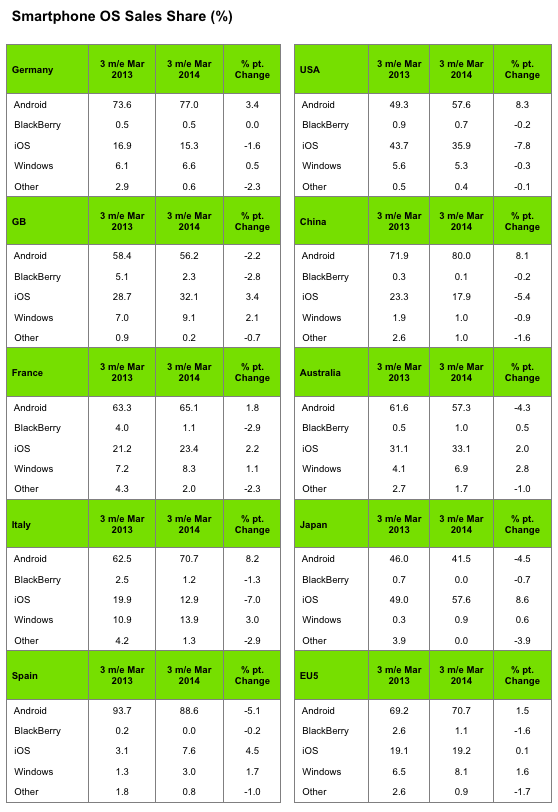 The Next Frontier Will Be Budget Smartphones
All these trends are indicative of the various challenges Microsoft faces in promoting Windows Phones. It has apparently entered the smartphone race too late, as it faces a dominant Android, which leads in both market share and sales share. In countries with high smartphone penetration, such as UK and U.S, the only remaining customers are those yet to make the jump from handset to smartphone. These customers prefer a entry-level product such as the Moto G, which is now a best seller in U.K.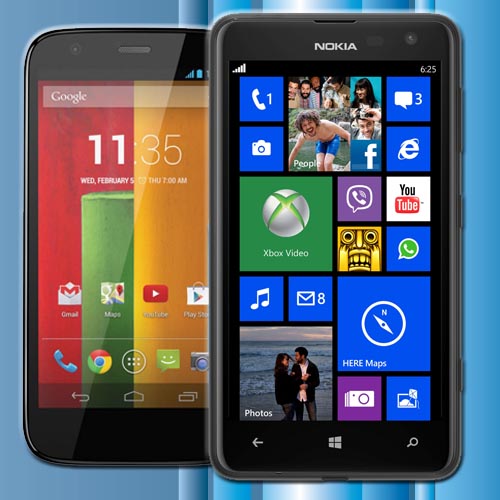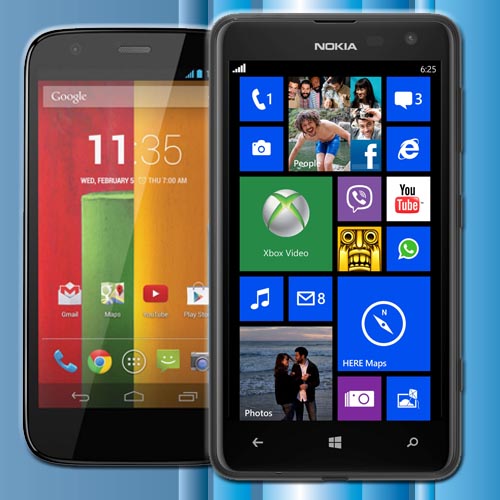 Apple Inc remains popular in Japan, China and in most countries with prospective buyers, looking to replace their second or third smartphone. The next Apple iPhone 6 will reportedly have a screen size of 4.7 inches and is sure to find several buyers in China and mostly Asian countries. According to the report, in China, devices with a screen larger than 5-inch made up 40% of smartphone sales in March.
In emerging markets, the situation is radically different. Microsoft has apparently entered the race too late, as Android already dominates, and local vendors are still choosing Android as the preferred OS for their products. Until Microsoft can display the full potential of the new Windows 8.1 update on the Nokia Lumia device for developers, reluctance among vendors to move away from the Android OS will continue to persist, despite offering the WP OS for free. The Lumia 520 and Lumia 620 were the only basic entry-level Windows Phone OS device, which captured most of the initial Windows Phone market.  Nokia has already announced new models such as Lumia 630 and Lumia 930 to compete with Moto G and other low- cost models.
This is the first time for smartphone buyers that this period is proving to be a golden era. The average selling price of a smartphone is coming down fast, and buyers will be spoilt for choice between Android OS and Window OS  budget smartphones.