Apple Inc. (NASDAQ:AAPL) has announced its financial results for its fiscal Q2 2014, which ended on March 29, 2014. The results have beaten all expectations as the company posted healthy revenues and profits, despite the lack of any significant product launches since November 2013. Apple posted a net quarterly profit of US$ 10.2 billion, up from US$9.5 billion in Q2 2013, and a decline from US$ 13.1 billion from Q1 2014. Earlier estimates had pegged the revenue for the quarter between US$42 and US$44 billion, but Apple cruised along to capture revenues of US$45.6 billion. The profit per share was US$ 11.62 , beating estimates of  US$ 10 a share. This news comes as a huge relief for Apple, which  has often been criticized for its lack of innovation and slowing growth pertaining to iPhone sales. Even its fiercest competitor, Samsung Electronics Co.Ltd. (KRX:005930) posted revenue below expectations for its fiscal Q1 2014. Following the company's earnings report, the share price increased by 7.5%.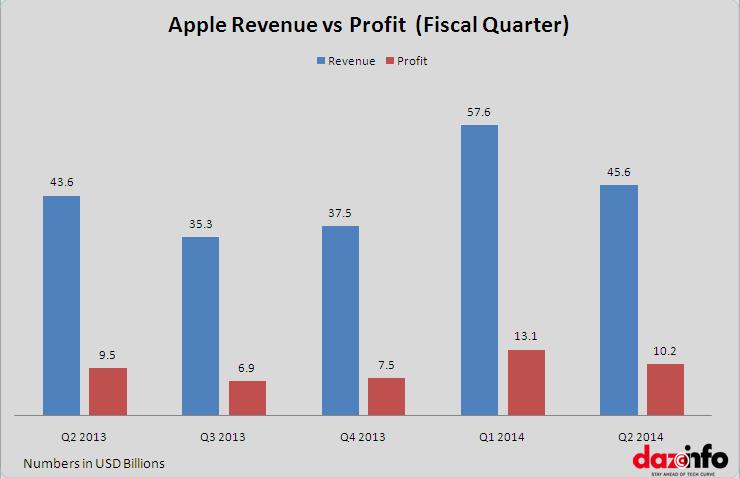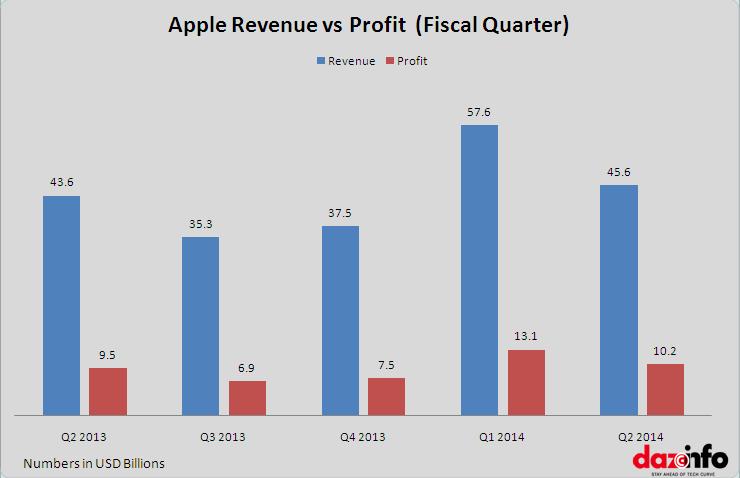 The CEO of Apple, Tim Cook was obviously upbeat about the company 's performance:
"We're very proud of our quarterly results, especially our strong iPhone sales and record revenue from services. We're eagerly looking forward to introducing more new products and services that only Apple could bring to market."
The Main Highlights Of Apple's Fiscal Q2 2014 Report were:
Profit for the quarter totaled US$10.2 billion on revenue of US$45.6 billion, the company's highest ever for a non-holiday quarter.
43.7 million Apple iPhones were sold, up from 37.43 million iPhones sold during Q2 2013. In the tablet segment, 16.35 million iPads were sold, a decline from 19.48 million for the same period last year.
The company sold 4.1 million Macs, a slight decrease from 3.95 million sold during Q2 2013. Sales of iPod were the lowest, at just 2.7 million for Q2 2014 and a steep decrease from 5.63 million a year ago. There were also 800 million iTunes accounts, as of March 2014.
Over the past 18 months, Apple made 24 acquisitions.
Apple also announced a seven-for-one stock split in June, and an increase on share repurchases from US$ 60 billion to US$ 90 billion.
Strong Sales Of iPhone Show Apple Is A Phone Company First
In Q2 2014, Apple surprised most analyst's expectations by selling 43.7 million iPhones, a decline from 51 million iPhones sold in fiscal Q1 2014.  Previous estimates had pegged that number at 37.3 million iPhones, given that demand is usually smaller in the first three months of the year, after the closure of holiday season in America and Europe.
Sales of iPhone also account for more than half of Apple's revenue. In the U.S smartphone sector, Apple is still the largest OEM, grabbing a majority of profits in the U.S smartphone sector. Several emerging markets such as Brazil and Indonesia reported double-digit growth, with sales in India also doubling. This upsurge can be attributed to several buyers in emerging markets, having aspirations of owning an iPhone. Interestingly, during the earnings call for the Q2 2014 report, Apple CEO Tim Cook mentioned that in China, 60% of iPhone buyers had switched from Android.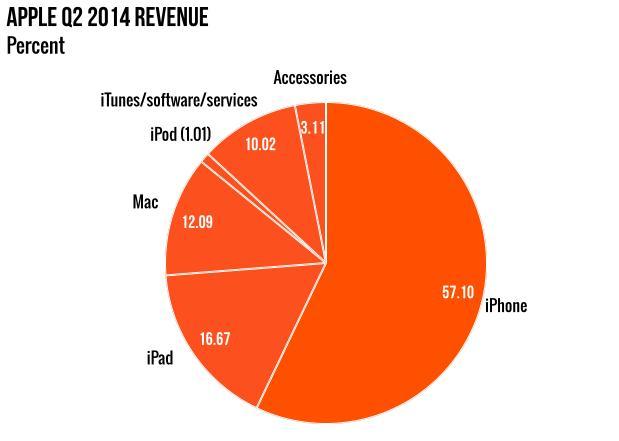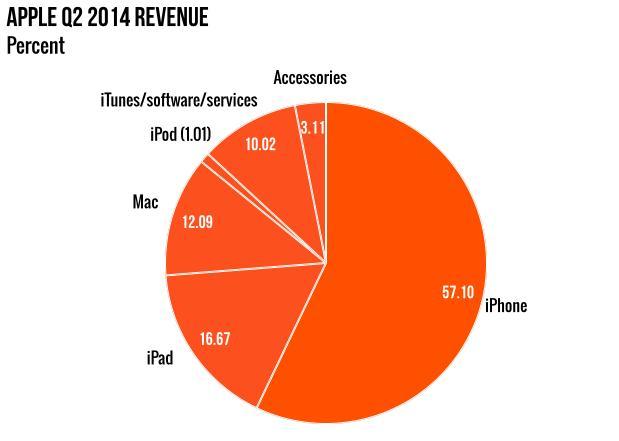 China Contributed a Fourth of Apple's Revenue In Q2 2014
Tim Cook was extremely pleased with the company's performance in China, which contributed revenue of US$10 billion in this quarter alone. The key factor responsible for the upsurge may have been Apple's deal with China Mobile Ltd. (ADR)(NYSE:CHL), the world's largest telecom carrier with more than 700 million subscribers. This reason alone may have accounted for 5 million iPhones sales, which is  a minuscule amount, but the full impact of the deal may be felt only over the next few years. It is estimated that the deal could generate 20 million iPhone sales, in 2014 alone. Another key market was Japan, where revenues grew by 26 % to US$3.9 billion, with sales of iPhones up 50% Y-O-Y. In Japan, the market share of iPhone currently stands at 55%, especially since the country's biggest carrier NTT Docomo Inc. (TYO:9437) began offering the device last year.
Based on all these figures, it's relatively safe to assume that Apple's fortunes are directly dependent on the iPhone. The tech giant may also be scooping up a majority of late adopters in first world smartphone markets, such as U.S, where 80 million mobile users still do not have a Smartphone. Sophisticated consumers may also be switching to iPhones, after using Android products as their first choice. Apple has also maintained a good track record of maintaining its core customer base, with at least 76% of users preferring to stick with their Apple products.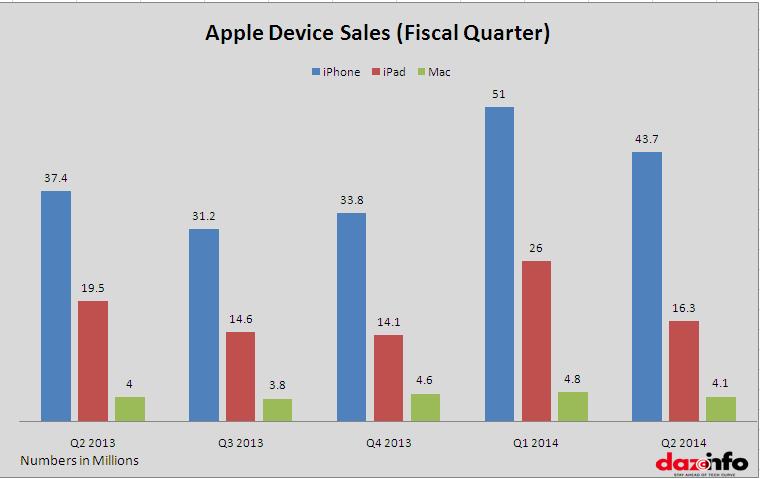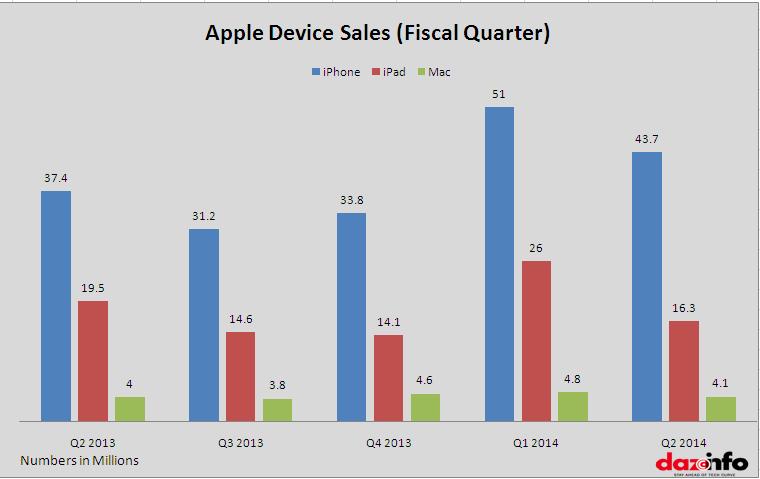 Did Price Cuts Tilt The balance In Apple's Favor?
The average selling price of Apple's products fell by 41$ in the last quarter to $596. According to Apple, half of that 41$ was due to the high demand of products such as the iPhone 4S, which are still a huge draw in China and India for first time Apple Users. This explains why Apple still keeps its portfolio of older devices, to attract first time customers who are interested in iPhones. By lowering the cost of its older models on a regular basis, consumers in the mid-range segment are more likely to consider an iPhone as their next smartphone. This may be Apple's best kept secret. Customers, who choose an Android product as their first smartphone, are more likely to switch to Apple for their next purchase.
Is This A Surprise Boost Or The Beginning Of A Wider Recovery?
Concerns will continue to persist whether Apple can grow in a saturated smartphone market. The company was the only major smartphone vendor that lost its market share in 2013, and is still shrinking  steadily in several key smartphone markets.The company's own executives are concerned about where future growth will come from, according to documents obtained in the Apple-Samsung Patent trial. With several rumors suggesting a large screen iPhone 6, being released towards the end of Apple's fiscal Q3, it will be interesting to observe the changes made in the design. That factor alone could decide if the iPhone 6 will be a crowd-puller in all global smartphone markets. For the time being, no matter what products Apple comes up with, the iPhone is undoubtedly at the core of the company's future.