Well, after years of speculation the long rumoured and much awaited deal between Apple Inc. (NASDAQ:AAPL) and the world's largest telecom carrier China Mobile Ltd. (ADR) (NYSE:CHL) has finally come to fruition. Just after China Mobile unveiled its home-grown technology, 4G network, they announced their partnership with the best global brand, Apple. Its been 6 long years for the Apple and China Mobile negotiation to enter an agreement mode and start selling the iPhone 5s and the iPhone 5c across mainland China. The new iPhones will run on China Mobile's 3G as well as 4G networks and it is expected to enter the market with iPhones around Chinese new year that starts on 31st Jan. The picture below shows the deal between Apple and China Mobile taking place and was posted by user @eyoonCNBC on Twitter.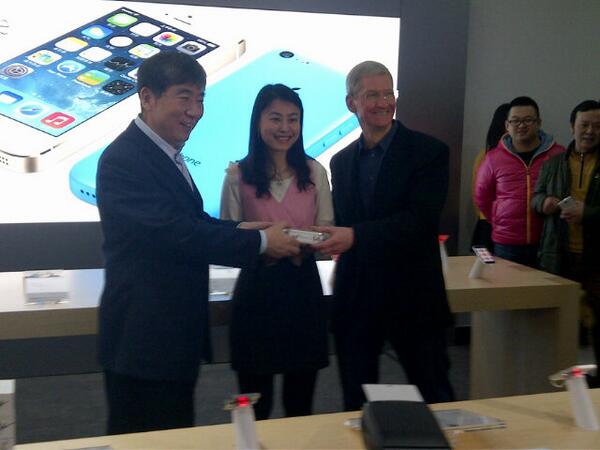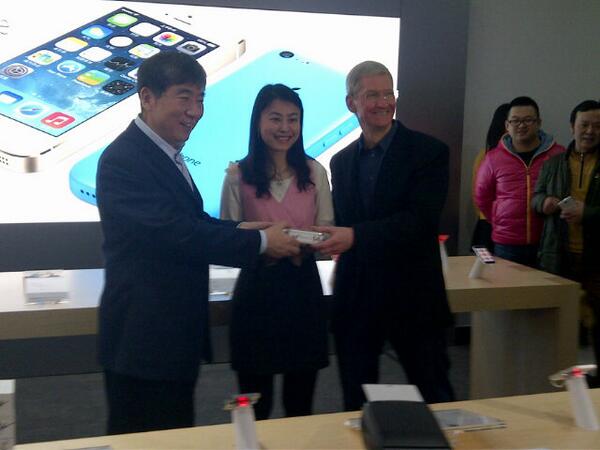 This gives Apple an opportunity to utilize China Mobile's reputation and penetrate the largest mobile consumer market in the world. Obviously for Apple, this should boost the sales figure in Middle Asia where it has not been easy to gain a foothold.
"Apple has enormous respect for China Mobile and we are excited to begin working together. China is an extremely important market for Apple, our partnership with China Mobile presents us the opportunity to bring iPhone to the customers of the world's largest network" said Apple CEO Tim Cook in his statement.
According to Apple, Greater China (China, Hong kong and Taiwan) has been the fastest growing market and has acquired almost 15 percent in sales, whereas the earlier figures were in single-digits. Apple had the third largest sales in this region, after U.S. and Europe. Whereas Apple already has distribution deals with China Telecom and China Unicom, though the sales of Apple Smartphones were unable to surpass its biggest rival Samsung Electronics Co., Ltd (KRX:005930) which accounted for more than 21 percent of the market share in Q3, 2013, compared to Apple with just 6 percent, ranked fifth in China.
China Mobile with 767.21 million subscribers is China's as well as world's largest telecom carrier while China Unicom Limited (ADR) (NYSE:CHU) and China Telecom Corporation Limited (ADR) (NYSE:CHA) accounts 280.98 and 185.58 million users, respectively. This study clearly shows that out of the total 1233.77 million subscribers in China, China Mobile holds 63.8 percent subscribers which is double to that of the other telecom carriers. As the deal has been publicly announced, analysts believe that the average selling price will vary around $525, whereas, in rest of the world it is $575. It is also expected that China Mobile will be able to sell more or less 20 million iPhones in 2014.
With This Deal, Can Apple Dominate?
Undoubtedly Apple is one of the biggest Smartphone vendors in the world accounting for 13.32 percent of Smartphone shipments in Q3 2013, and also leapfrogged its rivals accounting for 42 percent Smartphone users in the U.S. by Q4 2013. But it is very important to note that among Smartphone vendors, Samsung eclipsed every other competitor, and even in China, Samsung holds the largest share of the pie.
Although, Apple has entered in a deal with China Mobile to help its business, it should remain wary of other local as well as global vendors in China which have a strong foothold already. It would not be easy for Apple to capture the worlds largest mobile consumer market within a year or two.
The downside is that other vendors are selling Smartphones at much lesser pricing than Apple's iPhone. But what is more important, is the response and interest of the user. Attracting users is quite difficult as they have various options available in the market with same features and a negotiable price range. Here the iPhones in collaboration with the Chinese giant, can outplay a vital role for Apple's marketing wing.