Global Smartphone market has been growing leaps and bounds since one year. In 2014, it's estimated that nearly 1.75 billion mobile users would be on smartphone and India, China and the U.S., combined, will be holding the lion's share. The growth is largely dominated by Android but despite of enjoying the highest brand aspiration in emerging markets Apple Inc. (NASDAQ:AAPL) is yet to secure a sizeable share of smartphone market. By sensing the enormous opportunity Motorola has re-entered the race, thanks to the strong sales of its budget-phone Moto G. This remarkable return is a testament to the speed at which quality budget phones can disrupt the market. Several local vendors have adopted this tactic in their countries, posing challenges to well-established brands. In France, Wiko mobile has grabbed 8.3% of the market share, while in China, Xiaomi has an 18.5 % market share.
According to a recent report from Kantar Worldpanel Comtech, a firm that tracks mobile handset sales in key markets, Android OS remains dominant worldwide, despite slowing growth. Adoption of the Windows Phone OS is increasing steadily in Europe. Apple iOS market share continues to plummet across several regions, raising questions on the company's future expansion plans. The firm also reports that Smartphone penetration in the U.K stands at 70% in February, with 86% of all devices sold in the past three months being Smartphones.
U.S. Is Stagnated For Apple
Kantar tracked sales of mobile handsets in key markets over 3 months ended February 28, 2014.
The U.S. is witnessing an Android resurgence with an increase of 3.9% market share from last year. Apple's iOS share market fell by 4.9% in the same period despite the release of last year's iPhone 5s and iPhone 5C models. LG Electronics Inc. (KRX:066570) has emerged as the fastest growing Android brand, thanks to the recent release of its flagship model G2. The Optimus range of Smartphones led LG over the previous years. With an 8% share of the U.S. market, LG is now the third largest vendor in sales. Customer recommendation over the past three months, favored the G2 as the most well rated new handset with 9.2 out of 10.The iPhone 5s follows with a 9.1 rating and Samsung Galaxy note at 9.0. Strong user advocacy has helped LG to gain momentum. Windows phone OS has a 5.3% share of the OS market, an increase of 1.2 % over last year.
Android Explosion In China
China is fast emerging as the biggest market for Smartphone vendors. During the 3 months prior to February 2014, the Android OS market share leapfrogged to 80.3 % from 71.0%, a growth rate of 9.3% from the same period last year. The share of iOS crashed to 17.9%, a remarkable contrast to last year where iOS had  24.4% market share. Apple faces major hurdles in China where its flagship phones are facing a market already saturated  with low-budget Android products. Local players, including Lenovo Group Limited (ADR). (OTCMKTS:LNVGY) and Xiaomi are bound to increase competition by releasing more budget phones. Microsoft Corporation (NASDAQ:MSFT) has announced partnerships with Lenovo and other vendors to gain an increase in the market share of its Windows devices.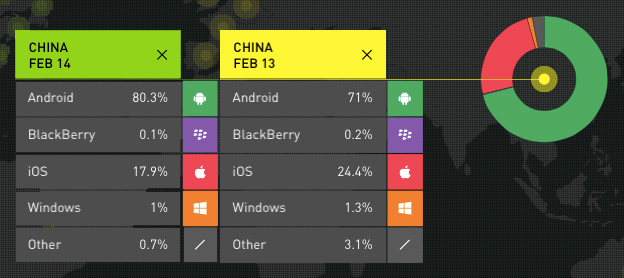 Apple's Fortress In Japan
The island nation presents a ray of hope for Apple. Remarkably, it remains the only country, where iOS usage is more prevalent than Android. Usage of iOS currently accounts for 54.9% of the OS market while Android stands at 44.8% for the 3 months ending February 2014. A growth rate of 1.9% from the same period last year for iOS is good news for Apple. A tie-up with Japanese telecom giant NTT Docomo Inc (TYO:9437) will ensure the iPhone 6 gets a rousing reception in Japan.
Blackberry In Australia
Australia was the only country where the OS for BlackBerry Ltd. (NASDAQ:BBRY) grew by 0.3% to 0.7%. Android still dominates with a 58.5% OS share. Usage of Windows Phone OS also went up in the same period by 1.5% to grab 5% of OS share.
Europe shifting to Windows Phone
France, Italy, Spain, Germany and Great Britain have helped the OS share for Windows Phone to growing slowly, but steadily. Android remains the leader in Europe thanks to strong sales of Motorola's Moto G.
The Moto G has captured 6% of all British smartphone sales. It has attracted the fancy of the youth, with almost half of owners being aged between 16 and 24.Another interesting feature shows that 83 % of owners were male. Its low price makes it a budget product for lower-income groups with 40% of all customers earning under UK£ 20,000.  
The report also goes on to mention the increase of technology orientation among consumers.  Rising commoditization of Smartphones highlights the need for online views and handset cost comparisons to improve decision-making. In Britain, at least 40% of customers are dependent on internet reviews when it comes to a decision about purchasing mobile devices. At least 48% of all the Moto G sales were carried out online. Motorola's success is bound to hurt Samsung and Nokia directly. Samsung's main market remains in the mid-level and low-end category, while sales of Nokia Lumia were best for its low-end model Lumia 520.
Blackberry OS had the largest usage in Great Britain among all countries surveyed with a 3.4% share. Android OS growth was the best in Italy, increasing to 67.6% from 58.5% during the same period last year. Spain has the highest share of Android OS at 88% despite a 4% drop from last year.
The growth of Windows Phone hits Apple's growth in Europe. Share of iOS has plummeted by 2.1% to 19%. Surprisingly, Windows OS grew by 3.1% in the same time to grab 9.7% of the OS market. Apple faces an uphill battle in the coming months till the release of iPhone 6. Motorola's success meanwhile, highlights the significance of budget smartphones. LG has also succeeded, by using its customers to sell its Smartphones,not just itself.