Apple Inc. (NASDAQ:AAPL) founder Steve Jobs had famously declared that he would unleash "thermonuclear war" against Google Inc. (NASDAQ:GOOG). The battle against Google owned Android had become a personal matter to Steve, for what he saw as a cheap imitation of his prized iOS software. Four years after the patent war began between Google owned Motorola and Apple the matter was finally resolved on May 16 2014, as both companies agreed to drop all patent suits and instead focus on patent reform.
The new truce does not mean that the two companies will start licensing one another's patents. It also doesn't put an end to the Apple-Samsung patent war, which is still raging fiercely. Instead, it signals a radical new shift for both Apple and Google, which had wasted time and millions of dollar in legal fees. Although both the companies have never sued each other directly, the agreement may have been made as both companies saw little to gain. Apple may have decided that its bigger war was against larger Android OEM's, such as Samsung, and not with the smaller players. As a result of this agreement, at least 20 pending actions in the U.S. and Germany are sure to be dismissed.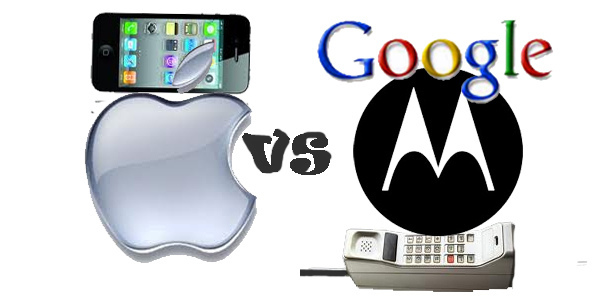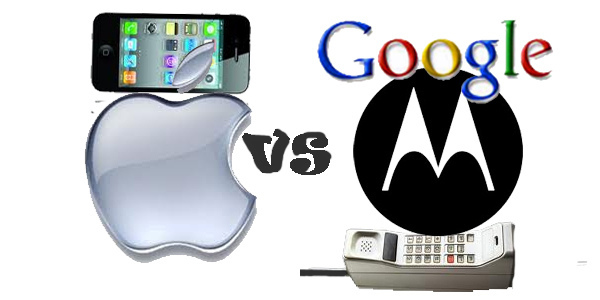 Motorola-Apple Conflict Became An Issue For Google
Patent wars are deeply symbolic in the competitive smartphone industry, and they are a valuable tool among all global tech companies. One single patent can generate enormous revenue for the company through license fees, or usage of products based on patents. In 2010, Motorola had sued Apple for at least 18 patents on a range of key technology areas. Motorola also sought 2.55% of all net sales on iOS products that use industry-standard patents. Apple then proceeded to sue Motorola Mobility in March 2011, for seeking excessive royalty payments for its products. In June 2012, a district court judge threw out the entire case as neither company was able to prove charges.
Sensing a pointless battle Motorola withdrew its patent-infringement claim in the same year, soon after it was acquired by Google. There may have been concerns that the ruling would be in Apple's favor. Google had purchased Motorola for US$12.5 Billion in 2012, and inherited almost 25,000 patents from Motorola, along with most of its legal problems. The case was reopened in April 2014 almost four months after Lenovo Group Limited (ADR) (OTCMKTS:LNVGY) purchased Motorola, minus patents, for US$2 billion. However, as Google had no more activity in Motorola all the associated parties may have decided to close the case.
Apple Will Now Focus On War Against Samsung
Apple is still fiercely clashing with Samsung in a number of patent disputes. Most recently, Apple was awarded a US$119.6 million verdict against Samsung which was one of the bitterest disputes in recent years as both companies hurling accusations at each other. Apple was seeking almost US$2 billion in damages from Samsung a year after it already received US$900 million. Samsung also secured a minor victory, but was awarded just US$158,000 as compensation.
The Apple-Samsung war is deeply symbolic in many ways. Combined, the two companies have a stranglehold on the smartphone market with a global market share of 47%. In several countries, such as China and the U.S., Samsung and Apple are the most dominant OEM's. Apple has often sought the ban on sales of Samsung products in several markets and has sued other Android OEM's in the past, such as HTC Corp (TPE:2498). The closing of the conflict with Google signals that Apple may focus on targeting Samsung more fiercely. Apple's strategy has always been to go after Android OEM's and avoid suing Google directly, as it remains wary of the possible fallouts.
Samsung is bound to escalate matters furthers if it plans to launch its Tizen OS, as reported recently. If the new OS is found to be infringing any of Apple's and Google's patents Samsung will suffer in a long drawn-out courtroom battle. Samsung has already aggravated Google in the past with its Android OS customization, and latter one may no longer be willing to aid its largest OEM partner.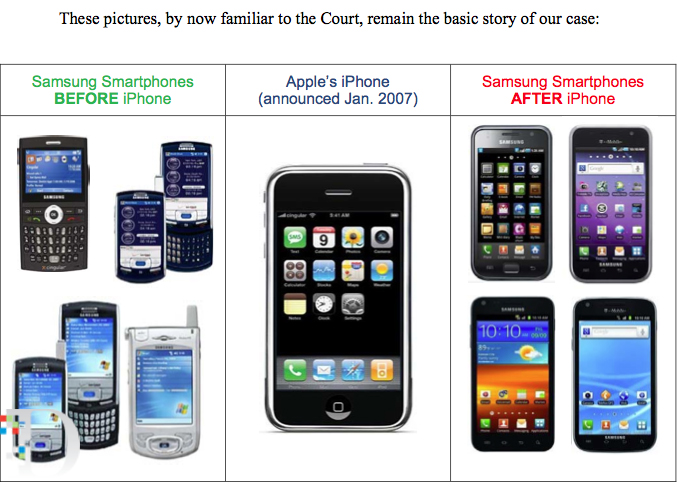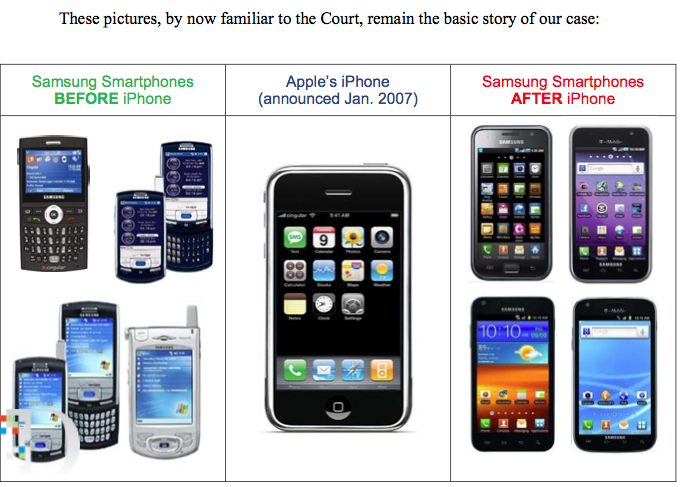 Patent Trolls May Have Been An Issue For Both Parties
There will be no end to patent wars for the years to come as both Apple and Google will continue to increase efforts against patent trolls. These are entities or people attempting to infringe patent rights against infringing parties to earn licensing fees, despite the fact that they don't manufacture products or offer services based on the concerned patents. In 2013,  Apple was forced to defend itself against 42 such cases, amounting to total of 191 cases over five years.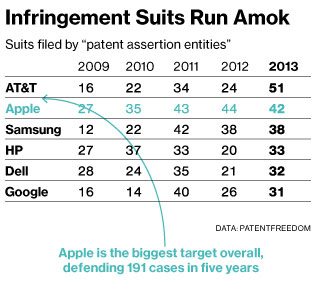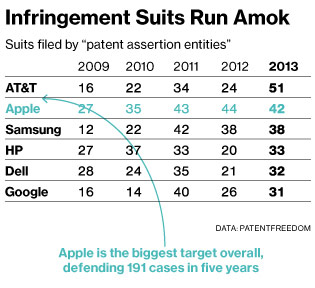 Microsoft Corporation (NASDAQ:MSFT) can be classified as a patent troll as it earns billions of dollars from Android OEM's. The Redmond giant controls some of Android's key patents, and instead of dragging Google to court it chose to earn from the license fees instead. There are companies practicing similar strategies and both Apple and Google are said to be working together on new areas of patent reform.
Through this move Google has effectively washed off its hands from a direct conflict with Apple. It will, however, continue to target companies which attempts to damage Android's reputation as it did with Rockstar Consortium. Meanwhile, Apple will continue to fight hard against Samsung since the battle has immense symbolic significance. A resolution between Apple and Google is a nothing short of a miracle and there is a glimmer of hope of closing the other more significant cases as well.