After pulling out of some markets around the world, no one thought that Motorola would see any kind of growth, even after its mobile handsets business was acquired by Google Inc. (NASDAQ:GOOG). That's because almost everyone was pretty sure that patents related to smartphone and mobile were the biggest reason of the acquisition. Google then did what everyone expected earlier, it sold Motorola to Lenovo Group Limited (ADR) (OTCMKTS:LNVGY) – a top Chinese smartphone brand – for US$2.91 billion. But right before that, Motorola released 2 gem of smartphones; Moto X and the Moto G. As per latest reports, Moto G was one of the best selling smartphones of recent past in India. They've launched the Moto X as well, again, exclusively with Flipkart. With such great launches, many are hoping for a possible turn around of Motorola. And, this provides food for thought: Has Google made a wise decision by selling Motorola to Lenovo?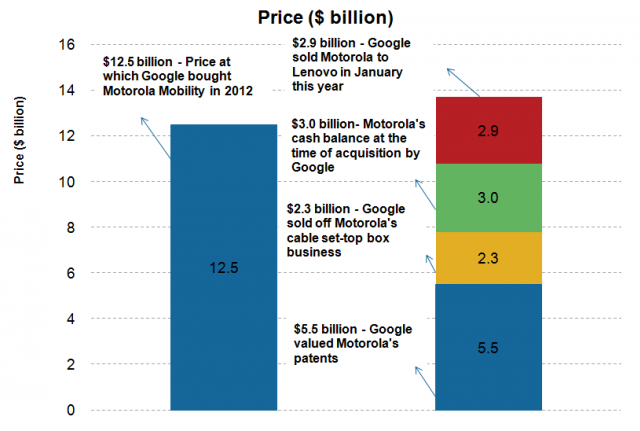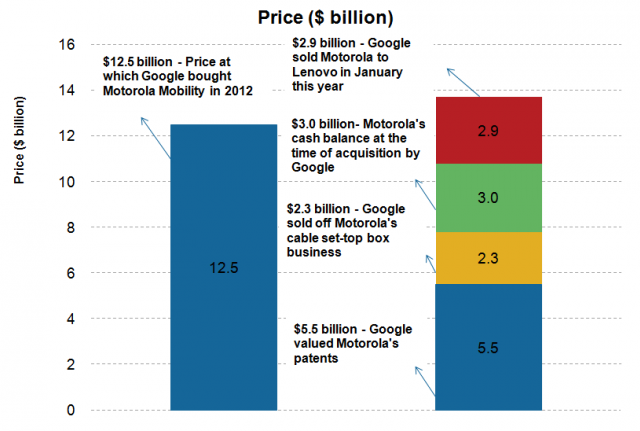 Unhappy ODMs Would Be Android's Biggest Issue
There are two ways to look at what Google may have done with Motorola and what impact would've done to the Android smartphone ecosystem. As we all know, Android has a fragmentation problem. ODMs (Original Device Manufacturers) customise Android so much that a normal consumer couldn't discern a version of Android with other purely based on design or features. One way of Google using Motorola would have been to release more value for money smartphones like Moto G which would teach ODMs like Samsung Group (KRX:005930) and LG Electronics Inc. (KRX:066570) to release better phones at similar prices and force them to spend more time on software optimisation than software customisation. Forcing ODMs through Motorola would've been dangerous to Google. In that case, unhappy ODMs would have drifted towards other platforms such as Windows Phone and Tizen OS. Besides, Google would be eligible to own 5.94% stake in Lenovo by nesting $750 million, which came as a part of the deal.
But Google has chosen the second path. The company could have used the best part of Motorola to defend Android ODMs; Patents. Google has always been known as an internet services company and focussed on software more than hardware. Sure, they are experimenting with Chromecast, Google Glass and Nest Thermostat but these efforts are more oriented towards experimentation and not pure business. According to NextMarket Insights, smartwatch category is supposed to expand to nearly 400 million shipments by 2020.
As Ben Thompson explains, it would be an unwise decision for any big company, be it Microsoft Corporation (NASDAQ:MSFT), Google or Apple Inc. (NASDAQ:AAPL) play on both fronts; hardware and software. Apple has made almost all of its software free and focussed on earning through hardware alone. Even Microsoft has declared to make its Windows Phone OS free for smartphones and compact tablets. Unconfirmed reports also state that Google is planning to drop the Nexus line-up in its entirety in favour of Google Play Edition devices and Android Silver. Android Silver is a plan from Google to award Android Silver certification to selected devices from ODMs which would be flaunting latest OS with little to no software customisation, fast OS updates and 24×7 video chat support.
Google Played Clever Fox
Motorola's best tidbit has been retained at Google – Project Ara. If you are still not aware about Project Ara, it is a concept which allows your to customise a smartphone's hardware according to your personal preferences. Google understood that the smartphone business is already too crowded and the next great battle would be fought in the wearable devices category, the reason why Google announced a special version of Android for wearables, before anyone else. As per Horace Dediu's rain maker strategy, Google is finding more ways for people to connect with Google services be it via wearables or via Android for automobiles.
Future Of Motorola Under Lenovo Is Still Uncertain
Lenovo sees Motorola as its entry in the U.S. market where it has little to no visibility. By acquiring Motorola, Lenovo became the third largest movie device vendor overnight – trailing behind Samsung and Apple. With all said and done, there are still no official words from Lenovo about how it is planning to take Motorola forward. Will it have any effect of Motorola's product strategy? No one is sure enough to comment on that. But the best way would be to treat Motorola as an independent company. It looks like the centre of focus in the smartphones business would be the mid-range category. Almost all the best selling smartphones are from the entry-level to mid-range ones. Motorola has a good grip on the mid-range smartphone market with the Moto G and Lenovo should strengthen this strategy to make use of its acquisition of Motorola. Moto 360 smartwatch if launched at an attractive price would be another great product for Lenovo to enter the smartphone race.