Apple Inc. (NASDAQ:AAPL) and Samsung Electronics Co. Ltd. (KRX:005930) are the undisputed heavyweights of the smartphone world. Together, both brands accounted for 50% of the global smartphone market in Q1 2013, and this status-quo has shifted considerably a year later, with the combined share slipping to 47%, according to Wireless Smartphone Strategies research service from Strategy Analytics. Global smartphone shipments in Q1 2014 grew to 285 million units, from 213.9 million units in Q1 2013, a solid growth of 33% Y-O-Y, and a decline from 39.1% growth achieved during 2012.
Meanwhile second-tier brands such as Huawei Technology Co Ltd. (SHE:002502) and Lenovo Group Limited. (ADR) (OTCMKTS:LNVGY) are making their presence felt on the global smartphone market in Q1 2014, with each having a 4.7% market share. The report also mentions that, due to the massive smartphone penetration in Europe and America, carriers are unable to reduce subsidies being offered on premium models, as they did in earlier years. This is bad news for Apple and other brands, which are releasing more high-end flagship products later this year.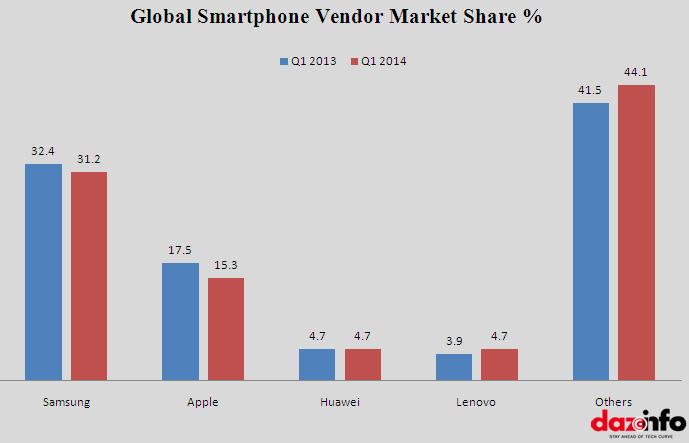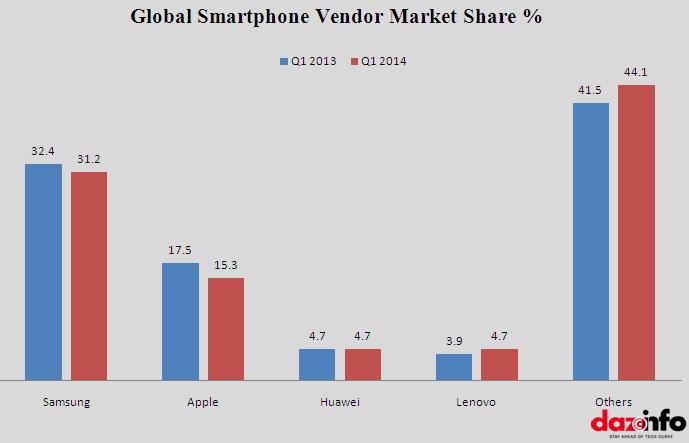 Samsung shipped more phones in Q1 2014, but still losing market share
Samsung shipped 89 million units in the global smartphone market in Q1 2014, showing a significant increase from 70.7 million smartphones shipped a year earlier. Its market share currently stands at 31.2%, dipping slightly from 32.4%, a year earlier. This drop is significant, as this is Samsung's first annual market share loss, in the smartphone segment since Q4 2009. The Korean giant also reported a financial loss for Q1 2014, the second consecutive loss since Q4 2013.
Samsung's decline is inexplicably linked to the emergence of other OEM vendors, who are offering the same devices at lower prices. In the entry-level segment, Samsung is facing huge challenges from Xiaomi, which is entering 10 more countries this year including India, and Brazil. With just 80 million smartphone users, India is still a dominant smartphone market for Samsung, and increased competition will have an impact on its growth.
At the higher end of the smartphone market, Samsung is being squeezed fiercely by main rivals Apple. The Galaxy S5 has reportedly performed better than the iPhone 5s and Galaxy S4 during its initial selling period, ensuring Samsung's popularity among premium models for the time being. Saturation in the premium Android smartphone market is also increasing pressure on Samsung, and it may be considering developing phones powered by Windows Phone OS.
Apple's declining share in global smartphone market Q1 2014
Despite shipping more iPhones during the first quarter of 2014, the Cupertino giant is losing its share in the global market. Apple shipped 43.7 million iPhones worldwide in Q1 2014, an increase from 37.4 million shipped during the same period last year. Despite this, the market share declined from 17.5% in Q1 2013 to 15.3 % in Q1 2014. The company grew by 17% annually, and the iPhone 5S has been the best-selling phone worldwide for the past six months. Apple recorded a positive calendar Q1 2014 financial earning, owing to strong sales of iPhones in several developing countries such as India, China, and Brazil. The market share of iOS also increased in Britain, France, Australia, and Japan, for Q1 2014, on strong sales of iPhone.
Apple is unlikely to ever enter the low-end smartphone segment, as the high price of the iPhone makes it unattractive for several buyers. Instead, its older devices are sold at a cheaper cost, after a year or two to attract premium buyers, in fast-growing markets such as China and India. However, consumers in emerging markets are demanding more features in their high-end phones, significantly adding to the cost of production. With such a high dependency on the iPhone, it remains to be seen for how long Apple can continue with its standard business model, and whether it can develop more innovative platforms. The company's own executives had expressed apprehension about slowing growth, as far back as 2012.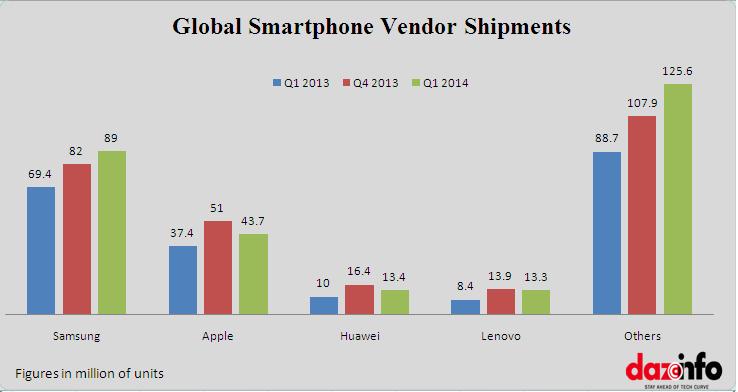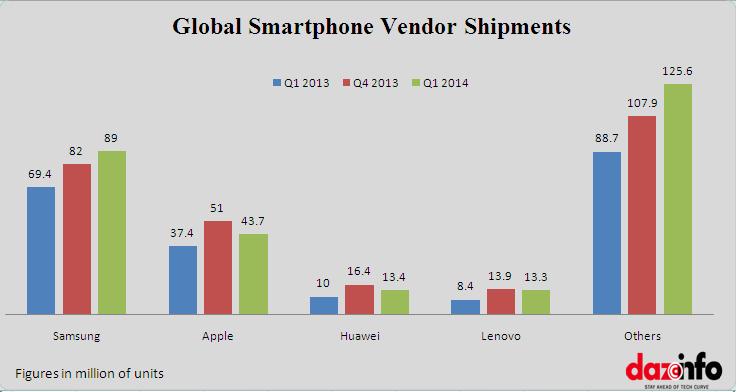 Lenovo and Huawei making their presence felt
Huawei and Lenovo, each shipped 13.3 million units of devices with a 4.7% share in Q1 2014, indicating that they are steadily expanding their presence in the global smartphone market. The market share of Lenovo grew by 1% in one year, and the acquisition Of Motorola Mobility provides Lenovo with another opportunity for growth. Sales of the budget Moto G smartphone have crossed 6.5 million worldwide, after strong sales in U.K. and India. Motorola's entry in the smartwatch segment, through the launch of Moto 360, gives Lenovo another platform to expand on. Once the takeover of Motorola Mobility is completed, Apple and Samsung will face even more challenges.
Slowing Growth Demands New Strategies
Going by these statistics, a picture emerges of an increasingly fragmented smartphone market. There are more Smartphone OEMs than ever before, who are adopting new strategies, and increasingly using them in all markets, irrespective of location. In 2014, the increased competition between all smartphone OEMs will drastically reduce the average selling price of smartphones to US$337, hurting profit margins across all devices.
In the mid-level end segment, Samsung is under pressure from various homegrown and other OEMs such as HTC Corp (TPE:2498), Sony Corp (ADR)(NYSE:SNE), and LG Electronics Inc. (KRX:066570). By designing more phones powered by Windows OS and refocusing on entry and mid-level devices at competitive prices, Samsung has a chance of maintaining its market share. Apple has in the meanwhile, chosen to reportedly build a larg- screen iPhone to attract more premium customers. If it succeeds, the company will reap enough profits to continue with the iPhone and expand into more platforms such as wearables.
In two different ways, both tech giants initially dominated the smartphone market two years ago, with Samsung focusing on the low-end category and Apple on the high-end. That dominance can no longer be assured, as smartphone growth slows to single digits by 2017.