Smartphone usage is seeing an urban explosion in India with a whopping 51 million users in 2013. From 27 million users in 2012, the urban Smartphone market grew almost 89% in the country in the last one year according to the latest Nielsen-Informate mobile insight report titled Smartphone Surge In India Continues. The share of Smartphones in the mobile market in urban area has also doubled, surging up from 9% in 2012 to 17% in 2013. More than one in five people in the metro cities are now carrying a Smartphone.
Key Findings Of The Report
The report is based on the survey responses of 8,050 Smartphone panelists. The results have revealed that western India clocked the country's highest urban Smartphone penetration at 22% in April 2013 from 7% in April, 2012. The higher number of entry-level Smartphone launches in financially stable states like Gujarat and Maharashtra have helped increase Smartphone incidence. Northern and Eastern India witnessed a slightly less increase in Smartphone incidence due to poor mobile infrastructure and socio-economic factors.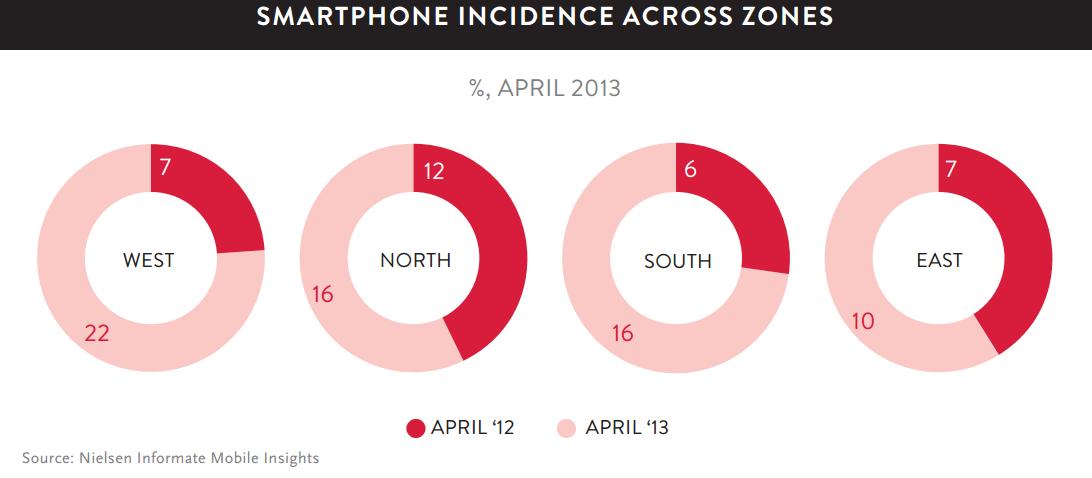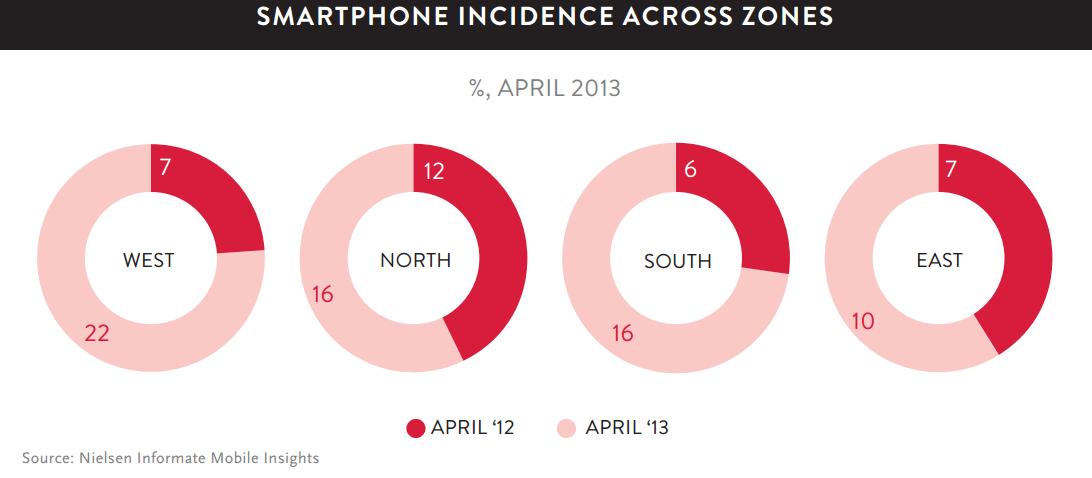 Age And Gender Gaps
Improved purchasing power and an increase in number of entry-level devices has allowed Smartphone penetration to grow phenomenally in a country where per-capita income is US$100. Despite an 80% increase in penetration in this category more men are found using Smartphones compared to women. Among males, the figure stands at 20% which is nearly twice the 11% incidence among females. For the younger generation below 18 years, owing a Smartphone has become a priority with 20% penetration rates among females and 23% among males. The scenario is no different for adults who fall under the age group of 36 and 40 years, both male and female users are found to be equally excited towards Smartphones. However, in other age groups owning a Smartphone is influenced from profession and work.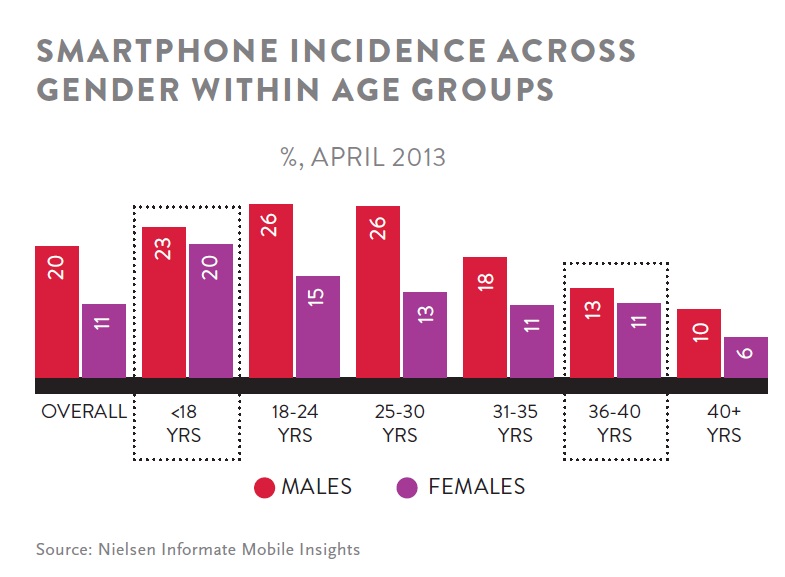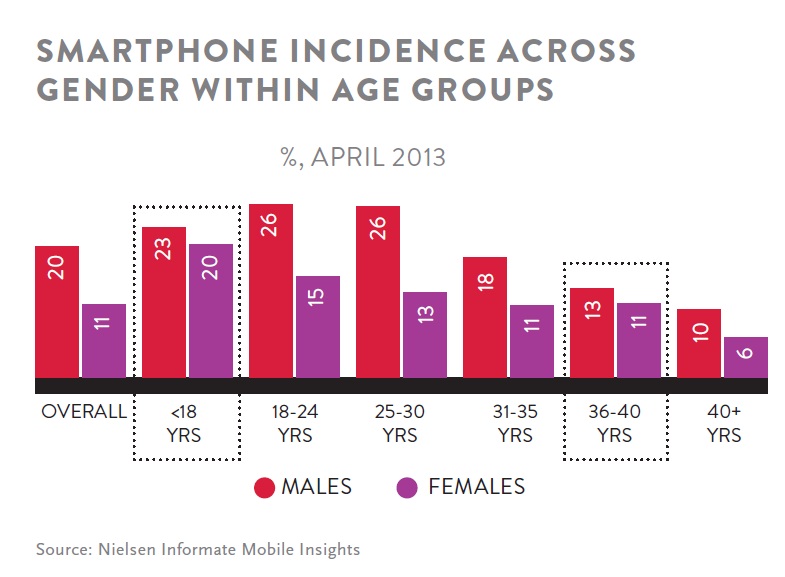 Level Of Engagement Varies In Towns And Cities
Users in larger metropolitan cities spend less time engaging with their Smartphones than users in mini metros, tier-1 and tier-2 cities. This can be attributed to a busier lifestyle and the presence of multiple screens such as televisions, laptops and tablet computers in households and offices. All kinds of surveyed urban users spend at least more than 2 hours on their Smartphone every day. An average time of 25 minutes were spent on making calls and sending text messages. In large metros and mini metros, users spend an average of 45 and 47 minutes respectively, on online apps. Browsing on mobile websites is more frequent in tier-1 and tier-2 cities than in metros due to a lack of broadband infrastructure for desktop computers and laptops. Absence of trust or ignorance in using online apps is another reason consumers prefer using mobile websites.
Opportunities Aplenty
With Smartphone penetration growing at such phenomenal rates, the scope for content, apps and social media is constantly on the rise and is an opportunity for marketers and advertisers. In a country with over 820 million mobile subscribers ready to upgrade to Smartphones, a potential gold mine awaits Smartphone vendors and marketers. Foreign Smartphone vendors are wooing the urban consumers with discounts on flagship products while established vendors are targeting the entry-level Smartphone market to increase their market share. With more vendors entering the new market, Smartphone users under the age of 18 and those in the 18-30 age group will emerge as the main target group for these brands to focus on. Falling prices of Smartphones and improved internet networks will increase Smartphone penetration rates to even higher levels in the years to come.