What is the first thing that comes to your mind when you hear or read the phrase Google Inc. (NASDAQ : GOOG) owned Nexus? The answer, I guess, is pretty simple. You immediately focus your thoughts upon a line of mobile Android devices (tablets and smartphones) that come from the stable of Google. These devices are very well specced in terms of hardware and offer a pure, clean and uncluttered Android experience in terms of software and user interface. In other words, they offer the Vanilla or stock Android experience as they do not have any manufacturer or carrier specific modifications or changes to the operating system.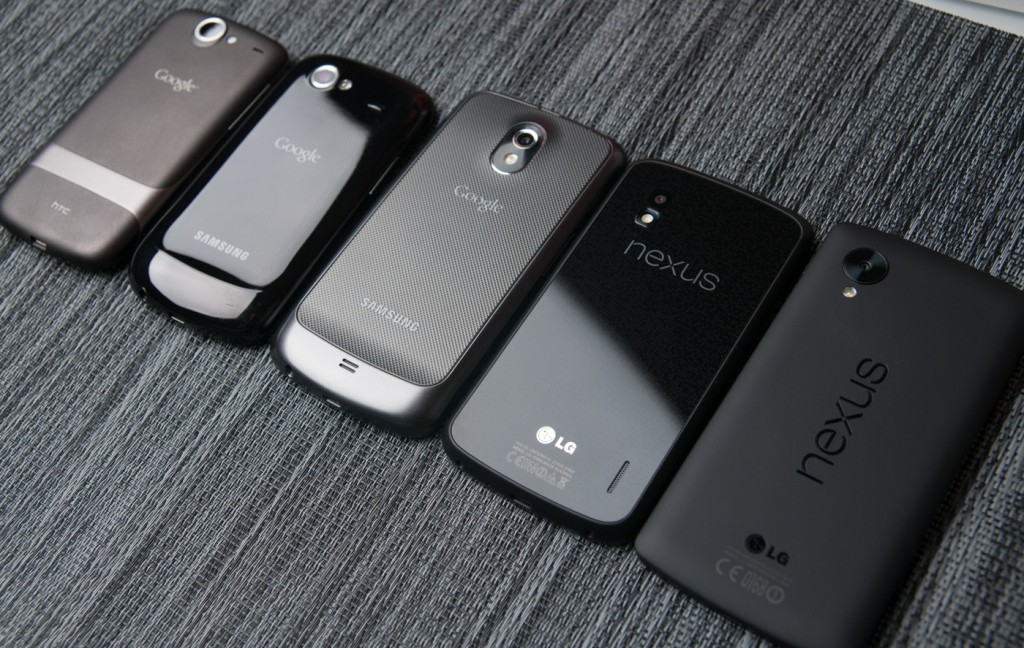 Simply put, the concept of a device from the Nexus line is that Google oversees departments such as design, R&D, marketing and support but the production of that device will be undertaken by a company in partnership with Google. For example, the very first Nexus One was built in cooperation with HTC, Nexus S and Galaxy Nexus by Samsung Electronics Co. Ltd. (KRX:005930), the Nexus 4 and Nexus 5 is built by LG Electronics Inc. (KRX:066570) and the rumours claim successor Nexus 6 would also be made by LG. A notable feature of the Nexus line of devices is that they are the first in line among all other Android devices to receive software updates and upgrades to their operating systems. While the Nexus series includes five smartphones and two tablets, it is the smartphone that has garnered more focus on itself. The first generation version of the Nexus smartphone was released four years ago.
Here is some brief information about the entire range of Nexus smartphones:
Nexus One:
Released in January 2010 and manufactured by HTC, the Nexus One featured Android 2.2 Froyo. The last update to its OS was seen in the form of Android 4.0 Ice Cream Sandwich after which Google announced that it wouldn't be releasing any further upgrades to its OS. It also holds the distinction of being the only Nexus device until now to offer an option of expanding the storage capacity via a memory card.
Nexus S:
The Nexus S was released in December 2010 with Android 2.3 Gingerbread OS. It was manufactured by Samsung. It received a subsequent update to Android 4.0 ICS and sometime towards the end of the year 2011. Later versions also received updates to Android 4.1 Jelly Bean. It doesn't receive software updates any longer now.
Galaxy Nexus:
The Galaxy Nexus was released in November 2011 with Android 4.0 ICS and was manufactured by Samsung. It received its final software update in the form of Android 4.3. It is also known as the Galaxy X in some markets.
Nexus 4:
The Nexus 4 was released in November 2012 and saw a change in terms of the manufacturing company being involved. LG replaced Samsung as the company that was manufacturing the Nexus smartphones. This device came with Android 4.2 and it received an update to Android 4.3 in June 2013 and to Android 4.4 KitKat in November 2013.
Nexus 5:
The Nexus 5 was a revolutionary device because it was released at a comparatively lower price point but with specifications that would put it in the company of the many flagship smartphones. It was made available in October 2013. This device was also manufactured by LG and was the first device to feature Android 4.4 KitKat. The Nexus 5 won many accolades from various experts and analysts all over the globe. It was rated as one of the best smartphones of the year 2013 and still continues to occupy a top spot in the list of the best smartphones available in the world currently. The Nexus 5 may seem to have in it all the ingredients of a class leading smartphone but there were some chinks in its armour as well, It suffered its biggest setbacks, thanks to the somewhat ordinary performance of its camera, weak battery back-up and poor sound quality from the on-board speakers. It was good to see that Google took note of these issues and tried to iron them out by means of subsequent software updates (Android 4.4.1 and 4.4.2 to be specific). The camera's performance was improved, the poor back-up of the battery was also addressed and later units of the Nexus 5 had more holes on the body over the speaker area, which resulting in improved sound output by a small margin.


The words of Hiroshi Lockheimer, VP of Engineering for Android truly sum up the entire notion of the Nexus line of devices, "It (Nexus) stands for high specs at a really fair price. The other thing is the updates come directly from Google. Those are the attributes of Nexus that I think people have really enjoyed and we're not changing that strategy."  
Every Nexus smartphone that has been released in the past has basically been a hardware variant of another smartphone. This implies that the hardware bits used in the concerned Nexus smartphone and in the product(s) of the company manufacturing that variant of the Nexus over the years (HTC, Samsung and LG) were sourced from a common parts bin. But when one considers the Nexus 5, it can be clearly seen that this is a device that intends to carve out a separate niche for itself, a separate niche from the rest of the smartphones out there and from all of its predecessors within the Nexus range as well. It is a known fact that the Nexus 5 shares its underpinnings with the LG G2,the upcoming Nexus 6 will share its underpinnings with the upcoming LG G3, but Google has made efforts to ensure that the Nexus 5 gets a separate identity both from the LG G2 and from the previous Nexus smartphones. This can be brought to light from the following examples:
Google didn't consider having the standard Android text messaging app on the Nexus 5. Instead, it launched the Nexus 5 with an exclusive messaging app known as Hangouts. While Hangouts has been made available for other devices as well now, it must be noted that this was initially a Nexus 5 only app.
Then there is the Nexus 5 Launcher that just waits for you to say the magic phrase, Okay Google! and the phone springs up into action. Initially available exclusively for the Nexus 5, this feature has now trickled down into other Nexus devices and Google Play Edition devices as well.
The phone's dialer also boasts of an exclusive feature. It doubles up as a search tool that allows the user to search for locations and local businesses.
The file picker is integrated with cloud storage now. Through it, any cloud storage system on the device can be accessed.
The Nexus 5 also comes with a long set of tail features essentially meaning that further modifications and developments by end-users can be carried on.
While these were some notable characteristics of the Nexus 5, the next installment in this series is the highly anticipated Nexus 6 and it is due for release sometime later this year. If the information running out of rumor mills is to be believed, the Nexus 6 will be a very well endowed smartphone from Google. The Nexus range of tablets have also played a major role in scripting the Nexus' success story but as stated earlier, prime focus remains on the smartphone division. Google is also developing a smartwatch that will be paired along with the Nexus range of mobile devices. This smartwatch has been codenamed Gem and will be manufactured by LG.
In spite of all these developments, one of the major grouses with regard to the Nexus line and especially concerning the Nexus smartphones is the issue regarding Google's long term commitment with its devices. Google usually stops offering major software updates for its devices after a period of eighteen months from the date of launch whereas Apple still delivers iOS updates for devices that are almost four years old now. This really casts a shadow on Google's long term commitment policy. Although Google is launching new generation variants in its Nexus line-up at frequent intervals, users having a previous generation variant may feel left out in the cold once they stop receiving software updates for their respective device(s).
Another potential threat to the Nexus line-up could possibly come from a relatively new line of devices known as Google Experience Devices or Google Play Editions of concerned mobile devices. These niche category devices do not sport the Nexus tag on them; they offer the trademark hardware of the concerned manufacturer combined with a stock or Vanilla Google software. Updates for such devices are delivered by the concerned manufacturers, and not Google itself, but the norms set by various carriers regarding software updates are bypassed.
All these factors point towards a single direction. They suggest that there is a paradigm shift as far as the positioning of Nexus devices is concerned. While previously Nexus devices were seen as devices offering a pure Android experience, the focus is shifting now to project them as devices offering a pure Google experience. The further expansion of the Nexus smartphone range, Nexus 6, and Google foraying into unchartered territory, Nexus smartwatch, can testify to this fact. It is time that established players such as Samsung, HTC Corp (TPE:2498), LG, Sony Corporation (NYSE:SNE) and Apple Inc. (NASDAQ : AAPL) sit up and take notice that Google could be potentially eating up into their market share as more and more people are drawn towards the Nexus range. The Nexus range of devices from Google could indeed be the nexus between it being a software giant and a well established consumer electronics player.