Apple Inc. (NASDAQ:AAPL) recently launched of 8GB variant of iPhone 5C that comes with just 5 GB of available storage. Pre-installed software including, iMovie, iPhoto and iWork apps together constitute nearly 3 GB of storage. The remaining storage is likely to get filled up as user photos, email and apps can quickly add up. Apple has tried to address its mobile storage issues for users with its free iCloud service, which allows users to store music, videos and App Store purchases in the cloud, to be downloaded for future use. The 16 GB iPhone is currently on sale for U.S$549 while the 8 GB version is  available for U.S$500 or less.
Having an external storage option is typically ideal for users, who download sophisticated games and other apps from App Store that can easily take up 1 GB or more of storage. Apple has used different RAM capacities to create different price tiers of products as consumers are well aware that more room for storage is something valuable enough to pay extra for. However, the default claimed storage figure of gigabytes is not important, a user must pay attention to the left over available storage after the operating system, featured applications, trial ware and other default contents accounted in.
Which Device Has The Most Storage?
In the Surface Pro, tablet introduced by Microsoft Corporation. (NASDAQ:MSFT), the software alone used up as much as 64 percent of the device's on-board storage depending on the model. A large portion of the unit's flash storage was allocated to Windows 8, pre-installed apps and a recovery partition, leaving users a meager 36 to 65 percent of space to work with. The base 64 GB Surface Pro model has 41 GB of installed Bloatware, a software that comes pre-installed with the device, leaving users just 23 GB of disk space, while the more expensive 128 GB version had 83 GB left after a 45 GB partition was applied. For its part, Microsoft had warned users of the issue on the Surface webpage, stating "System software uses significant storage space. Available storage is subject to change based on system software updates and apps usage."
In comparison, Apple iOS leaves over 85 percent of advertised storage available out of the box, depending on the device and OS version. In 16 GB category, Apple iPhone has more available storage than any other device with 12.6 GB or 79% of its advertised space, similarly the iPhone 5S has 12.2 GB of capacity available or 76% of its advertised storage. By comparing the latest iPhone 16 GB variants to a number of Android devices, the iPhone 5C clearly has more storage than all the other phones. Samsung Electronics Co.Ltd. (KRX:005935) Galaxy S4 has the least available storage with just 8.56 GB free for the user. This capacity is limited by the amount of customized software Samsung included on the handset, including its Android skin "Touchwiz" and other features such as eye-tracking.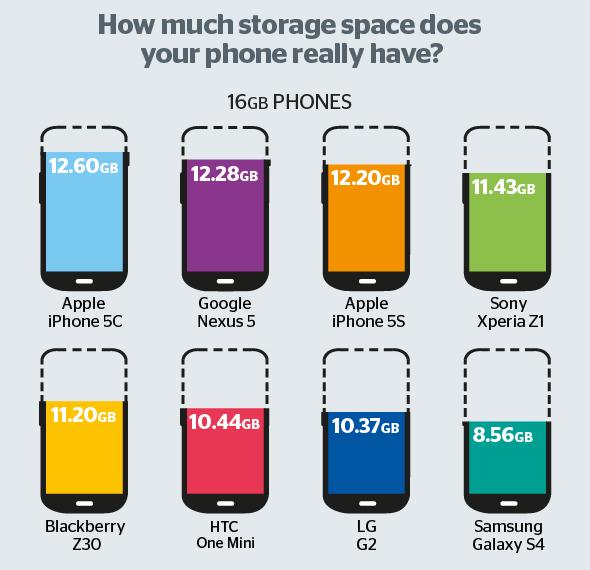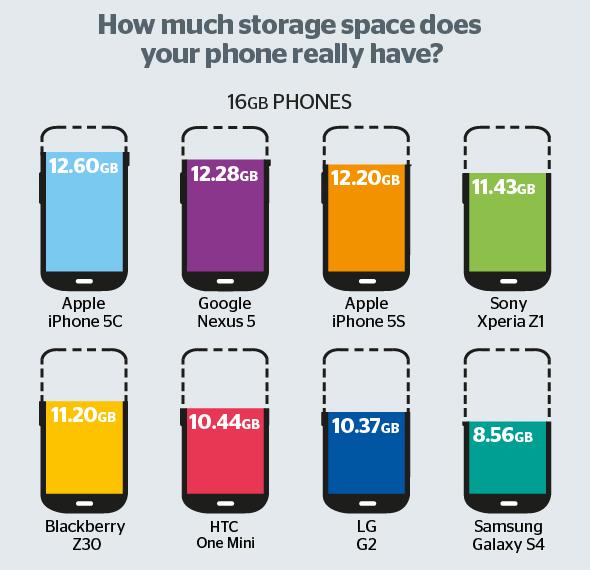 The Galaxy S4 however features a 64 GB micro SD card slot while iPhone and Nexus owners don't enjoy the luxury to increase their storage capacity and are restricted to their internal storage. Google has taken precautions with Android OS to restrict usage of external storage to make sure that handset performance is not decreased. Consequently, many Android apps cannot be installed/moved on to an external storage card, and any inserted memory card can only be used to host media files and documents. Besides, there are many other services installed by device vendors, like Samsung, HTC, Sony, that eats up lots of storage but can't be deleted or moved on external storage. As features on smartphones become more fancy, they will use up more storage and battery leaving very little actual storage for users.
However, few speculations claim that Google will place a SD card slot in its latest Nexus 6 model. Ultimately, it does not seem fair that the device storage is lesser than what is advertised. While it may be easy to check whether a phone has a memory card slot, there is no way of finding out how much storage is actually being offered on a device. This is a point most brands should keep in mind when they launch their flagship products later this year.