Apple Inc. (NASDAQ:AAPL) iPhone 5S has been the best-selling phone in the world for the past 6 months. The iPhone 5C leapfrogged to second place in February, according to latest data from Counterpoint research. Discounts offered on both products in Western markets, have been to Apple's benefit. Apple's decision to discontinue iPhone 5 allowed iPhone 4S secure 5th position. Samsung Electronics Co. Ltd. (KRX:005935) Galaxy S4 and Note 3 were tied for third place, respectively. While sales of Galaxy S4 are still in large volumes despite of the launch of successor Galaxy S5, Note 3 is a massive hit in Asia, thanks to its large, high quality display. The list, however, comes as a disappointment to brands like LG Electronics Inc. (KRX:066570) and Sony Corp (ADR)(NYSE:SNE) that has managed to grab only single spot and, that too, beyond the top 10 positions. In the feature phone market, Nokia Corporation (ADR) (NYSE:NOK) 105, 108 and 208 models remain at the top but none of its Smartphones could make to top 20 list. The surprise element in the list comes in the form of Chinese smartphone vendor Xiaomi. Two of its devices, the Hongmi Redrice and Mi3 feature at 7th and 10th place, respectively.
Counterpoint monthly pulse report receives it sales data from surveys of retailers and distributors across 33 countries.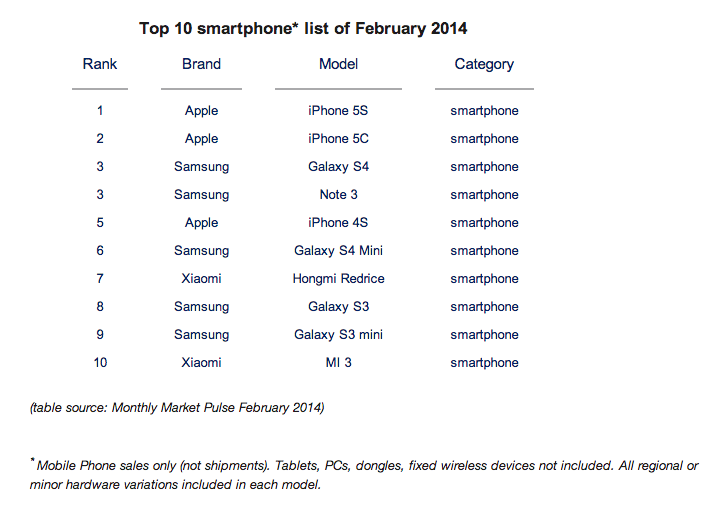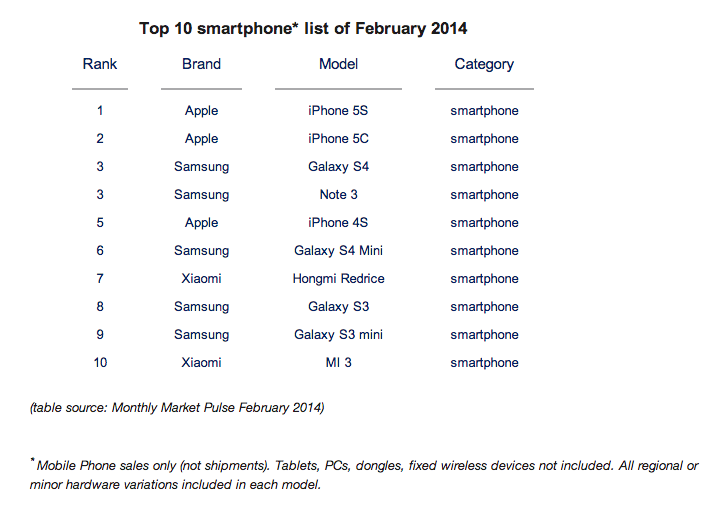 Xiaomi learning from Google and Apple
In 2013 Xiaomi sold 18.7 million handsets, almost double than what it sold in 2012. The target for this year is estimated to reach 60 million devices. Currently, Xiaomi's handsets are available only in China but the company have plans to go global within next two years. Launched in 2010, the company has emerged as China's fifth largest smartphone brand, offering high-end Android devices at lower price with similar specification what industry leaders offer.
Mi3 is the latest high-end model offered by Xiaomi at a price of US$330 in China. It supports the latest version of Android, and like leading Android devices, runs on Qualcomm's Snapdragon processor. Xiaomi's success can be attributed to cues taken from both Apple and Google Inc. (NASDAQ:GOOGL). Interestingly, its operating platform is downloadable to computers worldwide, allowing customers to experience the interface without owning a phone. The company has apparently mastered the art of brand buzz from Apple by giving its fans and users a direct input features running on top of Google's OS. In addition to this, company offers a weekly update to its software for free. The design and controls of the software that runs on the phone create a flawless end-to-end experience, placing usability on the pedestal. In China, Xiaomi controls 18.9% of the smartphone market and company is eyeing a bigger pie of local market by introducing more variants of Mi3 and similar smartphones in near future. According to AsiaOne news, the stocks for Mi3 phones were sold out within two minutes in Singapore! With such high sales, Xiaomi is changing the nature of the industry.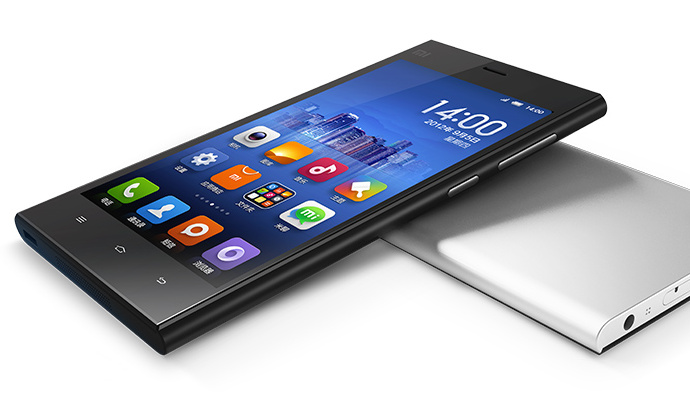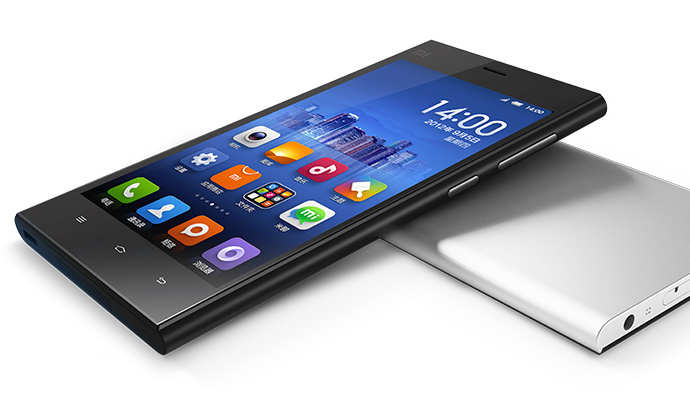 HTC, LG, Sony Failing to Emerge from Samsung's Shadow
There are five Galaxy S devices on the list, clearly showcasing Samsung's popularity. The Galaxy S4 and S3 are among the best selling Android phones. Samsung advertising strength gives it an enormous advantage over rivals, the company reportedly spent US$13 billion on advertising alone in 2013. Its latest launch, the Galaxy S5, will intensify the battle in the top 10 smartphone race. Korean rival LG recently launched its flagship phone G2, and emerged the third largest smartphone vendor in America in terms of sales. Japanese corporation Sony has also failed to make a mark globally with its Xperia range of phones. Android saturation could force these vendors to switch to Windows Phone OS to get a boost in their sales. HTC Corp (TPE:2498) is another top vendor unable to emerge from Samsung's shadow. Despite of having few top rated devices sales of HTC One (M7) were dismal for the company, costing US$101 million loss in Q3 2013. The delayed release of HTC One killed the buzz before it even started. Its newest flagship phone, the HTC One (M8) is already floundering, a week after its release.
The Indian Scenario
Sony has overtaken Apple to emerge the second largest smartphone brand in India. The farther one has found rare success in the Indian smartphone market by focussing on the Rs. 10,000-20,000 smartphone space, backed by marketing expenditure of Rs 300 crore. Data from IDC reveals that Sony had a 9.1% value share in the Indian smartphone market in Q4, ended on December 31 2013, against Apple's 7% share. Samsung still dominates India market with 43% value share. Sales of Sony Xperia M Dual and Xperia C were the top-selling models in the mid-range price bracket. iPhone 4, withdrawn earlier and later re-released in January 2014, remains the largest selling model for Apple in India. Sony grabbed the top spot in the mid range segment, due to Apples absence in this segment.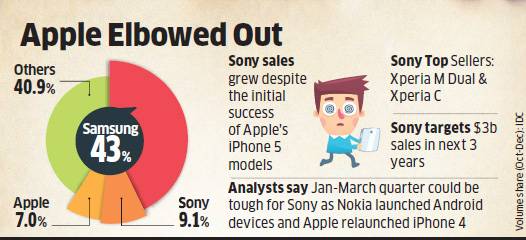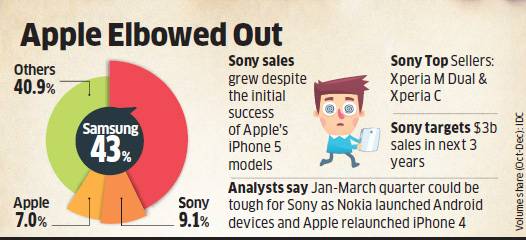 Samsung is also being squeezed in India as local brands begin to dominate the low-end Smartphone market. Between January and March this year, Sony's smartphone market share could slide down due to the release of Nokia X series and new range of Micromax Canvas phones. India remains one of the few markets where Sony has been successful. Sony's experience highlights how a company can emerge to compete in an emerging market by focussed advertising and right price range.
In March and April, the new Galaxy S5 will be more widely available and iPhone 5C discounts are likely to cease. Good performances from Moto G and just launched Gionee models are bound to create volatility in the best sellers list. Apple may enjoy its top spot for now, but its competitors are growing and adapting to survive in emerging markets.