Apple Inc. (NASDAQ:AAPL) products are adored and used by millions of users all over the world, for its sleek interface and powerful hardware specifications. After the release of the first iPad in 2010, the company failed to release any revolutionary products in the last five years, upsetting several analysts and traditional fans. Aside from releasing various versions of iPhone, iPad and Macbooks and selling connected TV devices, Apple is in danger of becoming a zombie company, relying solely on sales of its traditional devices, to move ahead. Despite posting good results for the Q1 2014, and giving massive incentives to shareholders, most of the company's critics continue to lament the lack of new and innovative products.
Strong Speculation of iWatch release in 2014
Apple's response to critics may finally come in 2014, as there is strong speculation that Apple's smartwatch, nicknamed the iWatch will be released to the masses in Q3 2014. The rumors are especially strong this year, as Apple is looking to replace its outdated line of iPod touch devices with a new product. There are already several such devices in the market, including the US$ 150 Pebble smartwatch and the soon to be released Moto 360 and Apple will need to pull out all its tricks if it aims to create a truly revolutionary product.
There are already several rumors surrounding the iWatch, but these are the most plausible:
The iOS 8 will be the primary OS for the smartwatch and not a separate OS. This move is intended to allow developers to develop apps for the device before its intended release date.
Several analysts have speculated that the iWatch will be fully compatible across all other Apple products such as iPhone, iPad and Mac. Users can check for notifications on their watches, without pulling out their phones.
It will reportedly feature bio-metric sensors to monitor the vital aspects of a user's health such as heart rate, sleep quality etc. Another report based on obtained patents speculates that iWatch will feature environmental sensors to track temperature and humidity.
LG will produce the gadget's display, as its curved OLED for smartphones and TV's design has attracted attention. The device will reportedly be available in 1.3 inch size for female wrists and a 1.5 inch size for males.
Apple and Nike are reportedly developing the smartwatch together, fueling speculation of a concept similar to Nike Fuel band.
The battery of the device will not be curved and will have enough power for just 1 or 2 days.
The device will be focused on health apps, through integration with the Healthbook app.
Several design concepts are rumored for the iWatch, including a standard design similar to most watches and a revolutionary new design.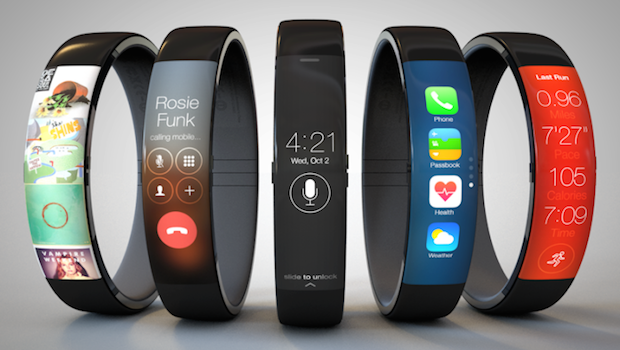 Why is Apple Entering the Smartwatch Race?
Apple's reasons for developing a smartwatch device are quite clear. These days after developing mobile devices, the next frontier for all tech companies is to expand their business to wearable technologies. Since most users already use their devices for an entire day, it seems logical to incorporate such products on the human body for interrupted usage.
Then there is business motivation. Apple's rival Google Inc. (NASDAQ:GOOGL) has already announced the development of Android Wear, an OS designed exclusively for smartwatches. By 2020, it is expected that the global smartwatch market will reach 373 million units. With such large markets at stake, Apple simply can't afford to sit down and wait while rivals keep forging ahead. Last year alone, 1.2 million Android smartwatches were sold. Motorola's Moto 360  is set for a release in June 2014 and Samsung Electronics Co.Ltd. (KRX:005930) had already sold 50,000 units of its Galaxy Gear smartwatch powered by Android OS, within two months. Sales of Pebble smartwatches have reached at least 300,000 units, since its release. A report from China says Apple will be looking to beat those figures, by selling at least 65 million iWatches in the first year alone. Even if the iWatch does become available, it will feature a hefty price tag, of at least US $265.
Does The iWatch Even Exist?
These rumors have been circulating since 2011, and in 2013 it was rumored that Apple had over 100 people working on its smartwatch project, which has since then expanded to at least 200 workers. According to Taiwanese news source Economic Times, Apple has shipped more than 1000 trial products to manufacturing partner Foxconn, to allow it to begin equipping factories to mass produce the device. Apple has even resorted to using fake companies to file patents for the iWatch in secret. The term has been trademarked in the U.K, U.S and over 50 other countries all over the world. Each of the applications has been filed under international classification 14 which covers clocks, jewelry and most importantly, watches.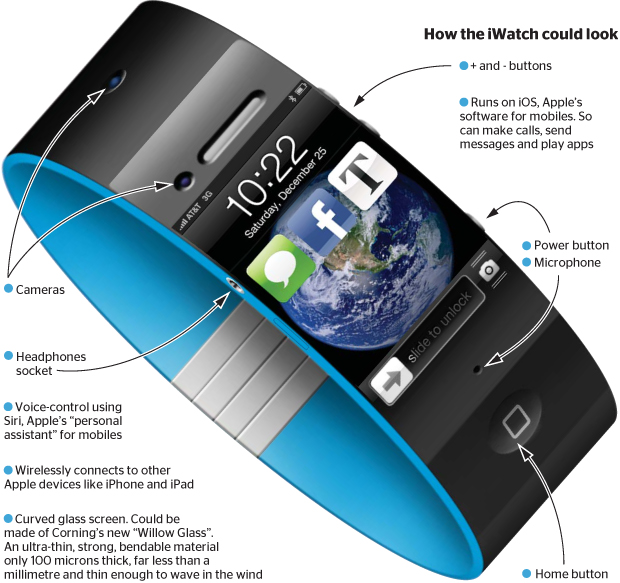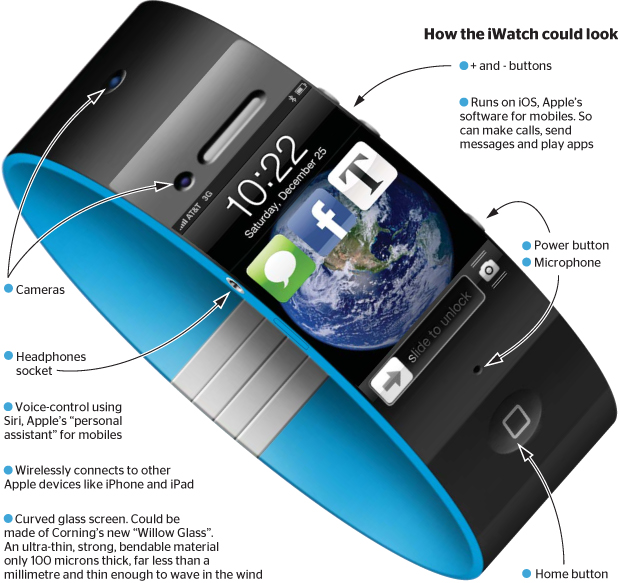 All the above speculation need to be taken with a pinch of salt. Apple was a company with several innovative products for most of its history, when Steve Jobs was CEO, but innovations have dried up ever since. The company's own executives have acknowledged the slowing growth of iPhone, during a presentation in 2012. If the iWatch is set for a 2014 debut then it needs to be truly revolutionary. Apple CEO Tim Cook has hinted several times in the past few months about Apple's plans to produce a ground-breaking product, asserting that the company's focus remained on producing the best products and not on being the first to design them. The real announcement of any new products will be revealed only at the Apple World-Wide-Developers Conference, starting on June 2, 2014.
Is Apple Planning to develop a smartwatch? What features would you like to see in its design? Do let us know in the comments section below.