In the current scenario, almost all handset manufacturers have hopped onto the Android platform to get a taste of the ever-growing smartphone market, which has proved to be quite fruitful for most of them so far. Android, as we can see is fast eating into the markets of feature phones and other smartphones platforms as well. Windows Phone is still struggling with single-digit market share; BlackBerry Ltd. (NASDAQ:BBRY) would've pulled its gates down had it not been for the corporate world that still uses its products. Looks like Android's got nothing to lose, or does it?
Microsoft Corporation (NASDAQ:MSFT) had claimed that the Android OS infringe on some of its secretly-held patents, and instead of directly confronting Google Inc. (NASDAQ:GOOG) about it, they resorted to a different approach. The Redmond-giant firmly believes in protecting its Intellectual Property Rights and doesn't want everyone to take a free-ride on its innovations. Instead of filing a lawsuit against Google, Microsoft found a clever (and cunning) way to save the legal costs and still make money off its arch-rival's most profitable product.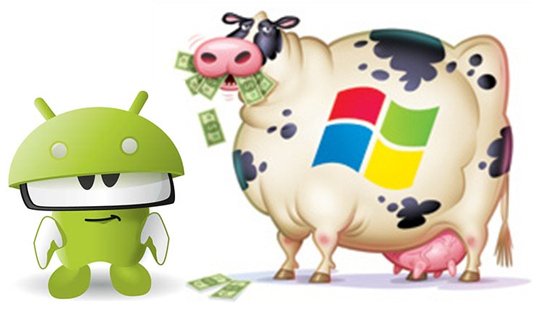 Milking Google:
Over a course of three years, Microsoft has roped-in about 70% of all Android device manufacturers to pay royalty for the use of its patents. Almost all of them complied, sooner or later, to avoid getting involved in a lawsuit with the tech-giant. Royalty was charged on a per-Android-phone-sold basis and HTC Corp. (TPE:2498) was one of the first manufacturers to be charged. HTC pays $5 per Android phone sold to Microsoft. Currently, the company is earning billions from Android phones without having to sell any. In the last quarter of 2012, we estimated that Microsoft earned double the amount of money from Android royalties alone, than it did from its own Windows Phone.
Android Isn't Free, It Has A "Patent Fee": Steve Ballmer
Microsoft doesn't reveal details about earnings from royalties in its financial statements, therefore it is difficult to know the actual amount. We wished to do a little digging to see how much the Redmond-giant earned from Android in the second quarter of 2013 (2Q13), and, the results were really shocking; we found that 187 million Android smartphones were shipped in 2Q13. Samsung (KRX:005930) alone shipped 73.3 million of them, LG (KRX:066570) shipped 12.1 million, followed by Lenovo(ADR) (OTCMKTS:LNVGY) (11.4 mn), Huawei (SHE:002502) (10.2 mn) and ZTE (CVE:ZTE) (10.2 mn), while other small manufacturers shipped a total of 70.2 million Android smartphones. As claimed by Microsoft that it now collects royalties on 70% of Android-based devices, we can say that Microsoft was paid a royalty for 131 million smartphones in the 2Q13. Microsoft's ever-growing patent-licensing list includes Samsung, LG, Lenovo, Huawei and ZTE, and Sony, to name a few. Samsung was reportedly charged a $15 royalty but it apparently looked to lower the payment to $10 per handset in exchange for an alliance which would have Microsoft benefit from the creation of new Windows Phone devices. The royalty charge however was seen to vary from $7.5 to $12.5, depending on the agreement.
Let us assume that Microsoft receives an average of $8.5 per-Android-smartphone from the top 4 manufacturers (excluding Samsung). We put out math skills to use and calculate the approximate royalty paid to Microsoft by the top 5 android vendors. We found out that Samsung paid $733 million dollars ($10/Android smartphone) to Microsoft as royalty in Q2 2013 (calendar year). We roughly calculated that LG paid approximately $102 million, Lenovo paid $96.9 (approx.),  Huawei and ZTE paid $86.7 million each (approximate figures). The left over category of other manufacturers, who shipped 70.2 million Android Smartphones in Q2 2012, paid approximately $417.69 million as royalties to Microsoft (70% of Android Smartphones shipped by other manufacturers multiplied with an average of $8.5 per smartphone).
Microsoft earned a total of $1.51 billion (approx) from 131 million Android devices that were shipped out by Android smartphone vendors. The total earning from Android royalties would surge up with the inclusion of royalties collect from Android powered Tablet sales.
Reportedly, Microsoft's earnings from Android ( Smartphones + Tablets) could surge up to $8.8 billion by 2017, estimates digitaltrends.
Microsoft shipped 7.4 million units of Windows Phones in 2Q13, and has emerged as the number 3 mobile OS by overtaking BlackBerry. Looks like its not Android who has got nothing to worry about, after all.