The number of smartphones have increased by 51.3% over the year by the end of June 2013. According to latest report from IDC, total 236.4 million Smartphones were shipped during the second quarter of this year. This resulted in 9.3% Q-O-Q growth rate as 216.3 million smartphones were shipped during Q1 of this year. Smartphone market has once again proved that it is still in the growth phase and has a considerable amount of time for saturation. Accounting to the fact that companies are always surprising the customers with their new features in hardware and software, the appetite is growing. Being open source and able to be customizable by the mobile manufacturers, Android still remains the market leader.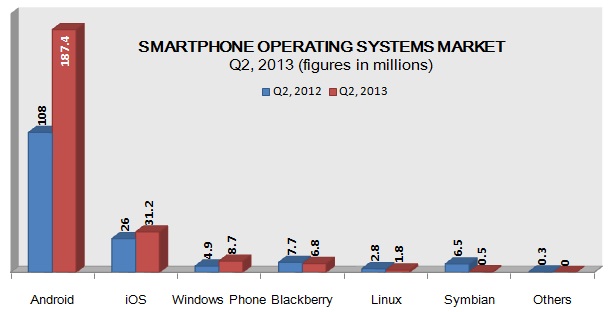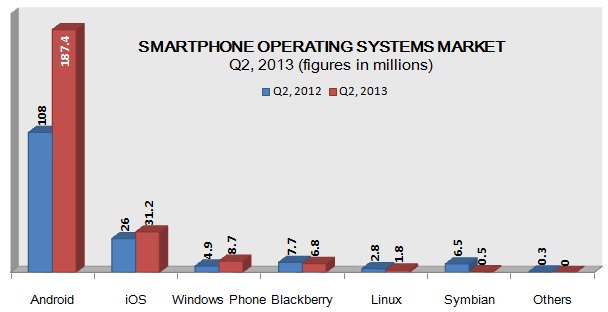 The fact that the collective innovation from many companies using Android are able to beat vertically integrated Apple. Nokia is acting more of a driver for Window Phone software than its own technicality.
Android Market Share Q2, 2013
There has been only a slight increase in the market share of Android OS from the previous quarter.  The idea of Google Inc. (NASDAQ:GOOG) of selling its original version nexus mobile is one of the reason for its increasing market share. We also need to consider the fact that there more than 700 mobile manufacturing companies that use Android OS but 62.5% of business has been done by Samsung , LG, Lenovo and Huawei combined.
The report also highlights that Samsung has lost market share by 5.3% over the year to other vendors. Lenovo mobiles have managed to enter into the elite class, but may have to wait for some time to become a popular phone.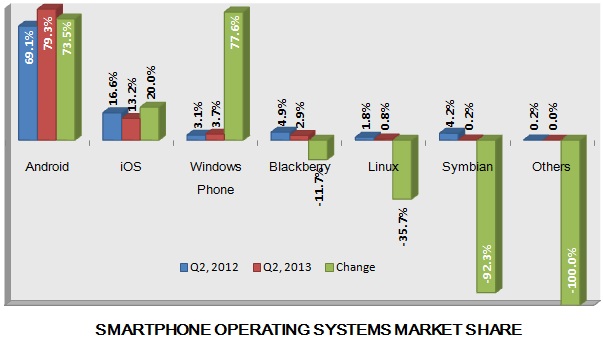 iOS Smartphone Market Q2, 2013
The difference between a company run by a visionary and executive can be seen clearly; Apple Inc. (NASDAQ:AAPL) has always shipped its products the day it launches, but it is months from the launch of iOS7 and we have only seen 5 beta versions. The success of apple always remained in innovation and quick launch of new products. We can see the huge difference between the number of products launches between 2007-2011 and 2011-2013.  Apple has lost the market share (3.4%) over the year considerably but analyst market believes its iPhone 5C and iOS 7 launches should bring it back to business.
Windows Phone OS Smartphone Market Q2, 2013
This software has highest YoY increase of 77.6% and Nokia has been a major contributor (81.6%) to this rise. The other manufacturers like Samsung, HTC have sold less than a couple of million units.The contract binding Nokia and Windows is directly  affecting the sales of Nokia mobiles , New smart phones by Nokia are exceptionally well and many Android and Nokia lovers are expecting a tie up from the Finnish giant.
Black berry Market Share Q2, 2013
This quarter has been the worst  for blackberry though, BB10 is showing some promise of growth. Blackberry OS Smartphone market share shrinked to 2.9% in Q2, 2013 compare to 4.9% by the end of same quarter a year back. Companies only like Apple can fight the open source market with personalized software and Hardware integration.
The numbers suggest that android is still going to retain its share in the coming quarters , but windows mobile and iOS have a tough challenge ahead.
Source: IDC