The much-awaited Microsoft Q2 2013 (fiscal) Earnings report is already out and analysts across the globe are already bumping up with their mixed views on the tech giant financial performance of the last quarter ended 31 December 2012. The company posted record revenue but lower than expected profit figures, and we are already done with the quarter-by-quarter assessment. Surprisingly, Microsoft stayed tied lipped about Surface Sales Figures and – rather more interesting – earnings from Android.
One must not be surprised with the fact that Microsoft is minting millions of dollars from the product of its arch-rival Google – An earning source helping Microsoft to earn much higher than its own home-grown Windows Phone OS. The company has been enjoying royalties from the majority of Android-based handset makers for last few quarters; All thanks to patents Microsoft once bought from Novell.
Microsoft Q2 2013 Earnings: $1.31 Billion From Android
In the fiscal Q2, 2013 (or Q4 0212), Microsoft has earned anything close to $1.31 billion from Android royalties came from Samsung and HTC largely. According to the latest report from ABIResearch, nearly 451 million handsets were shipped in Q4 2012. Out of which 196 million devices were Smartphones and Samsung contributed around 32% of this alone. In Q3 2012, three out of every four Smartphones shipped were Android-powered handsets and the trend was reported to continue in Q4 2012 also. Therefore, by a simple calculation, nearly 149 million smartphones, shipped in Q4 2012, are powered by Google Android OS.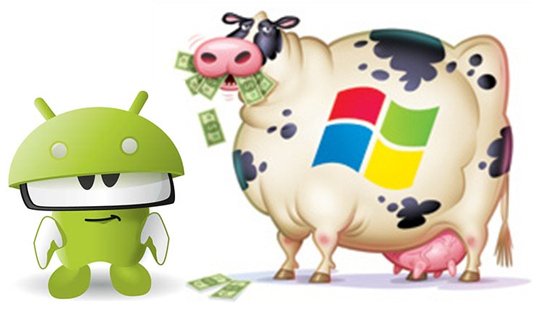 Earnings from Android Smartphones
More and More android handset makers are surrendering to Microsoft – having an upper hand in Android patent infringement lawsuit – and agreeing to pay anything between $5 to $13 on each Android handset sold. Microsoft has claimed around 70% of Android handset makers are already paying royalties on Android-based devices now. This clearly depicts that Microsoft has earned royalties on 105 million Smartphones sold in Q4 2012 – 70% of 149 million Android smartphones sold.
On average, Microsoft is collecting $10 on each Android device sold; Therefore the company has earned close to $1.05 Billion in Q4 2012 (Q2, 2013 fiscal) only from Android Smartphones. The figure could be little on a higher side as Microsoft is claiming $12 -$13 from Samsung controlling more than 50% of the Android smartphone market. But keeping the facts in mind that HTC pays only $5, an avg of $10 is quite justified.
Earnings from Android Tablets
According to FutureSource Consulting, 64 Million Tablets were sold globally in Q4 2012. Just a day back, in its quarterly financial report, Apple claimed that it managed to sell 23 million iPads during the whole fiscal Q1 2013 (Q4, 2012 calendar). While Microsoft reportedly sold just 1 million Surface Tablets in Q4 2012, rest of mobile OSes control negligible market share in the Tablet segment. This clearly portraits that nearly 38 million Android Tablets were sold during Q4 2012.
Now, as Microsoft is enjoying royalties from 70% Android devices, the tech giant earned minimum $266 million from Tablet as royalty – 70% of 38 million Android Tablets, multiplied with $10.
So, total royalties from Tablets and Smartphones, powered by Android, earned by Microsoft stood $1.31 Billion in fiscal Q2 2012 (Q4, 2012 calendar). The amount could be marginally higher than projected due to the fact that royalties earned from Android tablet is largely coming from Samsung – paying more than $10 on each Android device.