Breaking the smartphone monopoly for upcoming brands isn't going to be easy. Brand retention (customers who replace their smartphone with another from the same manufacturer) is being led by Apple Inc. (NASDAQ:AAPL) and Samsung Electronics Co. Ltd. (KRX:005930). According to new data from WDS, a Xerox Company, Apple has the highest retention rates of over 76%, beating brand loyalty of Samsung, 58%, with a distinctive margin. No other smartphone maker managed to keep brand retention over 40%.
WDS conducted the survey by interviewing more than 3,000 smartphone users in four smartphone flagship markets – the U.S., U.K., South Africa and Australia.
"For smartphone manufacturers, brand retention is one of the most important metrics to track. It's a very solid sign of how successful their device upgrade cycles have been in retaining customers," explains Tim Deluca-Smith, vice president of Marketing at WDS, A Xerox Company. "Both Apple and Samsung are doing very well in keeping customers excited and loyal to their product road maps."

Samsung is most preferred brand to switch to
Samsung remains the top choice for consumers switching from any other brand. Almost a third of all switching customers (34%) preferred Samsung, followed by Apple with nearly a quarter (24%) of all migrating customers.
Samsung's marketing strength has been largely due to solid relationships with mobile operators. The company has built devices for a variety of price-points, exposing its portfolio to a large base of potential customers. With high retention rates Samsung is likely to do well in 2014.
The Survey also revealed other interesting findings. Apple's retention base is the highest due to familiarity with the Apple ecosystem and iOS software. Among people of all age groups, more than 70%-80% of users were retaining their iProducts compared to 50-60% for Samsung products. Due to developed fascination towards brand young customers preferred migrating to Apple products while investment conscious older customers selected Samsung products.
By contract type, Apple retained more prepaid consumers than Samsung. 69% of prepaid users decided to stick with Apple compared to 61% of Samsung. Apple also retained more postpaid customers (78%) than 57% of those who were using Samsung devices.
However, Apple failed to poach customers from other brands. Samsung had a larger 32% share of prepaid customers who migrated from other brands as compared to Apple, whoa added 13% new prepaid customers. On postpaid contracts the scenario was no different for Apple as the iPhone maker had managed to grab only 29% postpaid customers, while  Samsung gained 35% new postpaid customers, migrated from other brands. This clearly indicates that Apple is failing to add more new customers, despite of higher brand fascination among people.
The survey highlights the challenges that will be faced by new and upcoming brands despite ground-breaking features and good marketing strategies.
Launch of  iPhone 6
These findings are sure to have an effect on the launch of the new iPhone. In the fourth quarter of December 2013 Apple remained the top OEM in US with 41.6% market share. According to Pacific Crest, If the new iPhone is tagged with  US$299 (on contract), then 35% of iPhone users would choose the larger iPhone and capture 10% of the large screen Android market. Considering users loyalty to Apple and Apple's loss to Android by not having a large screen iPhone, these are reasonable estimates. Replacement sales could account to 70% of total estimated sales of iPhone in fiscal 2014 and 80% in fiscal 2015.
Jefferies analyst Peter Misek said in a research note:

'We continue to believe the iPhone 6 will be a significant product cycle as it will fill Apple's "5-inch" product gap. Our checks also show that initial Samsung GS5 monthly builds will be below initial GS4 builds, but the overall unit target for GS5's lifetime is the same as the GS4. We believe the combination of pent-up demand for a larger iPhone and possibly less intense competition from Samsung bodes well for the iPhone 6 launch.'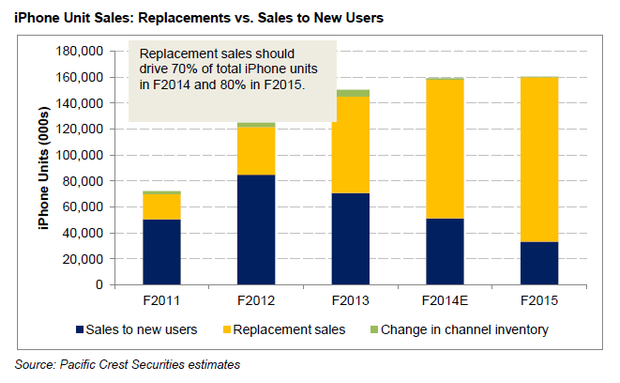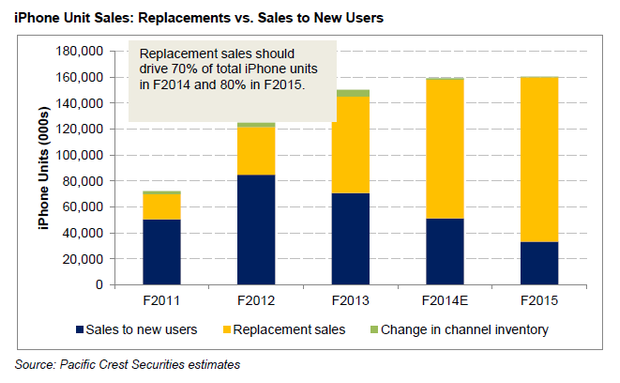 According to above analysis, sales of iPhone will remain steady throughout 2014 and 2015. A majority of sales will be driven by users looking for replacements and upgrades, while sales to new users will slump throughout next year. Apple will need to retain its loyal user base in developed countries to compensate the loss that could occurred due to failure in getting new customers. If the chorus of analysts are right, then Apple doesn't have to do much with the iPhone 6 beyond launching a larger screen. Android launches have recently been lackluster. The iPhone 6 will spur a replacement cycle and will cement Apple's iOS position for a few more years till other smartphone companies can make more headway.