Worldwide tablet market growth is expected to slow down in next few years after nearly three years of record-breaking growth starting with Apple's iPad launch in 2010. The research firm IDC is estimating that total tablet sales, including 2-in1 hybrid devices, will grow just 19.3% in 2014 as compared to 51.6% in 2013.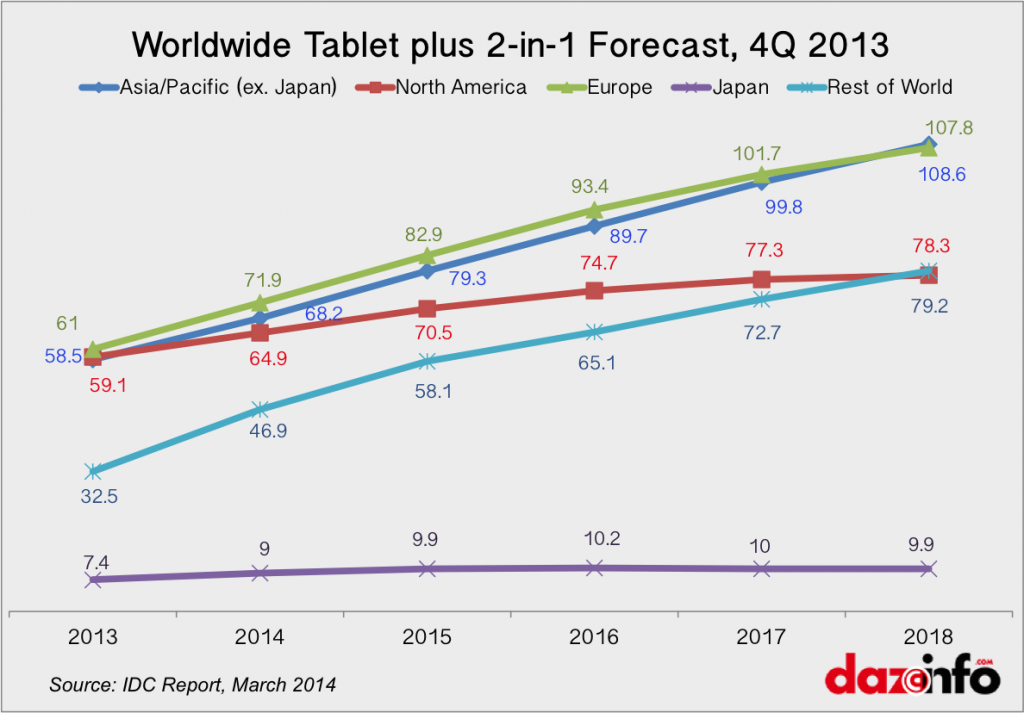 In 2014, number of Tablet shipments will reach nearly 260.9 million units. This includes both tablets and hybrids that can function as tablet or laptop. IDC says this slowdown is due to a maturing of the market, stabilizing prices and decline in purchases of cheap tablets. During last few years, growth was primarily driven by inexpensive tablets made by no-name makers that ran on slower processors and old versions of Android.
"After years of strong growth, we expect the white-box tablet market to slow in 2014 as consumers move to higher-end devices that work better and last longer," said IDC's Tom Mainelli, Program Vice President, Devices & Displays. "In mature markets, where many buyers have purchased higher-end products from market leaders, consumers are deciding that their current tablets are good enough for the way they use them. Few are feeling compelled to upgrade the same way they did in years past, and that's having an impact on growth rates."
As tablet industry witnesses slow down in shipments in many markets, a decline in the average selling price for tablets, of all price levels, seem to be bottoming out as consumers move from low-cost products to devices that last longer. However, in 2013 market would not see a major decline in average selling price of tablet as throat-cut competition has already forced vendors to lower the price of their tablets to marginal profit level. In 2013, the average selling price of tablets will decline by 3.6% as compared to a 14.6% drop in 2013, report claims.
The report also categorizes tablet sales into consumer and commercial sales. While the Consumer sales will decline from 89% in 2013 to projected 82% by 2018, commercial sales will increase from 11% to 18% during the same period.
The worldwide tablet plus 2-in-1 forecast in 4Q 2013, predicts that sales will rise strongly in Europe and Asia-Pacific (excluding Japan). From an average sales of 60 million units in Asia/Pacific, Europe and North America in 2014, tablet sales will cross 100 million in Asia-Pacific and Europe market in 2018. Asia Pacific will emerge the biggest tablet market with maximum 108.6 million units sales in 2018. North America and Japan, both, are expected to see a flat market in next few years. While North America is expected to see slow down in tablet sales YOY, Japan market will record negligible growth and may record negative growth in 2017 and 2018. Tablets makers will continue to market their products in Asia,and other developing countries where maximum growth is likely.
"The choice of operating system will be a key differentiating factor when it comes to success in the commercial segment," said Jitesh Ubrani, Research Analyst, Worldwide Tablet Tracker. "Though Android and iOS will remain dominant, we expect Windows-based devices to capture more than a quarter of the market as its benefits become clear thanks to growing adoption of 2-in1s."
Innovation and new products needed
The sentiment that the tablet market is maturing is seen as a clear move towards innovation in the PC market. Consumers are aggressively looking for tablet-laptop hybrids with good computing power. Technology companies will now have to generate interest in new innovations, likes of smartwatch, Gears, Glass etc, to make up for declining sales in both PC and Laptop market.
As the tablet market becomes increasingly competitive, it will become mandatory for vendors to improve user experiences, technology innovations and ecosystem value beyond just hardware and cost.