Apple Inc. (NASDAQ:AAPL) launched the low-cost iPhone 5c last year, only to be declared a magnificent flop by consumers and industry alike. Selling a less powerful and less appealing iPhone might have been the worst decision word's most valuable company of 2014 ever made. About 9 million iPhone 5s and iPhone 5c phones, toghther, were sold worldwide in just three days after the launch. Two months later it was revealed that iPhone 5s managed to control 7.58% of the total iPhone market while iPhone 5c lagged much behind with mere 2% market.
At the time of launch, the company price tagged iPhone 5c with US$549, while the iPhone 5s was priced at US$649. The 5s featured a 64 bit A7 chip, M7 core processor and Touch ID. The iPhone 5c, however, was a variation of the iPhone 5 in plastic casing, available in various colors. The Tech giant was hopeful of attracting more customers by unveiling the iPhone 5c but unjustifiable price difference, between both the phones, was a huge mistake as consumers failed to see any valuable savings against high-performing iPhone 5S. Besides, Apple reduced the price of second-tier iPhones to tap the price conscious emerging markets, such as India and China. Unfortunately Apple did witness the expected response from the market as the small 4 inch screen size of the iPhone was no substitute for a large screen high-end Android phone.
 The China Phenomenon
In Q4 2013, worldwide smartphone shipment reached more than one billion units in a single year for the very first time. This was a 38.4% upsurge from 725.3 million units sold in 2012. Samsung topped the list by shipping 313.9 million smartphone unit during the year 2013. The Korean electronics giant was followed by Apple that recorded 153.4 million iPhone shipments during the same year.
Chinese vendor Huawei Technology Co Ltd (SHE:002502) emerged as the fastest growing mobile vendor in the market. Huawei shipped 48.8 million smartphones in 2013 and finished the fourth quarter at 3rd position, ahead of LG and Lenovo that shipped 47.7 million and 45.5 million smartphones, respectively.
According to a new report from analytics firm Umeng,  the number of smartphone users in China stood at 700 million by the end of 2013. Out of all devices sold in Q4 2013, 41% were to people purchasing their first smartphone. Apple faces a tough fight with homegrown brands as iPhone captured only 21.6% of these smartphone sales. This clearly shows that even in world's largest smartphone market Apple is facing stiff competition from homegrown vendors. The trend may continue in the future unless Apple decides to price tag its products intelligently to match with local requirements.
China became the world's largest smartphone market in November 2011, but increased mobile penetration rate has caused sales to slow down. High end smartphone priced at $500 accounted for 27% of smartphone sales last year; Of that amount, 80% sold were iPhones!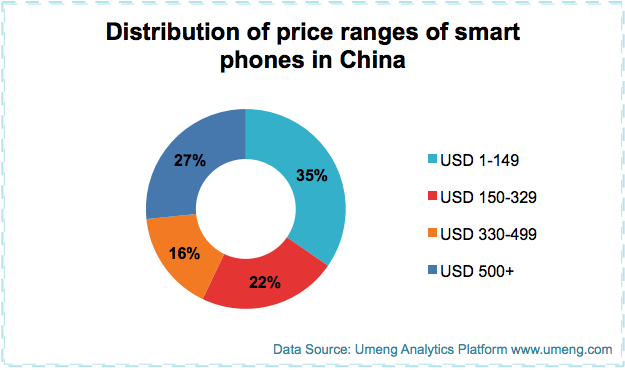 As Apple started venturing into the market directly the percentage of jail broken iPhones in mainland China fell from 30% to 13% at the beginning of the year. China's new status as one of Apple's focused markets will have a major impact on iPhone 6 sales.
The problem with iPhone 5c
The below chart shows how all the three iPhones; iPhone 5, iPhone 5s and iPhone 5c, performed within four months of their release in China. These findings are the part of Alliance Index that racks latest mobile internet data in various countries.
The text inside the red bubble states that the iPhone 5s and 5c was officially launched in China on the same day as in the U.S. The one inside the blue bubble says the iPhone 5 was officially launched in China four months after the device's debut. The X-axis is months after iPhone released in the U.S (Debut), while the Y-Axis shows the market share of all iOS devices in China.
The graph shows that iPhone 5s had a 12% share of iOS in China within 4 month of its debut. The iPhone 5c, however, managed to grab just 2% iOS share during the same period. The iPhone 5, which was released late in China, had almost 15% iOS share within 6 months of its launch. These findings will likely affect Apple's approach to selling smartphones in the Middle kingdom.
Sources from Taiwan reveal that more than 3 million iPhone 5c units are waiting for buyers. Almost 2 million are currently stored in Pegatron's warehouses while another 1 million are gathering dust in retailers and carriers depots. The price of the iPhone 5c will not be cut immediately, but in coming months, as newer mobile devices are released later this year. Apple has reportedly reduced production of iPhone 5c to focus on the iPhone 5s instead.
By slashing the cost of iPhone 5c to around US$300, Apple has a chance to clear the leftover iPhone 5c stocks ahead of the launch of iPhone 6. If the carriers and retailers are ready to clear the existing devices, we could see iPhone 5c price deals and cuts in the near future. The device may become an attractive option to customers interested in buying a cheap, new inexpensive iPhone.
New findings have revealed that 32% of customers in developing countries, like India, China and Brazil, would prefer the iPhone as their newest handset as Apple is the most desirable brand in developing countries. By selling low price iPhone 5c phones in these countries, Apple has a chance to cut down growth rate of Samsung, which is riding high on Android, in India and China.
To appease its core customer vase, the company will be looking to adjust its smartphone strategy to release iPhone with bigger screen. Pricing an inferior product so close to a superior one will be another vital lesson that Apple will try to avoid in the future.