There was a time wherein many analysts and investor gurus predicted that Apple Inc. (NASDAQ:AAPL) was headed toward doom; Steve Jobs was the only innovation diva in Apple and what not, but this theory is no longer the fact.
According to the latest report from comScore's (SCOR) Mobilens and Mobile Metrix, Apple is showing a steady lead and continuous gains among US smartphone users in the three months leading up to the end of January 2014.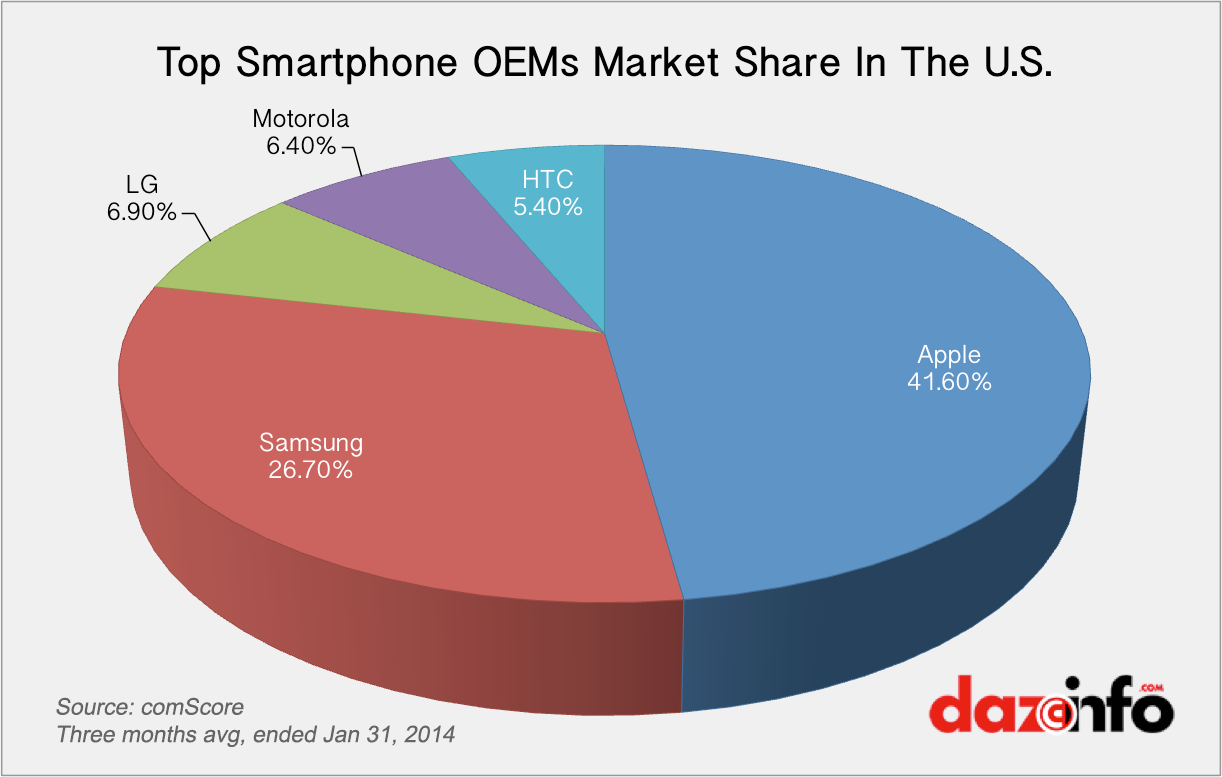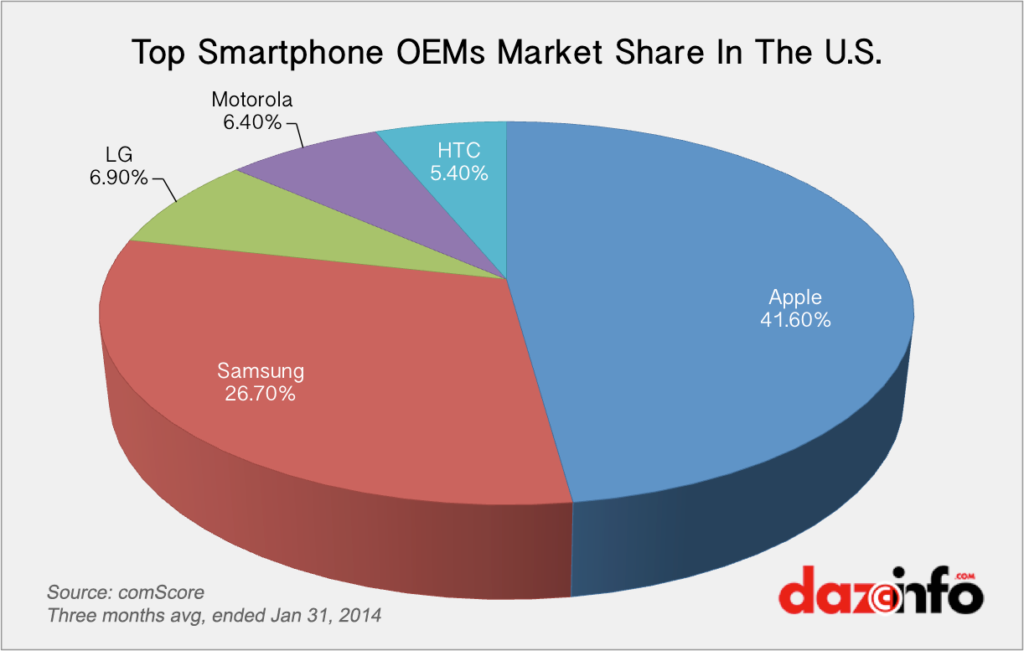 The Tyrannizer
The Cupertino giant has maintained its dominance as the leading smartphone OEM (original equipment manufacturer) in the United States. Apple market share in the US in fiscal Q1 2015 was 41.6%, considerably outpacing all rivals. Samsung Electronics Co.Ltd (KRX:005930) retained its second-place ranking with a 26.7 percent share and LG Electronics Inc. (KRX:066570) bagged third place for the first time in the U.S. market with a 6.9 percent share.
The Juncture
The two new iPhones didn't result in a very healthy market share in 2013, but they did help it gain a 7 percent increase over the year prior. According to a study, Apple market share in the US grew to 42 percent during the fourth quarter of 2013, a plausible lead over competitor Samsung and its 26 percent share.
The Graphique
Apple's market share has rebounded nicely from the past years, though there were some hiccups, it survived the fall. Apple has so far been in a favorable position but, at other players' cost.
Samsung did face a setback in the U.S. market when compared to its rival Apple, but it does have a safer position compared to its competitors. According to the report, 159.8 million people in the U.S. owned smartphone (66.8 percent mobile market penetration) during the three months ending in January, up 7 percent since October. Apple ranked as the top OEM with 41.6 percent, while Samsung ranked second with 26.7 percent market share (up 1.3 percentage points), followed by LG with 6.9 percent (up 0.3 percentage points). The two lowest-ranked smartphone OEMS both lost market share over the three-month period ending in January. Fourth-ranked Motorola saw its share of the U.S OEM market slip to 6.4 percent from 7 percent in October. Fifth-ranked HTC Corp (TPE: 2498) followed Motorola with the largest percentage-point decline by going from a 6.7 percent share in October to a 5.4 percent share in January.
However, as a smartphone platform, Android outpaces Apple iOS (iPhone) in the U.S. market. Though Android lost 0.5% of the market to Apple in three months quarter that ended January 31, 2014, it holds the largest pie of the market with 51.7% as compared to Apple's 41.6%. Interestingly, Apple emerged as the only smartphone platform that witnessed growth during the three months quarter, ended on January 31, 2014. Blackberry's market share also dived down to 3.1% in the quarter from 3.6% in the previous quarter, ended October 31, 2013. Other smartphone platforms, Microsoft and Symbian managed to keep their market share intact.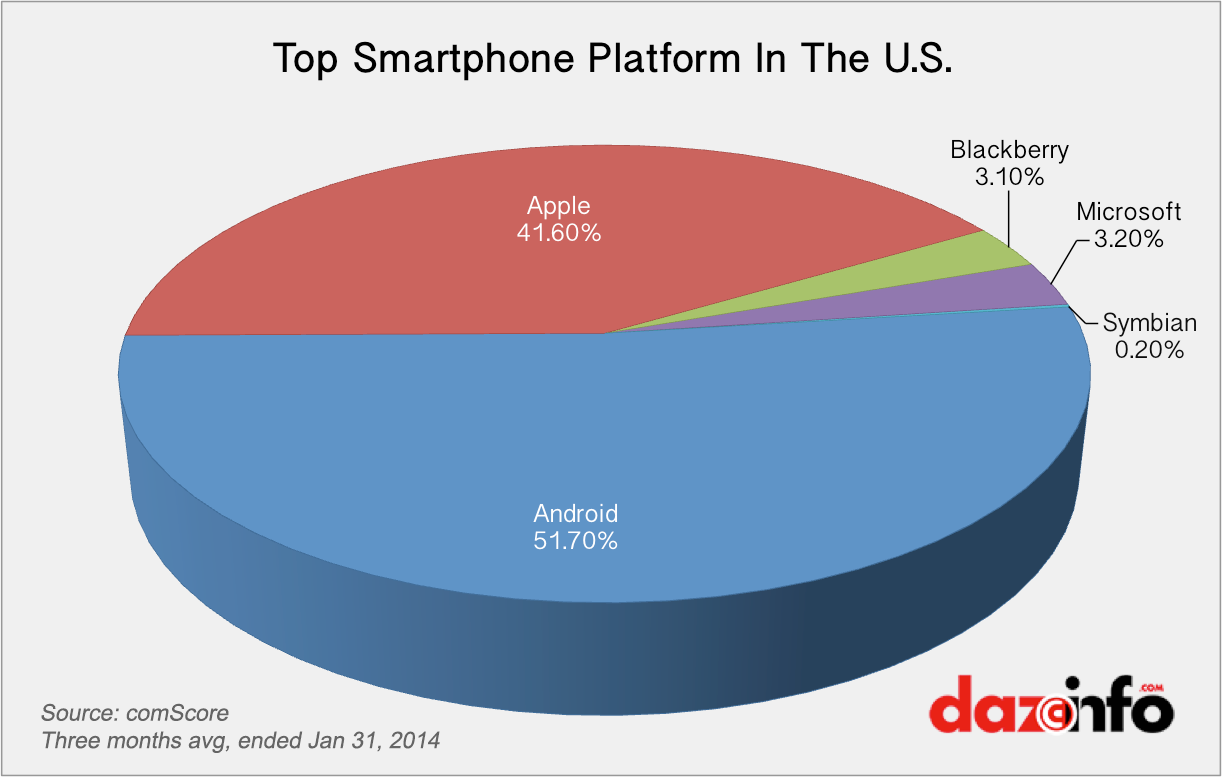 Reason For The Mayhem
Although Samsung rules most of the world in terms of total smartphone sales, in the United States it's still having a tough time beating Apple. Apple's iPhone saw pretty good sales, over the holiday season. Surprisingly to ward off competition Apple offered many discounts and giveaways for just a three-month-old portfolio, and this would b a very hard deal to resist for consumers.
Apple's aggressive promotions, support from the retail and operator channels, and unprecedented consumer demand across the U.S., are the main reasons for this level of rising Apple's market share.
It is not astounding to see the sharp declines in HTC, given the many issues the company is facing. But it's interesting that Motorola dropped about 0.6 percent, given the high-profile launch of Moto G. LG on the other hand, experienced a slight gain, perhaps due to its flagship G2 handset.
But for now, it looks like Apple is in no mood to give away its spot to any of its contenders, and if the competitors have to impress the U.S. market; they have to come up with a solid strategy to beat Apple.