Apple Inc. (NASDAQ:AAPL) and Google Inc. (NASDAQ:GOOGL) failed to create truly revolutionary products in 2013, according to some industry observers. However, the year marked a significant phase in people's interaction with technology, as profound changes in digital consumer behavior affected different sectors including mobile, e-commerce, social media, video and advertising. A report by comScore, titled, U.S Digital Future In Focus 2014, highlights the various shifts taking place in digital consumer behavior, which are causing an incredible evolution in the marketplace.
Multi-Platform Users Constitute The Majority Of  U.S. Digital Population
According to comScore, as of December 2013, 56% of U.S. digital media consumers constituted the multi-platform majority. Ever since the launch of the Apple iPhone in 2007,  mobiles and tablet devices have continued to rapidly alert consumer behavior. Starting from February 2013, the report tracked the percentage of users who joined the multi-platform segment, and those who stayed only on mobile and traditional desktops.
The most significant finding of the report was during April 2013, when the percentage of users on multiple-platforms was 52%, up from 49% in the previous month. This effectively meant, there were more users on multiple platforms for the first time, exceeding desktop and mobile only users, which stood at 42% and 6%. Throughout the year, the percentage of users on multi-platforms increased significantly more than those on the mobile-only platform. The percentage of users only on the desktop shrunk to 36% by December 2013, while mobile-only users stood at 8%.
Explosive Growth In Time Spent on Tablets And Smartphones
The amount of time spent on the digital media platform also grew by 83% between December 2010 and December 2013. Consumers in U.S. had spent a combined total of 442 billion minutes on smartphones every month by December 2013, which is a 237% increase from the 131 billion minutes since December 2010. Surprisingly the biggest increase in time spent was on tablet devices, which grew to an average of 124 billion minutes per month by December 2013, up from 11 billion minutes during December 2010, a whopping 1040% increase! 401 billion minutes were spent every month on Desktops as of December 2010, which grew only 7% by December 2013, to 429 billion minutes.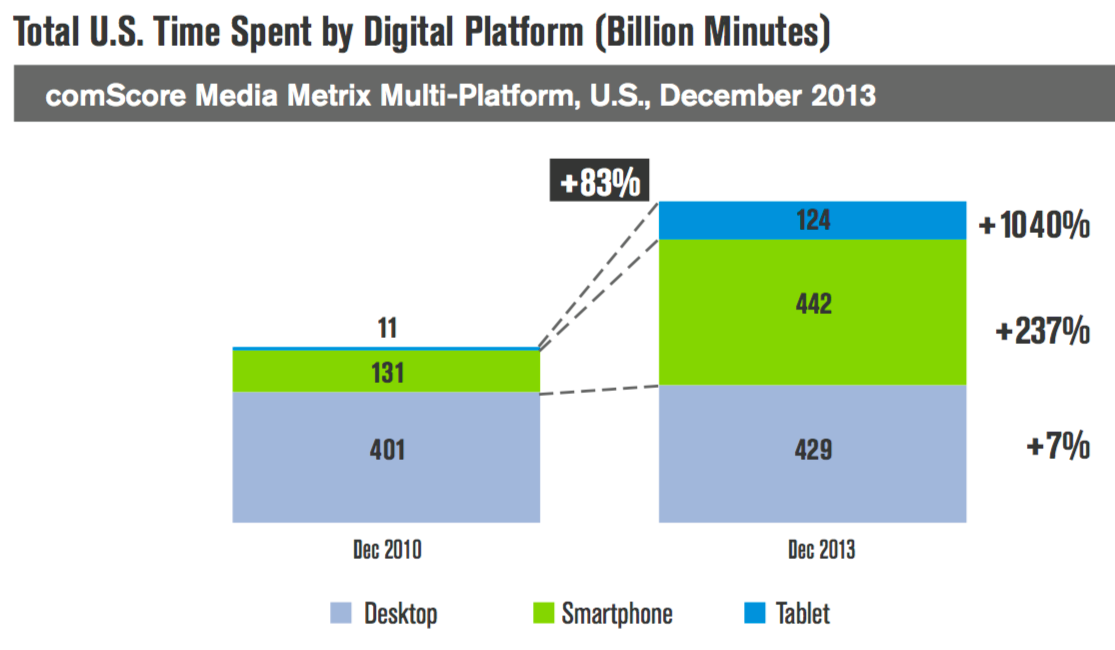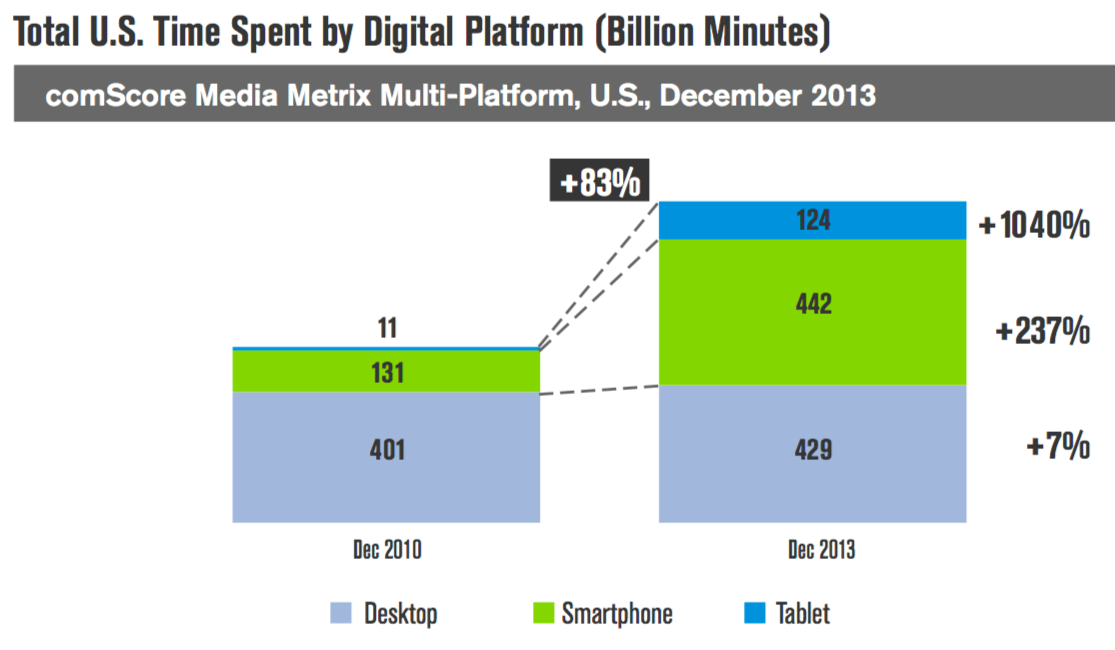 These trends highlight the possibility that within a few years, the entire population of the country will be on more than just one platform. Multi-platform device usage will become increasingly common, as people use different devices for different requirements throughout the day, depending on where they are, what they are doing, and which device is more convenient to use. The explosion in number of platforms, from smartwatches to Google-Glass like devices, will cause the digital media landscape to fragment even further.
Massive Increase in Smartphone And Tablet Adoption
Smartphone penetration in the U.S. in December 2013, stood at 65% with a total of 156 million subscribers, a 24% increase since last year. Tablet usage also increased by 57% to 82 million, or one-third of mobile users. While several other reports suggest saturation in the U.S smartphone market, an opportunity still exists, as there are still 83 million mobile users who do not have a smartphone, and 157 million who do not own a tablet.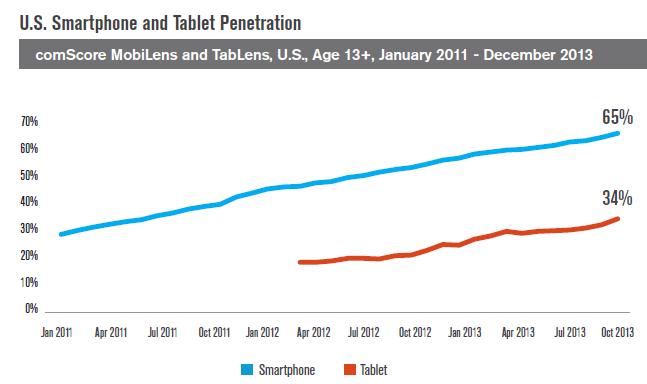 Apple Leads In OEM segment, While Android Is King In Software
Apple and Android currently account for 93% of the smartphone OS market in U.S, and are fiercely battling for domination. Android currently leads at 51%, while Apple is still a laggard at 42%. During December 2012, Apple had a 36% share of the OS segment while Android had 53%. In 2013, the rapid decline of BlackBerry OS, Palm and Symbian OS, allowed Apple to increase its iOS platform share, thereby reducing its gap with Android from 17% to 9%. Despite Apple's success in hardware market and its renown brand power, comScore points out that iOS still does not have the majority of the OS market share in U.S. which Palm, Microsoft, Android and Symbian, have all claimed at least once.
In the OEM department, Apple currently has 42% of the market, while arch rival Samsung Electronics Co.Ltd. (KRX:005930) still has only 26% of the hardware market, despite doubling from two years earlier. 97% of Samsung smartphone users are on the Android platform and indirectly contribute to the popularity of the Android OS in the U.S. Samsung's development of its own OS Tizen, suggests that Samsung may no longer be dependent on Android to power its products.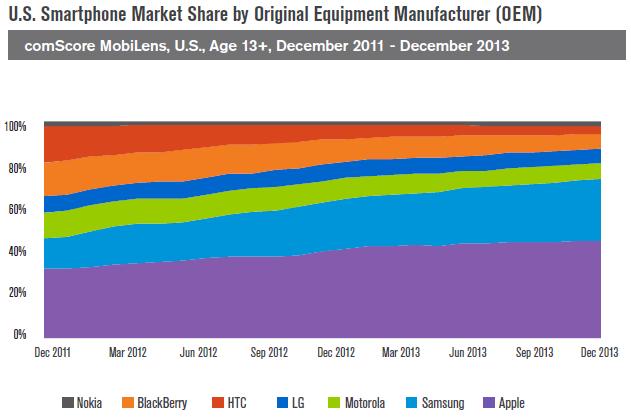 Can Marketers Tap The Multi-Platform Segment?
The multi-platform user experience is still a source of frustration for marketers, despite the great potential it offers. Publishers will increasingly need to look for other ways to target their market segments more effectively and tailor them accordingly to suit the needs of the customer. CPM or costs per impression will remain less on mobile devices than traditional desktop displays, adding to concerns of devaluation.
Concerns continue to persist, as the multi-platform business model has the potential to disrupt traditional business models. An example of this disruption can be found in the opening of promotional-emails, which was found to be more on tablets and smartphones. 65% of users used their handheld devices, rather than desktops, to read advertising e-mails. At the same time, the advent of several devices has ensured the potential for increased monetization on the digital media platform. Those marketers who take the steps required to adapt and learn from their intended audiences, will yield the highest returns.