Microsoft Corporation (NASDAQ:MSFT) will close the acquisition of Nokia Corporation. (ADR)(NYSE:NOK) devices and services on April 25,2014. There are strong indications that Nokia will be re-branded as Microsoft Mobile, as its market share of Windows 8 powered devices stands at 93.5%. This effectively means that Microsoft will gain 93.5% of the Windows Phone device market after the deal closes. According to an AdDuplex report for April 2014, the most popular Windows Phone is the Nokia Lumia 520, which currently accounts for 34.3% of all Windows Phone devices in the market. Out of the eight countries surveyed by AdDuplex, the Lumia 520 emerged as the most popular Windows Phone in at least six countries. AdDuplex based the report on data collected from 3886 Windows Phone apps running AdDuplex SDK v.2.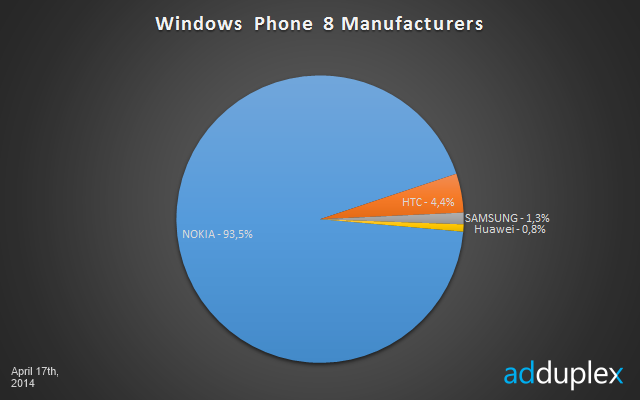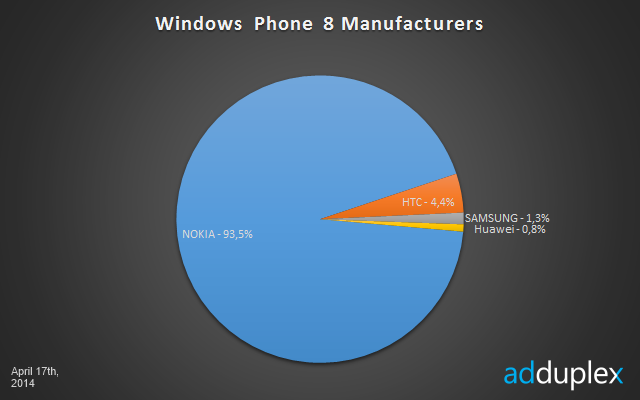 Microsoft Will Dominate WP 8 Market But Other OEM's Showing Interest
Although Microsoft has tripled the number of hardware partners developing Windows powered devices to 13, their products are yet to be announced. Samsung Electronics Co.Ltd. (KRX:005930) currently accounts for 1.3% of the market share of Windows phone devices, while HTC Corp (TPE:2498) has the largest share at 4.4%. Chinese smartphone vendor Huawei Technology Co Ltd. (SHE:002502) has recently released a few Windows Phones, and captured 0.8% of the market. These figures may radically change over the coming months, as several vendors release more Windows devices into the market. Microsoft has also waived the license fee on its Windows Phone OS, for all smartphone vendors developing WP devices with a screen size under 9 inches.
In the OS segment, Windows Phone 8.1 OS was already powering 3.1% of all WP devices by April 17th 2014, just three days after the developer version was released. This is surprising quick, if we consider that the adoption rate of the latest Android 4.4 Kitikat was just 5.3% even six months after its release. It will still be several months before Windows Phone 8.1  is officially available as an update for all users of Windows Phone 8. Several new features will be available including Cortana, a personal voice assistant comparable to Apple's Siri and Google Now, and a host of built-in apps and other changes to user interface. Several hardware vendors have expressed an interest in developing smartphones pre-loaded with Windows 8.1. By allowing all vendors to use Windows Phone OS, Microsoft has a great opportunity to capture the OS market share in emerging countries.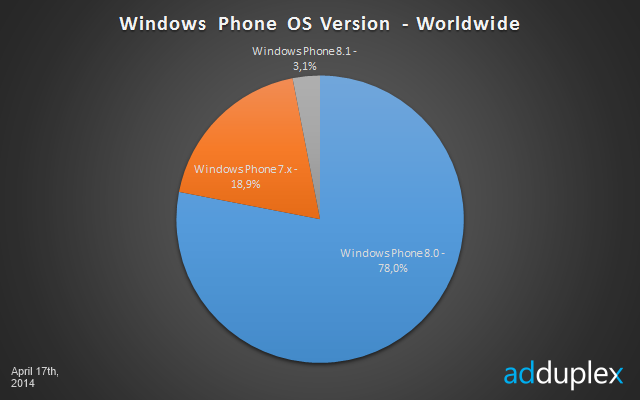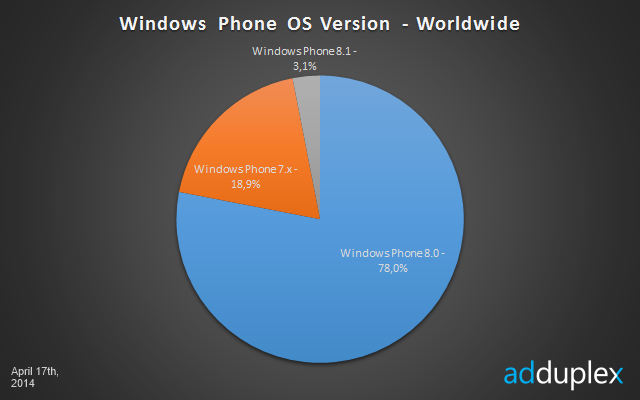 Globally the Nokia Lumia 520 is the most popular Windows phone, grabbing 34.3% of market share. It's also one of the cheapest phones among all WP devices. Other models which are popular globally, include the Lumia 620 and Lumia 625 and the mid-range Lumia 920. The success of cheaper devices such as Lumia 520 and Lumia 620, reveals that targeting the entry-level segment with more affordable devices is a good way to gain initial market share.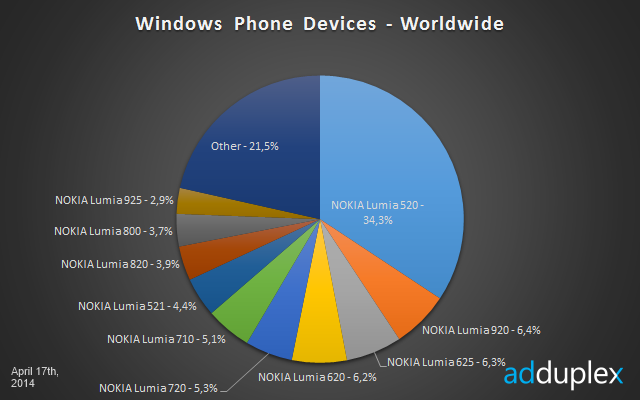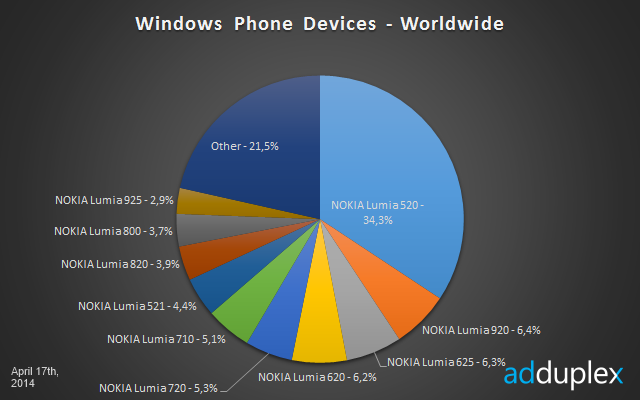 Expensive Windows Phone Are More Popular in China
China is poised to be the world's largest smartphone market, more than 1.2 billion mobile subscribers, of which 700 million users have smartphones. According to Kantar World Panel report, for the three months ending February 2014, the market share of Windows OS  was just 1%, while Android had 80%. Interestingly, among WP devices in China, the high-end Nokia Lumia 920 model is more popular than Lumia 520 by almost 11%. Despite the higher price, high-end WP devices are performing better than low-end models, due to the high number of Android phones in the low-end category. This finding also means that sensing the saturation in the Android smartphone market, several vendors such as Lenovo, Huawei and ZTE will roll out more WP devices.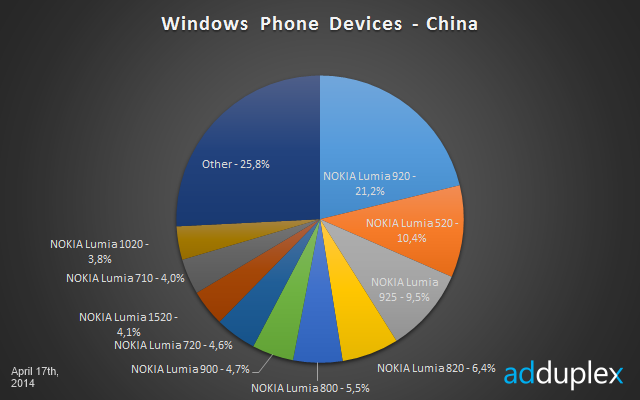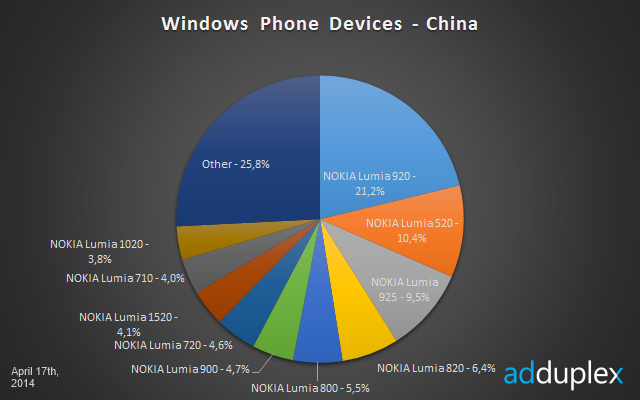 U.S and Europe Switching To Windows Phones
In the U.S., the market share of the Windows Phone OS  was just 5.3% for the three months ended February 28, 2014, an increase from 4.1% achieved during the previous year . There are still 80 million mobile users in U.S. without a smartphone. By having more Windows products in the market, Windows OS can still grow at the expense of Apple Inc. (NASDAQ:AAPL) and Google Inc. (NASDAQ:GOOGL) Android in the U.S. The Nokia Lumia 521 is the most popular WP device, with 36% market share, while Lumia 520 is second at 16.9%.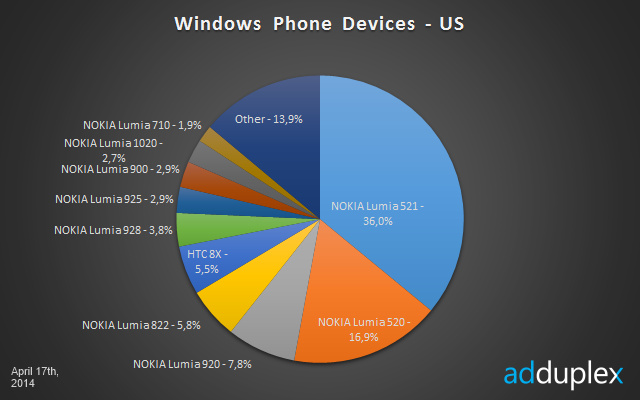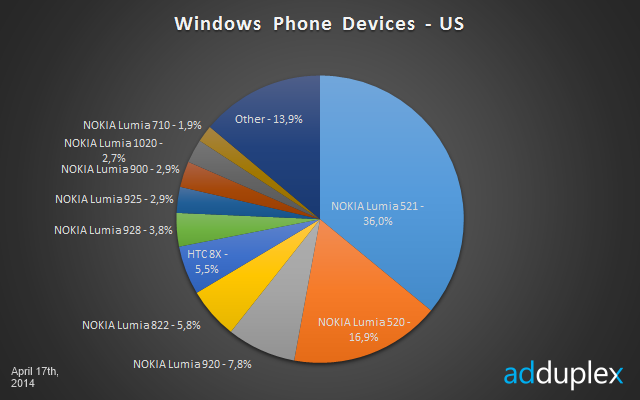 Europe is also steadily switching to Windows phone. Out of the top five European countries, Italy is seeing the biggest shift towards Windows Phone. The market share of Windows OS was 16.1% in Italy for February 2014, surpassing Apple iOS. Here again the Lumia 520 has a 32% share of the WP market. The Lumia 820 is the second most popular Windows Phone device with 9.6% of the market share.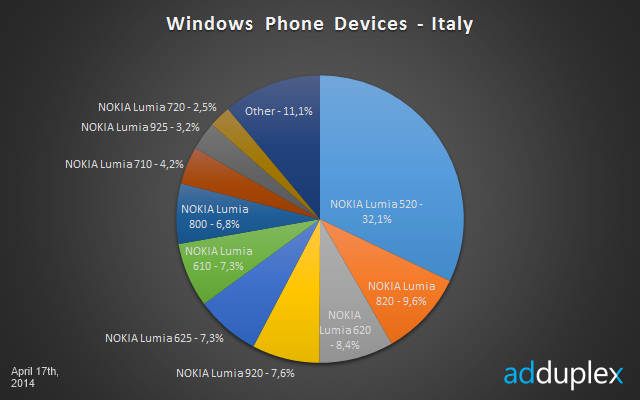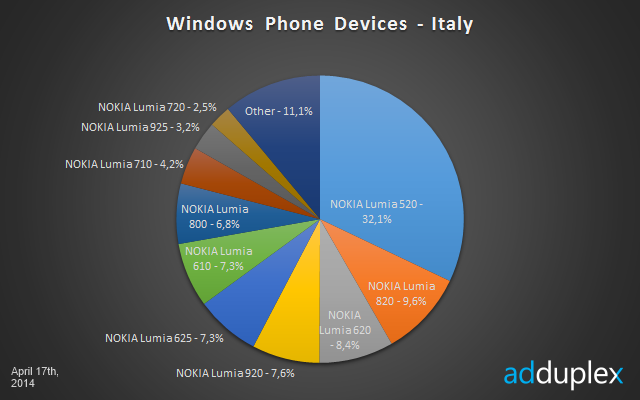 The South American nation of Colombia, presents a clear picture of an emerging smartphone market. Here the Lumia 520 owns 2/3 of the Windows Phone market, and all other devices have less than 10% market share. In markets such as Colombia, releasing more lower-end models will be key to grabbing the smartphone market.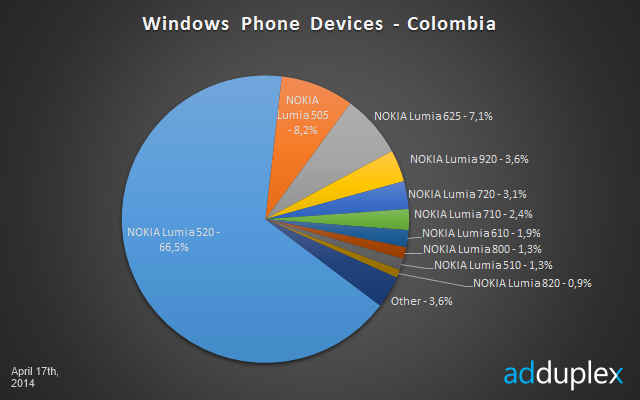 In a global population of 7 billion, only 1.75 billion people are expected to own smartphones by the end of 2014. Microsoft is unlikely to disturb Android's market share for the next few years, although any further growth for Android could be negated by the rise of Windows Phone OS. While Apple continues to acquire the premium customers, the battle for the emerging smartphone market will emerge into a two-way horse race between Android and Microsoft.