Microsoft Corporation (NASDAQ:MSFT) has finally unveiled Windows 8.1 OS and Windows Phone 8.1 OS today at Build 2014 conference. While Windows 8 OS will be available for free to all existing Windows 8 users from April 8 via Windows Update, Windows Phone 8.1 would be arriving in new smartphones by April end or early May this year. The roll out of Windows Phone 8.1 to existing compatible phones would be triggered only in next couple of months.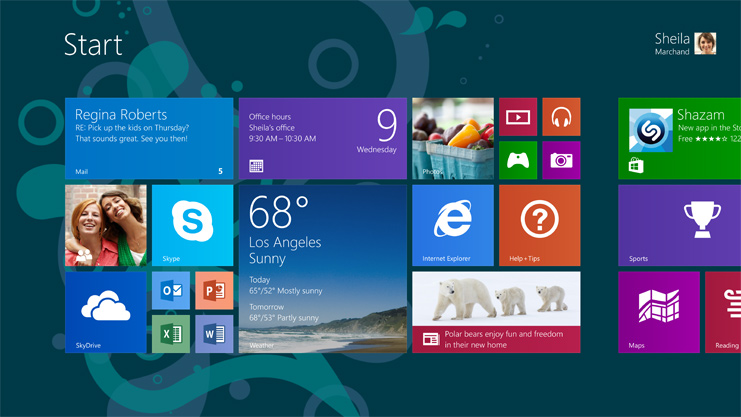 Windows has been the prevalent operating system for businesses now for almost as long as anyone can remember. This is not only because Windows OS is available on the widest range of computers, but also because it's well designed for multitasking and productivity and offers the best software support for the most commonly used office applications (such as Word and Excel). While several media companies have lately turned to Mac, the majority of organisations are still using Windows and opting for anything else is only likely to cause compatibility issues.
But that still leaves you with the choice of which Window's version you use, which is an issue that will be on the minds of many companies right now following the recent launch of Windows 8.1 OS. Is upgrading to Windows 8.1 worth it for companies already on Windows 8 OS? And for those who elected to skip on Windows 8 and are still using Windows 7, is now the time to take the leap?
Windows 8.1: Its' Different
To answer that question, let's first of all look at how Windows 8.1 is different from its predecessors. Like Windows 8, 8.1 offers a kind of compromise solution for devices that want to double up as both tablets and PCs. To this end it has two environments for working in: the desktop mode, and a 'Metro' UI that runs full screen apps as in Android or iOS. The desktop mode for the most part works like it always has, and this is where business users will spend most of their time. If you have invested in slates though, then various improvements to the tablet-style interface will make this more enjoyable such as extra customisation for your Start Menu, and the option to run more than one app at once. And you get a ton of free apps too, some of which might actually prove useful or at the very least fun for your staff (which doesn't hurt!).
Boon For Business
If you're just going to be running desktop apps then, Windows 8.1 is essentially the same as Windows 8 – which is essentially the same as 7. Where it's different is in the speed, the performance and the size of the package, all of which have been improved and streamlined to provide an all-round upgrade that any business should look into. If you upgrade to Windows 8.1 now, then your machine will boot faster, you'll have more free hard drive space, you'll get more battery life out of laptops and you'll find it handles demanding tasks and multitasking more easily.
Work Flow…
To accommodate this new metro mode and the Start Screen that serves as its basis, Microsoft have opted to get rid of the Start Menu. This is something that irked many users who were accustomed to finding everything they needed in the bottom left of their screen, and who didn't want to have to switch into a completely different UI in order to access things.
If you were among this camp, then you should find that 8.1 is a step in the right direction as long as you're willing to try something new. For one, the Start button is back (though not the menu) meaning you can more quickly switch to the Start screen and select apps. Additionally you now have the option to boot straight to the Desktop if you would rather the Metro mode didn't exist at all, while the incredibly powerful search function will allow you to find and launch apps not pinned to your taskbar more quickly than ever. This was already a very useful feature in Windows 8 (and the way that critics should have been using the system), but in 8.1 it's one of the most powerful and intuitive search systems available. Nothing is ever more than a couple of keystrokes away which means 8.1 should improve, not hinder, your workflow.
The Big Question: Should You Bite?
So with all that in mind, is it worth upgrading to Windows 8.1? To put it simply: YES. If you're still on Windows 7 and weren't won over by Windows 8, then 8.1 should offer enough of an improvement to be worthwhile while also dealing with some common criticisms of its predecessor. For those who are still hanging with Windows XP, this could probably be the end of road for you. Microsoft had already announced the April 8 as the end of Life for Window XP. So it would be better to migrate directly to Windows 8.1, unless you are not considering Xubuntu OS. If you're on Windows 8 and are considering upgrading to 8.1, then the process will be completely free while also being much quicker and simpler (no need to reinstall everything). In that scenario there's really no reason not to make the jump and start getting the most out of your systems.
In fact there's only one reason to avoid installing Windows 8.1, which is that you might prefer to upgrade your hardware too. Windows 8.1 works brilliantly on any machine, but it truly shines when on a touchscreen. Upgrade your workforce to slate computers running 8.1 and they will truly be a force to be reckoned with…
Author Bio:
Greg Fisher, started Berkeley Sourcing Group eight years ago after realizing the need for efficient processes and coordination between manufacturing firms located in the United States and factories in China. He has a strong manufacturing and engineering background, and is proficient in Mandarin.