The Covid-19 pandemic has influenced not only consumers' preferences but also purchasing methods. India's e-commerce industry witnessed an unprecedented surge in the number of first-time online buyers between 2020 and 2022 and this trend is likely to continue in the coming years. The exploded adoption of e-commerce attracted approximately 101 million new online shoppers in India between 2020 and 2022. As a result, the total number of online shoppers in India reached nearly 230 million by the end of 2022, accounting for almost 36% of all Internet users.
A report by Boston Consulting Group (BCG) and Matrix Partners India reveals some interesting facts about the growing popularity of e-commerce among Indians, how pre and post-Covid-19 pandemic periods have impacted the consumers' shopping habits and the top industries that will rule online retail by 2025.
The e-commerce platforms such as Amazon and Flipkart are leaving no stone unturned to entice more customers by giving jaw-dropping discounts on products and offers on credit/debit cards on a regular basis. This will further boost the number of India's online shoppers to nearly 350-400 million by the end of 2025, onboarding 50 million shoppers for the first time. The total number of Indians expected to make online purchases by 2025 is slightly higher than the figure estimated by Bain & Company in mid-2020.
The report also highlights the increasing influence of social media and other video applications that have been playing a crucial role in boosting the growth of online shoppers in India. It is worth noting that approximately 50% or 320 million of the total online shoppers are classified as the "Digitally influenced" population – which means people who predominantly use social media and video apps for entertainment as well as for searching products for online shopping.
Growth in Online Retail Spending in India
The average amount of money Indians spend while shopping online has considerably increased over the years. During the pre-pandemic era, between 2016-2020, the year-over-year increase in online retail spending in India was less than $10 billion annually. However, the annual increase in online spending skyrocketed during the Covid-19 pandemic and will continue to grow post-pandemic.
Online shoppers in India spent nearly $32-$40 billion in 2021, up $21 billion from 2020. This figure is expected to increase to $50-$55 billion in 2022, up $16 billion from the previous year.
By 2025, India will witness a $36 billion YoY increase in online retail spending, amounting to $140-$160 billion.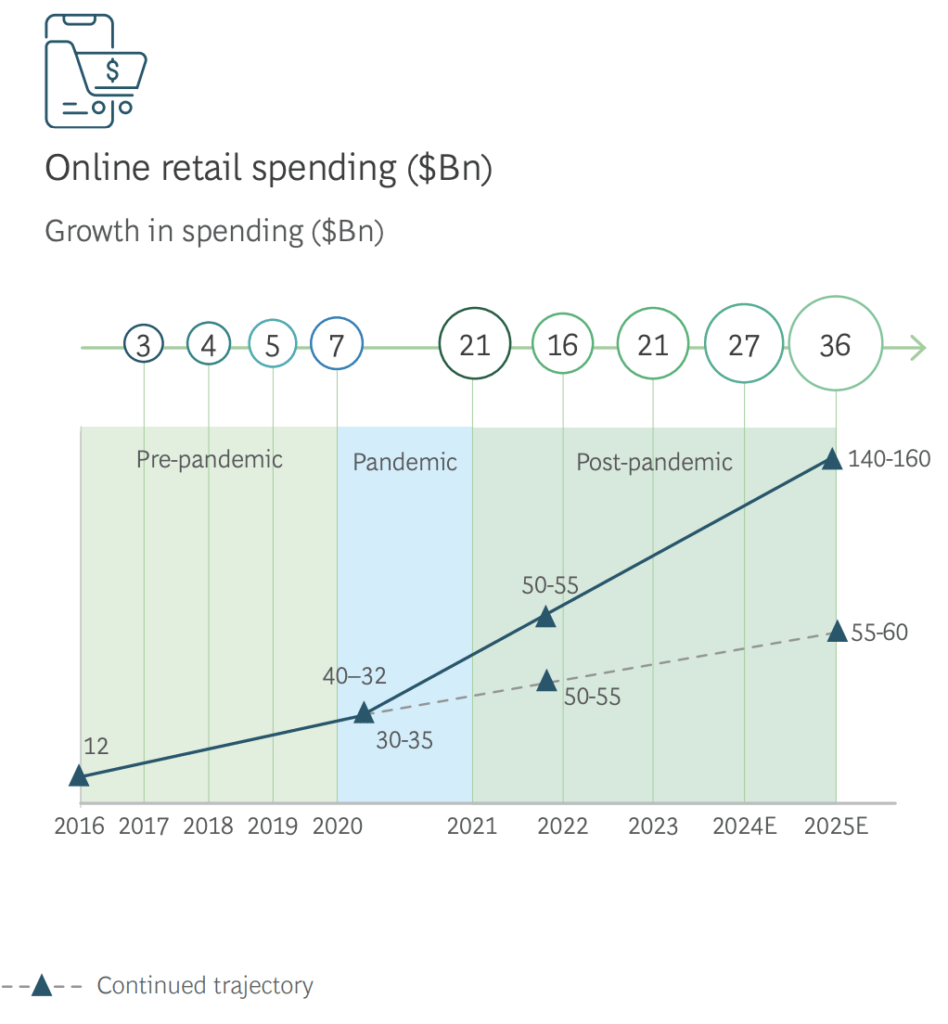 Online retail spending by category
Online retail is expected to grow faster in Food and FMCG (30–33% CAGR), Beauty and personal care (27–30% CAGR) and Fashion and apparel (27-30% CAGR) industries between 2021 and 2025.
At 25%, the fashion and apparel category is predicted to have the biggest share of online retail spending of $140 billion to $160 billion by 2025. However, the share of spending in 2025 is slightly lower than in 2015, when fashion and apparel made up 27% of all online retail spending of $10-$13 billion.
In 2021, the fashion and apparel industry accounted for only 20% of India's online retail spending of $50 billion-$55 billion. This was primarily because the spread of Covid-19 peaked in 2021, and the entire country was put under lockdown. Thus, there was no motive to purchase clothes or other fashion products.
Surprisingly, the share of online retail spending on mobile devices is expected to fall from 35% in 2020 to just 23% in 2025. On the other hand, the Food and FMCG category will see a dramatic increase in spending, from just 2% in 2020 to 16% in 2025.