Worldwide Smartphone demand has been continuously on the rise for the last few years, resulting in frequent shift of global Smartphone Operating System market shares and sales. While Google Inc. (NASDAQ:GOOG) is trying to end the regime of Samsung in the Smartphone space, the low-priced Android powered Smartphones are fueling the penetration around the world.
Kantar Worldpanel, a market research subsidiary of WPP that tracked the 12 biggest Smartphone markets in the world, concluded that Android retains the biggest pie in all the markets. Highest in Spain, Android accounted for 86.2% market share in Q4 2013, an increment of 0.3% as compared to the same quarter in 2012.
The drastic change has been observed in Latin America where the market share of Android has seen tremendous growth, accounting for 83.5% with an upsurge of 21.9% from the same quarter last year and was also able to eat up into other Operating Systems' market share. Earlier Blackberry was able to hold up 10.3% market share but Android, being the users' favourite, leapfrogged not only Blackberry but also iOS and Windows Phone OS that registered a decline in their market shares by 0.1% and 1.8%, respectively.
In the U.S., where the battle between iOS and Android is always more intense, Android closed the gap and improved its market share by 4.4% to cover half of the market with 50.6%, leaving its rival iOS far behind with 43.9% that recoded a loss of 5.8% market share. The chart below gives a brief distribution of shares in all the 12 big markets in the world.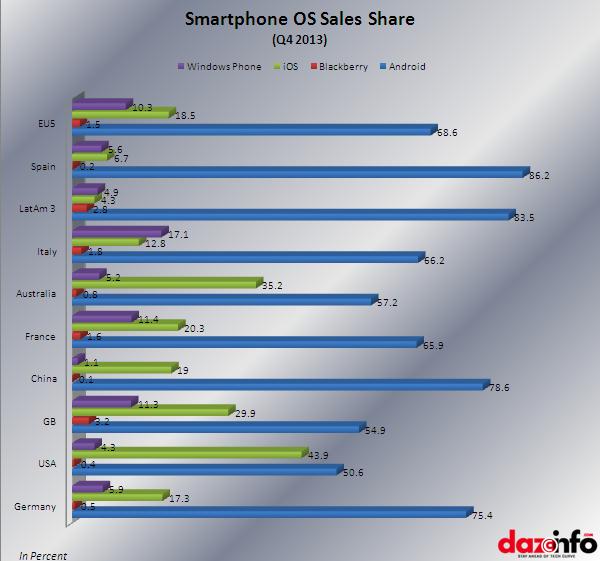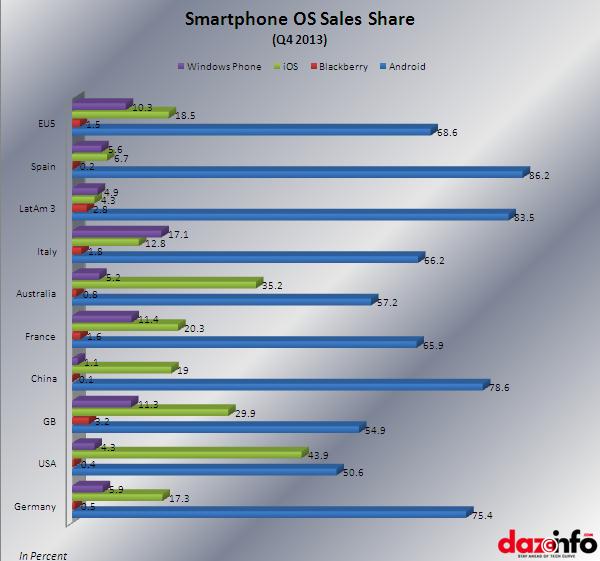 Android maintained its supreme position in all markets, whereas shares of other operating systems, excluding Windows Phone OS, declined. Except Android, Windows proved to be the only operating system that was able to attract users and mark some positive growth figures.
Although the market share remained negligible when compared to iOS but significantly Windows Phone OS grabbed the 3rd position in this segment and its sales held double-digit shares across Europe. Apple iOS finished the quarter as the clear number 2 operating system, showing that, even new product launches, could not make up to the strong demand. Countries like USA and Britain where Apple Inc. (NASDAQ:AAPL) had a strong hold, had now slipped from the hands of Apple. Blackberry Ltd. (NASDAQ:BBRY) saw its market share decline during this quarter also, reaching levels not seen in its history. In Chinese market which is considered as Smartphone hub, the company gained 0.1% change over Q4 2013.
In 2011, the scenario of Smartphone OS market share was really different from today. More interestingly, in Japan, iOS (with 79%) completely dominated Android, which had just 14% of the total Smartphone OS market share. The main factor behind this success of Apple is their deal with NTT Docomo, which is selling iPhones in Japan. In Q4, iOS accounted for 58.1% of all Smartphone sales through Docomo, while the overall iOS Smartphones accounted aproximatley for 69% in Japan.
The conclusion is that Android is still leading in the global Smartphone market and every other operating system is lagging behind. The fact is that the collective innovation from many companies using Android are able to beat vertically integrated Apple. In Q3 2013, Android accounted for 81% smartphone market share worldwide and its close rival iOS grabbed just 12.9% market share. Android gained 1.7% over the previous quarter and the shares of iOS declined by 0.3%.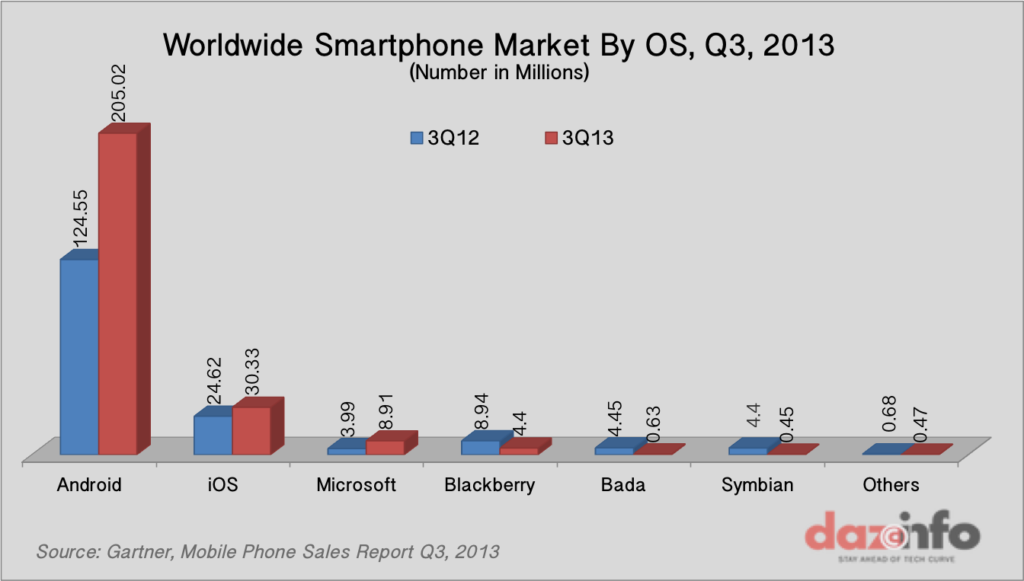 After Loss In Q4 2013, Is Samsung Losing In Android Market Also?
Just a few days before Samsung Electronics Co., Ltd. (KRX:005930) posted their earning reports in Q4 2013, according to which Samsung witnessed an 18% decline in its net profit as compared to the previous quarter. No doubt Google's OS was uplifted by Samsung only, but the other vendors also found this open source operating system quite lucrative resulting in more than 700 Android Smartphone vendors in the race. Few local vendors like Huawei and Micromax took the advantage of the emerging Android market and were successful in their local markets. In Q2 2013 Samsung lost 5.3% share in Android market as compared to the Q2 2012. LG and Lenovo are also strengthening their market presence by leveraging on the Android OS. It will be interesting to see which of these companies emerges as a dominant player in 2014?