Facebook Inc. (NASDAQ:FB) is big on small screens as the company recorded the largest advertising growth ever in Q1 2014, a large chunk of it coming from mobile. Facebook's Q1 2014 earnings have beaten the Wall Street expectations by reporting $2.5 billion in revenues, a 72% Y-O-Y increase. While the total user base has reached 1.28 billion, 1.01 billion users are accessing Facebook from mobile devices. This has helped Facebook record $1.47 billion from mobile alone.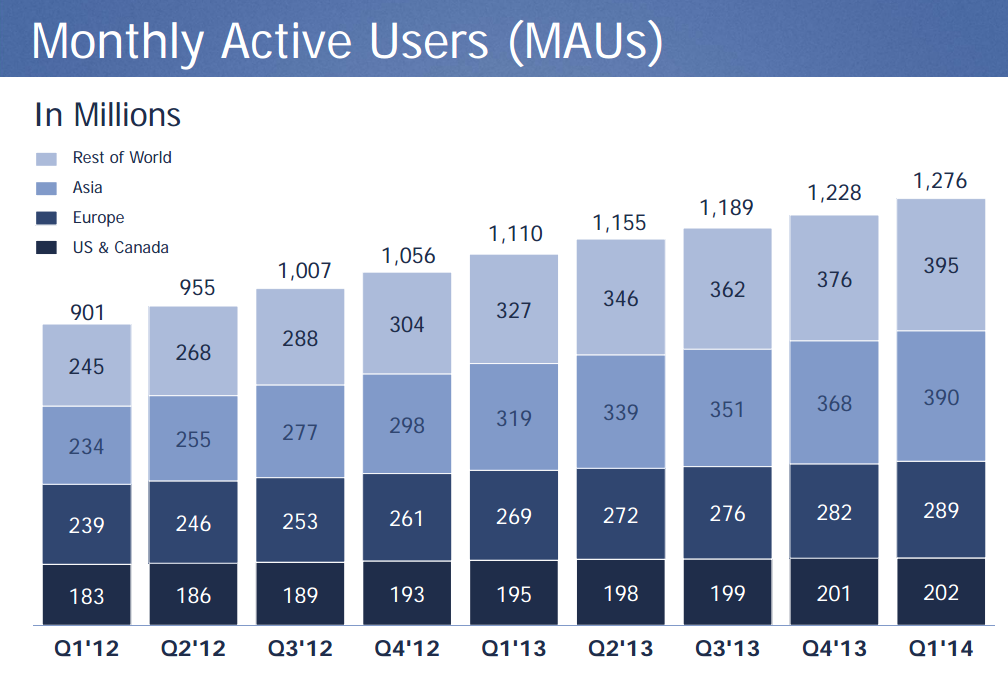 Here are a few of the main highlights of Facebook's Q1 2014 performance:
Facebook's Q1 2014 revenue reached $2.5 billion.
Net profit in Q1 2014 reached $642 million.
Revenue from advertising contributed $2.26 billion.
Average revenue per user (ARPU) declined in Q1 2014 compared to last quarter.
Total monthly active user base has reached 1.28 billion.
Daily active user base has reached 802 million.
Total mobile user base has reached 1.01 billion.
Daily mobile active user base has reached 609 million.
Though, Facebook's revenue in Q1 2014 remained a bit low compared to Q4 2013, the profit still surged up.
 "As people continue to join Facebook, the amount that use it every day also continues to increase", Zuckerberg said. "For the first time in the last quarter, more than 50 percent used [Facebook] almost every day of the week."
Its important to note that these figures don't include Instagram, which was acquired by Facebook in April 2012. The mobile-photo-sharing service has grown to 200 million monthly users. Facebook's Q1 2014 figures have also faced no impact from WhatsApp – Facebook's much debated $19 billion acquisition – as the acquisition process is yet to be closed.
Revenue From Developed Nations, Growth From Developing Countries
Facebook has apparently adopted a two dimensional approach, the growth in revenue is largely being driven by mobile users while growth in user base is largely being influenced with non-mobile device users, coming from emerging markets, like India and Brazil. Recently, Facebook has confirmed that India has surpassed 100 million users and has become the only country, after the U.S., to have more than 100 million users.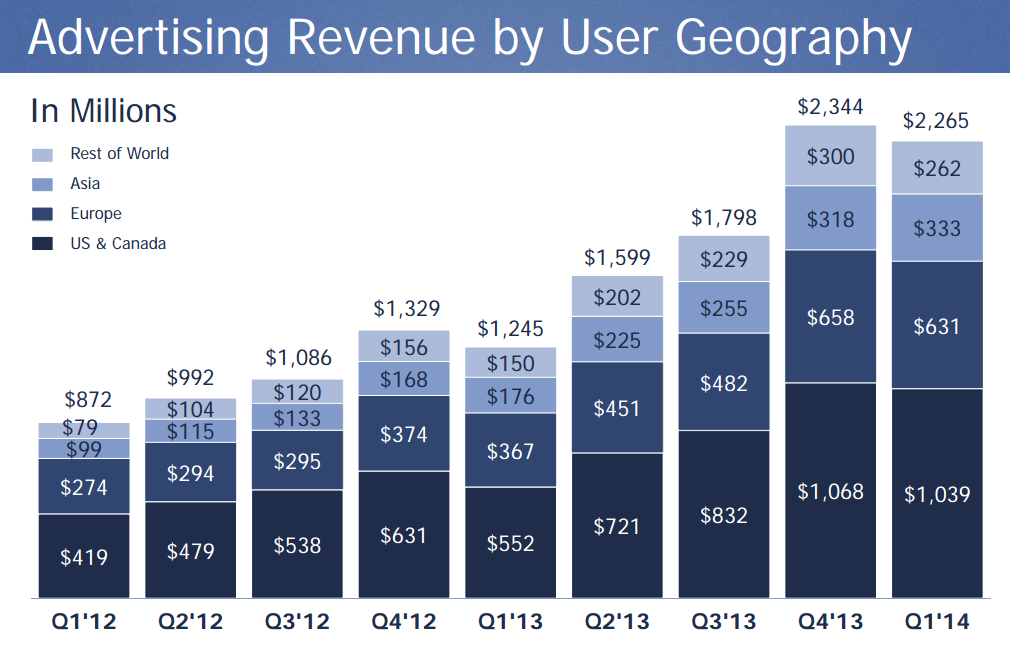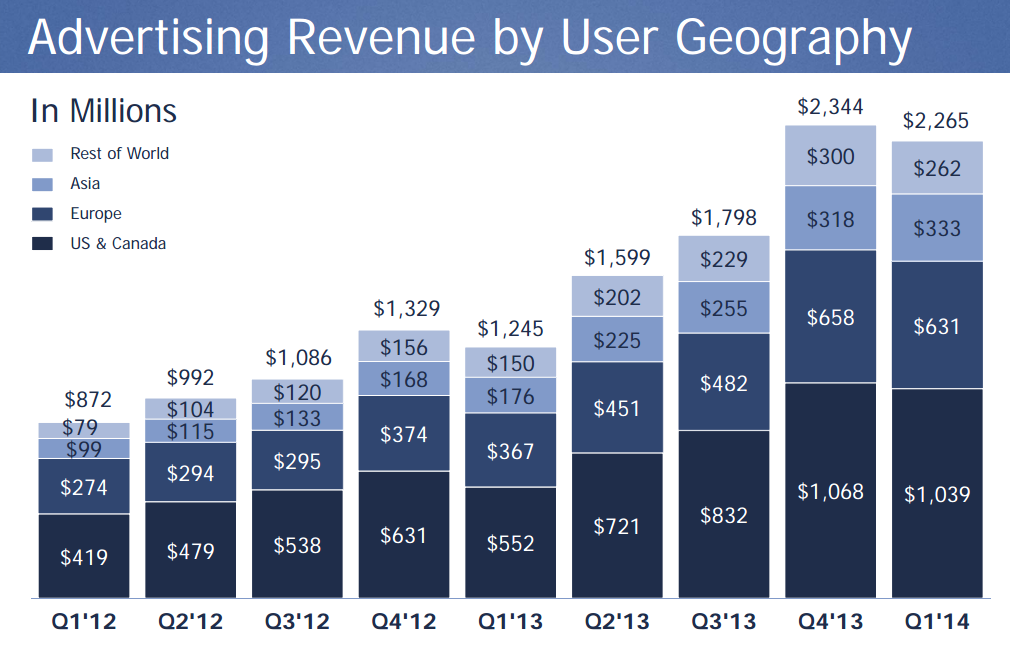 Developed nations on Facebook, the U.S. and Canada, are contributing highest to the revenue. Overall ARPU increased to $2 in Q1 2014 compared to $1.37 for the same quarter a year ago. However, developed nations like the U.S. & Canada contributed maximum to Facebook's Q1 2014 revenue. The ARPU in U.S. & Canada reached to $5.85, followed by Europe with $2.44. In Asia and Rest of the World, ARPU remained less than a dollar. Most of the users in developed countries are accessing Facebook from mobile devices and considering 59% revenue contribution from mobile in Q1 2014 it's evident that online social media giant is going to be more aggressive with monetization of mobile traffic.
Mark Zuckerberg is focused on three missions: connecting everyone through its internet.org initiative, understanding the world and building the knowledge economy. However, Facebook's last few launches and acquisitions point out that the online social networking giant is trying to split its services out into a constellation of mobile apps. Facebook messaging app (acquired WhatsApp), Facebook's Paper app and Facebook's mobile photo sharing app (acquired Instagram) are virtually three stand-alone offerings that has have no dependency on Facebook. The company is trying to narrow down its focus based upon demographic of users and has started acting more like a mobile social media company.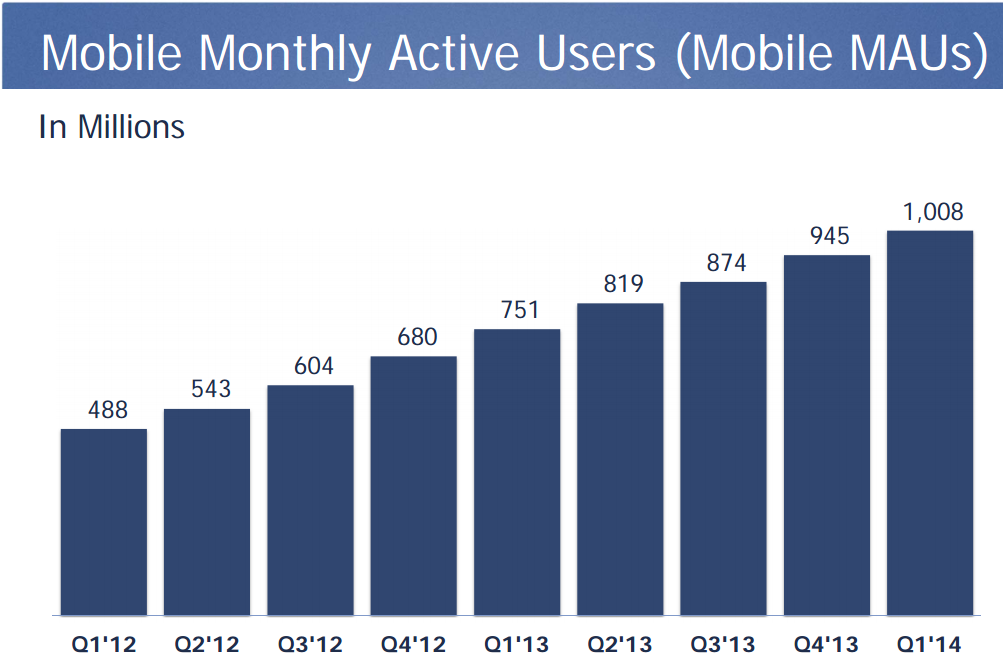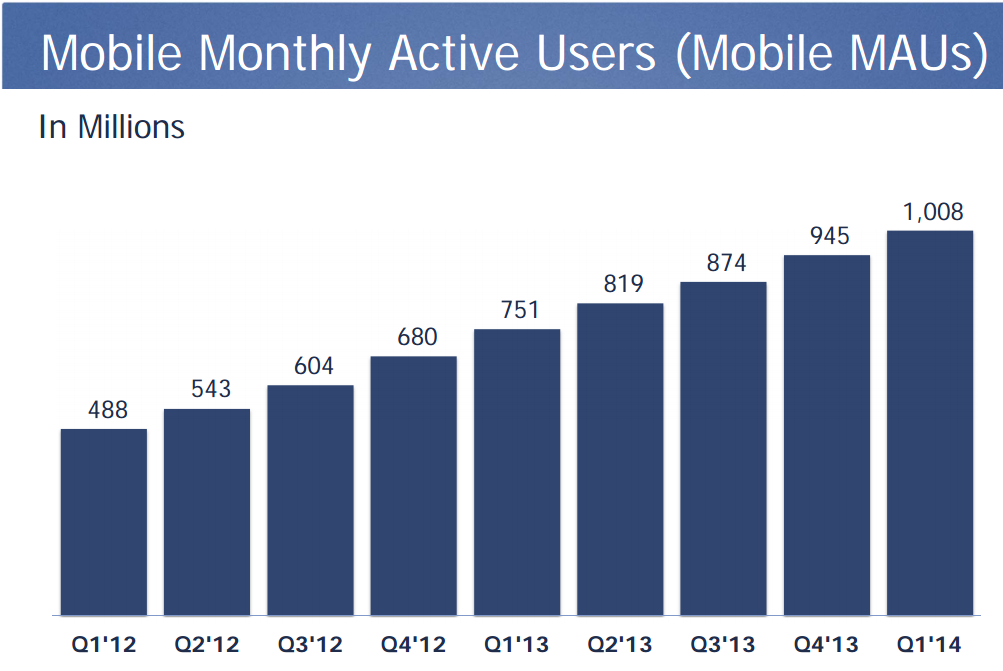 Considering WhatsApp and Instagram are yet to be monetized (completely), Facebook would see sharp growth in its mobile revenue and as users are becoming more smartphone friendly, mobile app market is poised to grow and bring more revenue dollars to Facebook.