Facebook Inc. (NASDAQ:FB) took nearly three months to achieve the mark of 100 million users in India from 92 million in early January this year.  This means world's third largest country, by the number of Internet subscribers, is adding up nearly 3 million users each month – possibly the fastest growing country on Facebook. In January this year, India became the second largest country on Facebook by leapfrogging Brazil, having nearly 91 million users now. While the growth of Facebook in the U.S. is almost saturated and China is still an aliens zone,  Facebook has started putting all its machinery with a focused approach on India to meet next milestone – a billion users. And, this would be achieved by establishing a close co-ordination between handset vendors and Internet service providers. This is going to be a 10 years road map, however.
The spectacular growth of Facebook in India has helped mobile Internet penetration to grow faster in Q1 2014 than during the same quarter last year. Metro cities in India have emerged as the main drivers of this growth,  Delhi has the greatest number of Facebook users in India, followed by Mumbai and Bangalore. Surprisingly, Kolkata and Chennai left behind Hyderabad, which is witnessing a rapid growth in the number of Internet users as well as Facebook users lately.
While digging down Facebook users in India by March 30, 2014 by age group, nearly 90% Facebook users in India are younger than 35 years of age. 71% users on Facebook (in India) belong to 19 to 35 years age group. Surprisingly, a little over than 19% users on Facebook in India are below the age of 19 years.
Classifying Facebook users by Gender, Male internet users in India are more fascinated towards Facebook than Female. Three in every four Facebook users in India are Male, while more young age female internet users in India are using Facebook more than other age groups.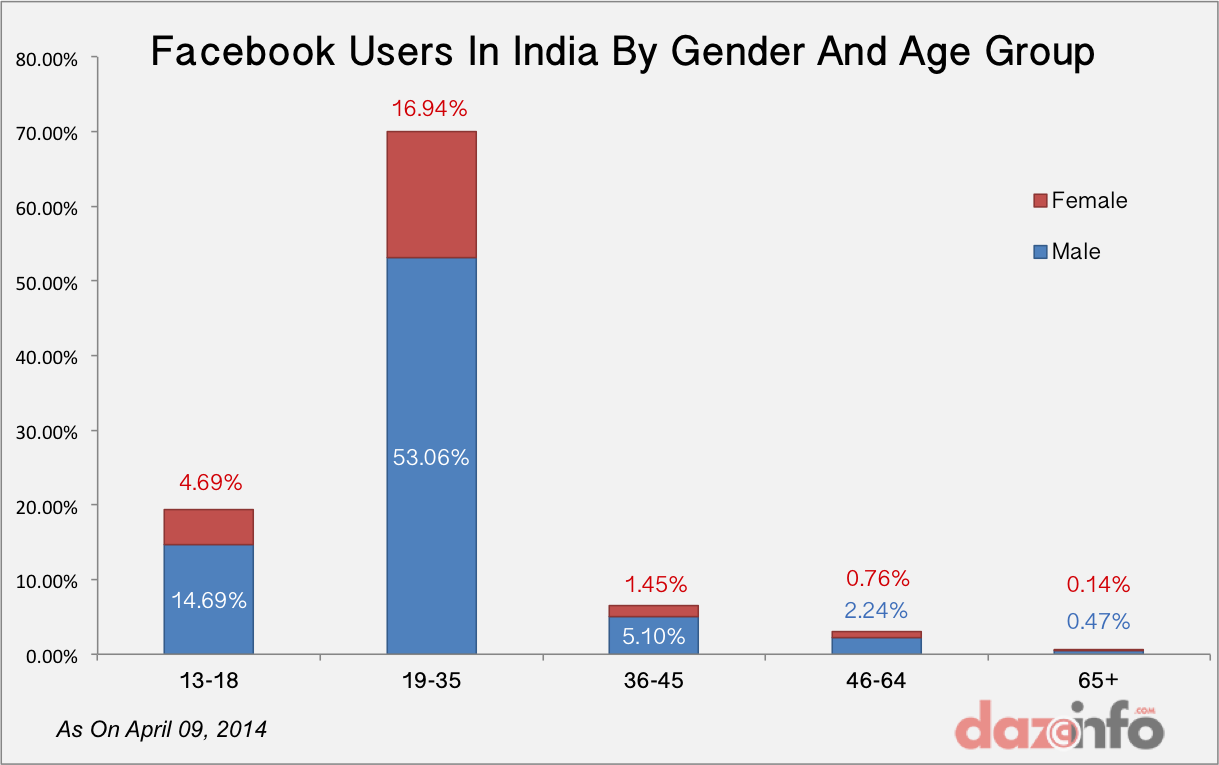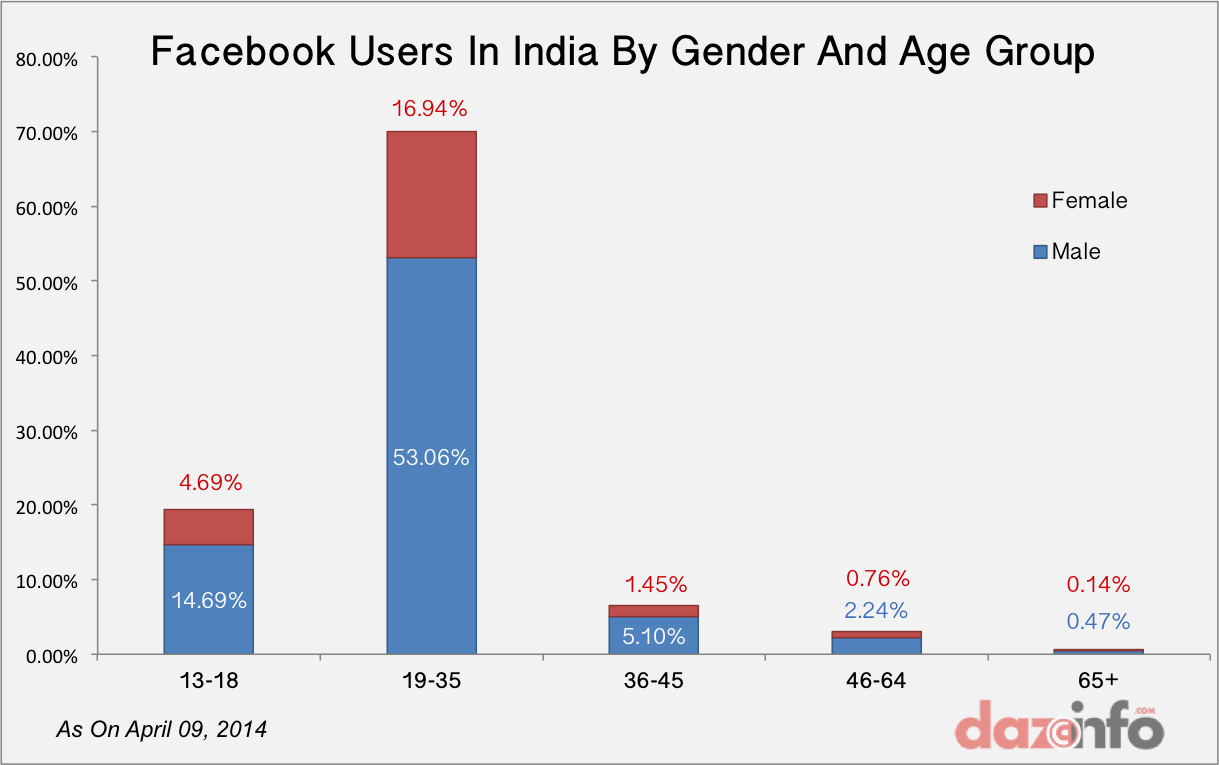 Unlike U.S., majority of Facebook users in India don't like to disclose their relationship status. Nearly 53% of Facebook users in India haven't specified their relationship status, followed by 31% of those who have quoted the status as Single. But what is more interesting, rather funny, only 10% Facebook users have openly admitted their status as Married.
The explosive growth of low-price entry-level smartphones has helped Facebook to accelerate its growth in India. 84 million users access the social networking site from mobile devices and these numbers are bound to grow up much faster with the growing penetration of smartphone devices. As on February 28,2014, India has got 901 million mobile Internet subscribers, but only 80 million users are on smartphone.
Facebook, having 1.23 billion users worldwide, has charted out its road of next 10 years to reach 1 billion users milestone in India. The free internet policy though Internet.org initiative and possibly the free mobile access to Facebook on every mobile network are on cards to make this happen within speculated time frame.