Although, the social media titan Facebook Inc. (NASDAQ:FB) has started to lose numbers in developed states, it is performing exceedingly well in developing economies like India, Brazil and other Asian, African and European countries. Increasing internet penetration in India and lucrative Facebook features have led to rise in adoption of Facebook for social networking amongst web users. In India the social media giant has amassed 92 million users, which is now the 2nd highest after the U.S, according to Facebook's own data.
Earlier in August 2013, India had surpassed Japan to become the 3rd largest internet population with 74 million web users after the U.S and China. According to another report, more than 97% of internet users in India were predicted to access Facebook. By June 2014, the total number of internet users tally is expected to reach 243 million in the sub-continent (India), of which more than 185 million are likely to access the web through their mobile device. Hence, Facebook adoption is bound to rise further in the near future both at mobile and desktop levels.
Teens Aged 18-24 Account For 50% Of Total Facebook Users In India!
Although, web users in India are aware of various social networking sites, very few of them bother to browse through sites other than Facebook. Not just India, in a majority of other developing economies web users are increasingly using Facebook, as social media usage timeline is slightly lagging in these states. In India, a majority of teens have flocked to the social media giant's website and use it vastly for sharing stories, voice opinions, discussions, brand engagement and other activities.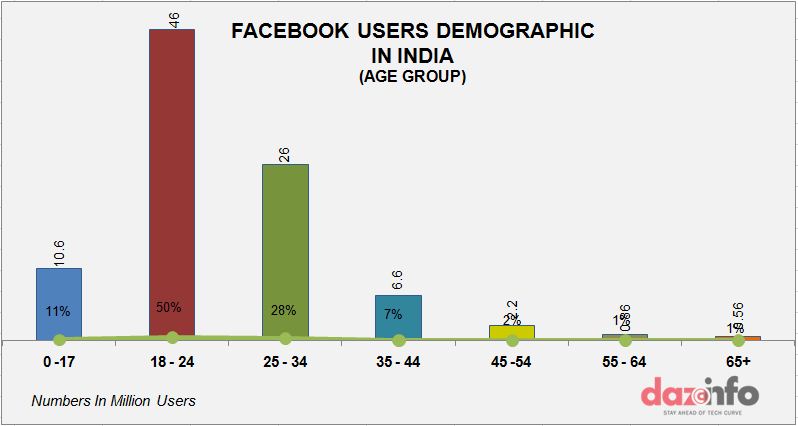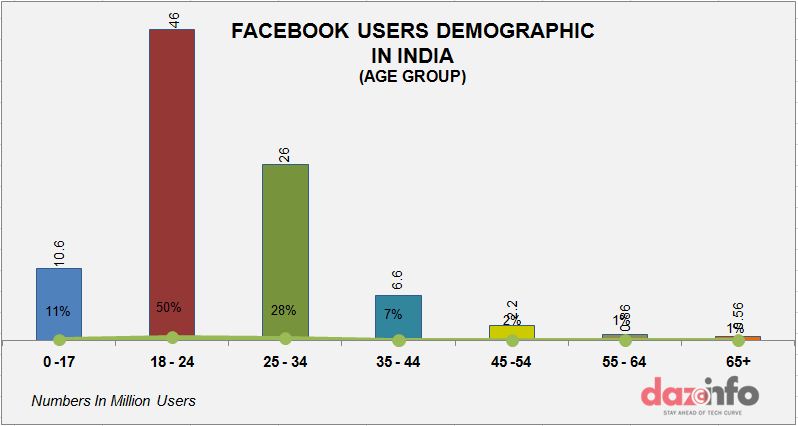 Of the total 92 million (7.73% of the total user-base) Facebook users in India, nearly 50% of them belong to the age group 18-24 years. Facebook is clearly at an infancy stage in India and other similar developing countries. Hence web users especially teens find it exciting and are very active on the site. Nearly 11% or 10.6 million Facebook users in India are aged below 17, about 26 million (28% of total Facebook India population) fall in the age group of 25-34. Close to 6.6 million are between 35-44 years, 2.2 million between 45-54 years and the rest above 55 years.
Facebook usage is expected to rise further in India, creating a Facebook profile, uploading it with thousands of photos, updating status or check-ins of some of the famous places of visit, posting pictures with some celebrity has become fashionable in India. Female users are busy changing their display and timeline picture at a rate faster than time taken to load a web page. Male users at the same time are busy stalking all pictures and goof them up with some meme theme and provoke discussion threads. Although, the younger generation is dominant, even adult groups are taking to the site due to its exciting features and to use it as a mode of remaining in touch with their children and close peers.
Male Users Dominate, Accounting For 75.6% Of The Overall User Base!
If we compare Facebook user demography based on gender, nearly 75.6% of the total user base in India, which means nearly 69.5 million users are male, whereas close to 22 million odd are female users. In the age group below 17, male users account for 8 million (8.6% of the total user base in India) and female for 2.6 million. Amongst teens of age between 18-24 years, nearly 34 million or 37% of users (In India) are male and about 11.6 million are female users.
Even in higher age groups, male users dominate, outplaying female users by a significant margin, amongst users aged 25-34 years 19.8 million (77.3% of users in the mentioned age category) are male compared to 5.8 million who belong to the female category. Amongst user aged 35-44, 77.39% (5 million) are male and rests (1.46 million) are female.
Nearly 52% Of Facebook Users (In India) Hardly Bother To Mention Their Relationship Status!
According to the demography of Facebook users based on their relationship status, it has been revealed that a majority of them hesitate to mention their relationship status on the networking site. More than 52% of Facebook users in India, which means about 48 million users hardly bother to mention their relationship status. 
Close to 26 million users claimed themselves as singles and 0.78 million engaged. Nearly 8.6 million Facebook users had updated their status as married and about 3.6 million as – in a relationship.
If we combine age wise distribution along with relationship status based demography, a couple of interesting observations are revealed. Amongst the teens of age group 18-24, nearly 19 million users had updated their status as engaged, and 2.2 million said that they were in a relationship, at the same time more than 22 million which is 47% of overall users in the specified age group preferred not to reveal their true relationship status. Generally updating relationship status seems fancy to younger generation groups than the higher aged adult group.
As the age group moves higher, enthusiasm of Facebook users in mentioning their relationship status decreases. In the age group 25-34 years, 52% of users in the group, or 13.6 million had not specified about their relationship status under their profile information. In higher age group categories of Facebook users in India, the share of 'not specified' relationship status is dominating compared to the rest.
The user-base of Facebook is bound to rise further in India and other developing countries as internet penetration rate is surpassing new heights on Q-O-Q basis. It would be interesting to see how far the social media titan continue to with hold the title of No.1 networking giant amidst the tough competition from other networking users.