Some of the leading skills successful investors' posses are education, patience and sometimes even luck! They stand out of the crowd by their unique qualities such as exceeding market performance and making a fortune off their success and also helping millions of others achieve the same. They are individuals who made a significant amount of money by their solid investment philosophies which happen to be simple strategies where they stick to basic financials of the company and also look out for value, which happens to be base of their profits! Their strategies vary from new and innovative ways to analyze their investments to picking securities entirely by instinct. But one common trait is their ability to beat the market and help others also make money and being big contributors to economic growth.
What is the Forbes Midas list?
It's that time of the year when the market looks at the Forbes Midas list which is the annual ranking by the Forbes Magazine, for the best deal makers in the high-tech and life sciences venture capital. The parameters usually used are the first-day market capitalization of IPOs, and the opinions of a panel of experts. Named after an allusion to the mythological King Midas, renowned for his ability to turn anything he touched into gold and they partnered with venture capital fund-of-funds TrueBridge Capital Partners to create the Midas list from 2011.
The 2014 Top Venture Investors
The 2014 list is influenced by Facebook, whose 2012 IPO brought almost 5 investors to the top ten in the last two years along with Twitter.Special notice goes to Sequoia which is the only firm with two partners in the top ten. Jim Goetz tops the list who made billion from Facebook's acquisition of WhatsApp.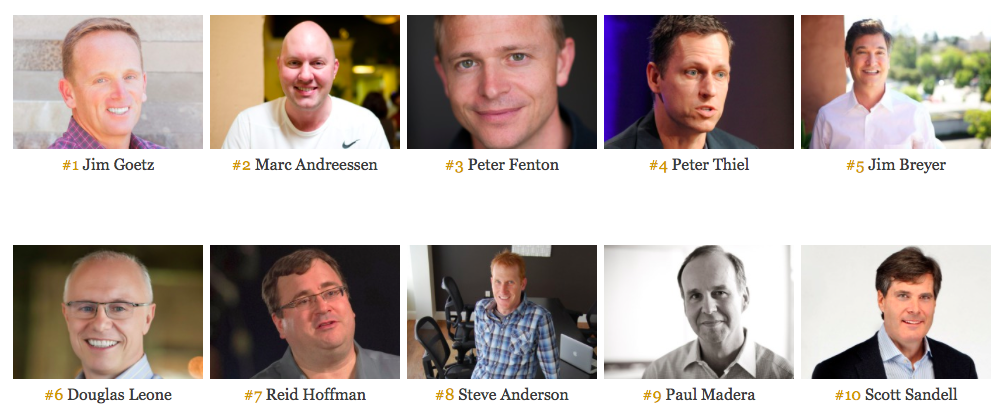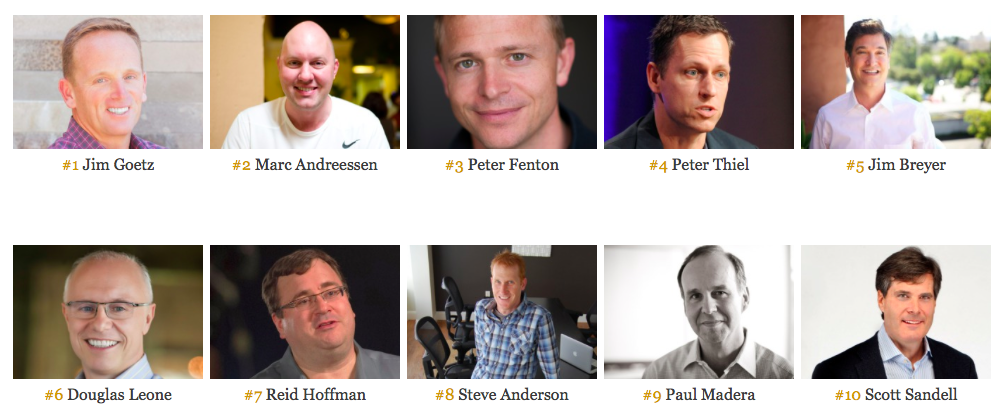 The list includes new faces, like seed investor Steve Anderson of Baseline Ventures and Paul Madera of Meritech Capital Partners , who were #22 and #11 last year. These investors rose up in the list because of Twitter and Facebook, respectively. LinkedIn plays a role in keeping its Co-founder Reid Hoffman on the top ten list at #7 and also Peter Thiel of Founders Fund at #4, who happens to be an early Facebook investor like Scott Sandell at #10 in this year's top list.
Notable features….
Some features distinctively noticed in the 2014 list are :
New names Vs Exit: It's seen the number of newcomers has dropped consistently in the last three yrs, 38 in 2012, and 25 in 2013 and this year's List dipped even further, to 19. Several companies IPOs were affected because of the 107 total venture-baked exits.
Top firms of the 2014 list: Along with the select group of firms that produces the top returns every year there is a new ruler at the top: Sequonia Capital which took down Accel Partners for most investors and went up the list's new top investor overall.
Some criticisms….
Some criticisms that arose especially from the Fortune Magazine are:
The inclusion of people involved with new start-ups that may not have made any money yet.
The  focus on first-day market capitalization rather than longer-term measures.
The fact that it relies partly on the subjective judgment of a panel of so-called experts.
The other nit-picking that came up is the caution to beware of the background bias. Forbes says that it "introduced an expert panel of our very own Deep Throats–professionals from a premier global investment consulting firm and a leading foundation's investment office–to inform our final ranking."  That's not encouraging because lists as such are supposed to be quantitative and objective rather than qualitative and subjective.
Also as there is no information on the background sources, it doesn't reveal us to their biases as well. And consulting firms only concentrate on places they have invested or on whom they have conducted serious due diligence, so complete insight into every single partner is lacking too.
Here is the video that talks about each Investor who made up to Forbes Top Venture Investors List 2014. The video speaks about each investor and beef and which of their investment gazed at the list.