Apple Inc. (NASDAQ:AAPL) looks set to release iPhone 6 with a 4.7 inch screen in September this year. Mass production for the iPhone displays will reportedly begin by May, however, giant 5.5-inch or 5.7-inch iPhone will feature a delayed release, according to Reuters. The three companies, making the displays of iPhone 6, are Japan Display Inc, Sharp Corp and South Korea's LG display co ltd. The screens of both the variants of iPhone 6 will be larger than the 4.0 inch panels of Apple's existing iPhone 5s and 5C models. The tech giant's fiercest rival Samsung Electronics Co. Ltd. (KRX:005935) stole a third of all customers, who upgraded their phones due to fascination towards bigger screen. Share value of Apple has languished below US$600 since November 2012, due to worries about Smartphone market saturation and a lack of innovative technology in its flagship products. A bigger screen iPhone will keep it on par with other top flagship phablets running on Android OS.
A report released last week from Japanese business newspaper Nikkei claims that iPhone 6 would be launched in two screen variants as early as September this year. However, the recent report from Reuters contradicts the claim by stating that only 4.7 inch screen iPhone 6 would be launched this fall while the release date of giant screen size Apple iPhone 6 is still unclear. Interestingly, the debate on iPhone 6 screen size is apparently far from over yet. Another Japanese magazine MacFan published an alleged drawing of 5.7 inch screen size phablet, purported as iPhone 6C. The drawing features flat, bezel-free device with rectangular shaped volume controls like those found in current iPhone 5C.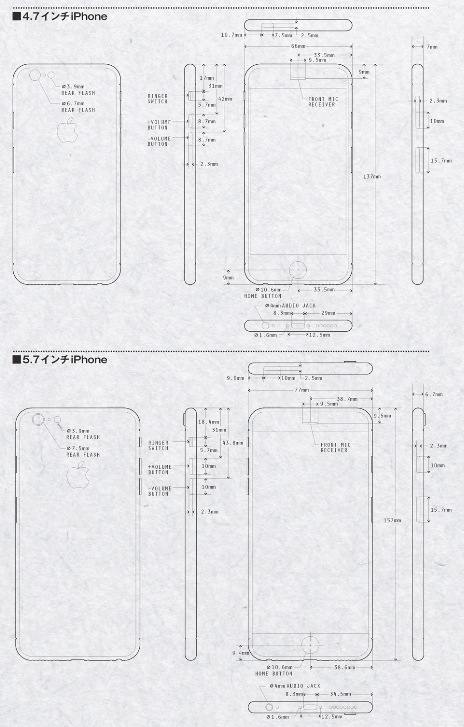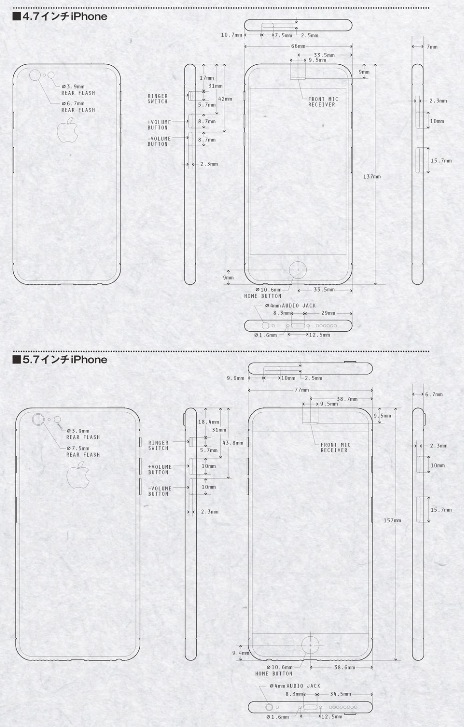 Apple has a history of working on multiple variants of iPhone simultaneously, but only the best one makes up to the market eventually. Besides, all recent leaked images and blue print of iPhone purport 4.7 inch screen display and not many sources are able to get hold of any information about 5.5 inch iPhone 6. Does that mean 5.5 inch iPhone 6 is just a another speculation, which may never come into existence ? Not really, a company like Apple can't afford to miss such an enormous opportunity specially when the size of opportunity windows is big enough and clearly visible.
Phablets To Control 25% of Smartphone Sales In 2014
Users usually drift towards large screen mobiles to make tasks, like browsing the web, streaming content, and gaming, more enjoyable. Despite their bulk and large size, the market for phablets devices is growing at a phenomenal rate. By taking the early introduction advantage of the first phablets device, Samsung  grabbed the market with its Galaxy Note series. Other players including Sony, HTC and Nokia have already released products in the market to grab a sizeable share. According to Juniper research at least 20 million phablets devices were shipped in 2013 and the market is estimated to hit 120 million devices by 2018.
The report also predicts that big screen devices will find more takers in countries like South Korea and China. The demand for phablets is already high in countries like India, Brazil, and Russia. Samsung sold 10 million units of the original 5.3 inch Galaxy Note. Its successor the Galaxy Note 2, had a 5.5 inch screen which sold 30 million units. The Note 3 with a 5.7 inch screen sold more than 5 million units within a month of launch. The allure of a single device that can act with similar functionality to both smartphone and tablet has more appeal in regions where the disposable income is lower.
Another interesting finding from Delloite estimates that by considering 5 inch to 6.9 inch devices as phablets, shipments of phablets will represent 25% of all Smartphones sold in 2014. This works out to roughly 300 million units, almost twice the amount sold last year and 10 times the amount sold in 2012. The revenue works to about $ 125 Billion, with a $415 average selling price, which is 10% higher than for Smartphones as a whole. At least 2/3 of all phablets sold in 2013 will be 5.1 inches. Only less than 10% are likely to be 6 inches or larger. This clearly portrays that Phablet is going to play a bigger role in 2015 and 2016 when smartphone users would be looking beyond 5-inc screen.
Phablets are seen as leading choices for those who can't afford a gaming device in South Korea.The demand for big screen devices will perhaps be consumer driven, as it resembles an all in one device that combines the features of a smartphone, portable gaming device and tablet and PC. The biggest appeal for the tablet lies in the Asian market where languages such as Arabic, Hindi, Chinese and Korea are too complex for a small screen. Texting may be easier on the large screens and larger virtual keyboards of phablets.
Will A Large Screen iPhone Cement Apple's Dominance?
If the iPhone 6 is indeed a 4.7 inch smartphone, than Apple will have plenty of catching up to do with its competitors. The 90 million iPhone units, being produced by Foxconn, signals the company's intention to kick off iPhone sales as soon as possible. A smaller iPhone with 4.7 inch screen will placate its most die-hard fans while a large 5.5 inch screen tablet will give tough competition to any Android phablet. A large screen iPhone could bring back customers who previously abandoned it simply for its small screen, the larger screen iPhone Phablet would help Apple to place in the market where not many of players are exercising – at least for now. Whatever Apple decides to do with its flagship product, it needs to act fast, as competitors and shareholders alike, are increasing pressure on the company.