In the last one decade people's dependency on mobile apps have gone all time high. We are now living in the era of mobile app as we can't imagine even a day without our smartphones. Sensing users' increasing reliance with each passing quarter, companies are constantly releasing new apps as well as enhancing the functionality of existing ones. This has resulted in the number of global mobile app downloads on the App Store and Google Play reaching 35.5 billion in Q4 2022, according to Sensor Tower's Data Digest. However, the quarter recorded a negligible 0.1% year-over-year decline in downloads.
The overall 0.1% decline in worldwide app downloads was primarily caused by a 0.9% YoY negligible decline in Google Play installs reaching 27.5 billion in Q4 2022. In contrast, Apple App Store continued to grow in terms of app install which increased 2.4% YoY to 8.1 billion during the same quarter.
However, Google Play downloads were over 3X of Apple App Store downloads in Q4 2022.
Instagram tops the list of most downloads apps worldwide
The social apps have become an integral part of our daily lives. Companies like Meta and ByteDance are leaving no stone unturned to add interesting features in their respective apps in order to boost downloads and improve engagement time to increase consumer spending. As a result, the social media industry continues to be fiercely competitive.
Meta Platforms, Inc. (NASDAQ: META) emerged as the world's largest mobile app publisher in 2022, with nearly 2.6 billion downloads. The 5 of the top 10 apps in Q4 2022 were from Meta, including Instagram, Facebook, WhatsApp, Messenger, and WhatsApp Business.
Instagram emerged as the world's most downloaded social media app in Q4 2022. This Meta-owned photo and video sharing app continued to be ranked among top three apps for the past seven quarters since Q2 2021. Out of the total 200 million Instagram downloads across both app stores, a whopping 167 million downloads came alone from the Google Play store.
Interestingly, Instagram has also become the top mobile app in Asia region in terms of unique downloads across both App Store and Google Play. The number of Instagram app downloads from Asia reached 128 million in Q4 2022. India alone accounted for 74.3% of all downloads in the region, followed by Indonesia with just 8% share during the quarter.
It's worth noting that a whopping 90.6% of all Instagram downloads in Asia region came from the Google Play store. With over 116 million unique installs in Q4 2022, Instagram also dominated Google Play downloads in Asia. India once again leading here with the largest market share of 79.5% in Q4 2022.
These data suggests that Android smartphone users are more addicted to Instagram than iPhone/iPad users.
The same trend has been observed in other Meta-owned apps Facebook and WhatsApp. The number of Facebook and WhatsApp app installs on Android smartphones surpassed 100 million in Q4 2022.
Overall, Facebook and WhatsApp were the third and fifth most downloaded apps, respectively, across both app stores in Q4 2022.
TikTok craze is still on
ByteDance-owned TikTok and CapCut were the global top second and fourth most-installed apps in Q4 2022. The Chinese video-sharing platform generated nearly 180 million app install across App Store and Google Play, worldwide, during the quarter.
In Q4 2022, TikTok had almost 60 million downloads on iPhones and iPads, making it the most downloaded app worldwide on the Apple App Store. It ranked third on Google Play, with having nearly 120 million global installs.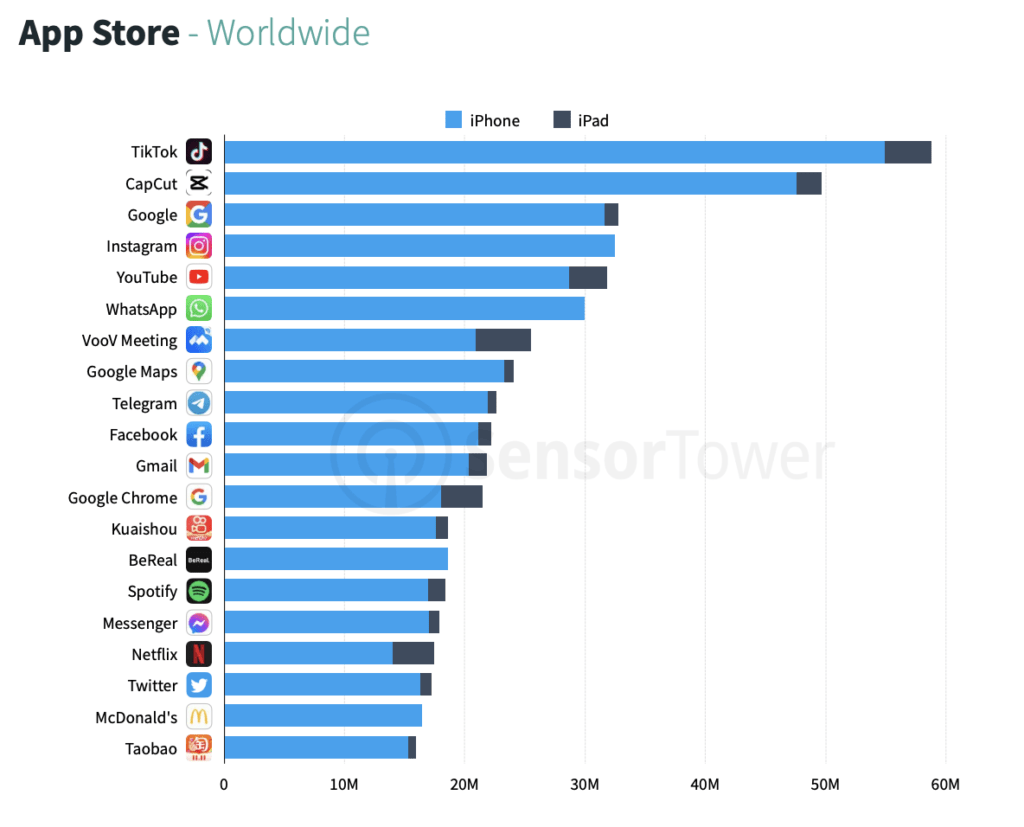 TikTok has also been ruling the chart of most downloaded apps in the United States for 8 consecutive quarters since Q1 2021. The number of TikTok US app downloads in Q4 2022 surpassed 13 million across both app stores.
TikTok also topped the Google Play store in Europe with over 12.3 million downloads in Q4 2022.
Asia, a homegrown market for ByteDance's TikTok, recorded over 29 million unique app installs on App Store in Q4 2022. Despite a 19% QoQ decline, TikTok remains the dominant app in the Asian market since Q2 2020.
To sum it all up, in Q4 2022, TikTok ruled the Apple App Store globally, Google Play and App Store in the United States, Google Play in Europe, and App Store in Asia in terms of number of unique app downloads.
The above data suggests that TikTok is the most popular social media app among iPhone users.
Twitter ranked 13th among the top 20 apps by worldwide downloads in Q4 2022.
Global slowdown in mobile game downloads
The second half of 2022 has not been great for gaming industry as the global mobile game downloads worldwide declined. Subway Surfers became the world's most downloaded mobile game with more than 59 million installs in Q4 2022. However, the game saw a notable 29% QoQ decline in its unique installs.
Stumble Guys emerged as the clear winner in the mobile gaming Industry. It was not only the fastest growing game, but also the fastest growing app of 2022 by downloads. Stumble Guys recoded 140.4 million unique app installs around the world in 2022.
Stumble Guys was ranked among top five games by downloads in most regions across the world. Indonesia was the largest market for Stumble Guys, with over 27.4 million app installs in 2022. Brazil and the US came next, with over 24.8 million and almost 17.8 million installs, respectively.
Despite being released in February 2021, Stumble Guys has already reached nearly 236 million all time downloads worldwide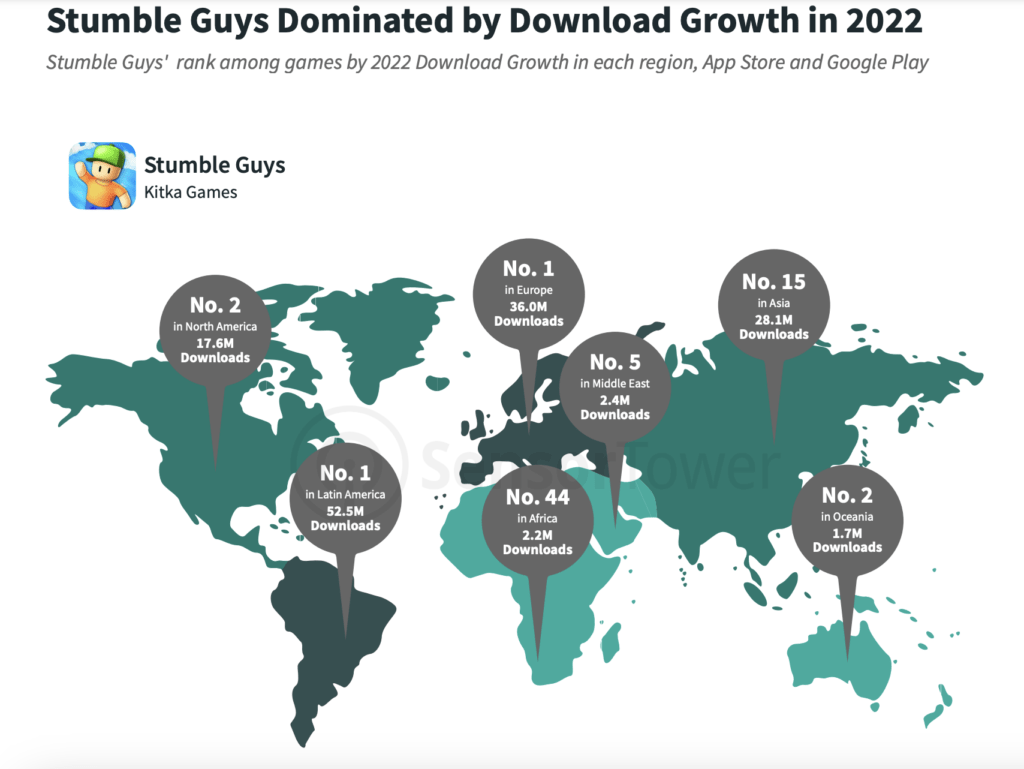 The World Cup, which was held in November 2022, helped spike in the global downloads of football games. Interestingly, FIFA Mobile and Soccer Super Star app downloads increased a whopping 137% and 112% QoQ, respectively, in Q4 2022. A majority of downloads of FIFA Mobile and Soccer Super Star came from Brazil.
Due to the live broadcast of the FIFA World Cup on JioCinema app in November and December months, the app downloads skyrocketed. JioCinema app downloads increased an astonishing 2,265% QoQ in Q4 2022, to 43 million on Google Play store.