The barriers for mobile engagement seem to be limitless, especially with enhanced shopping experiences and retail marketing opportunities based on proximity. The iBeacon technology from Apple Inc. (NASDAQ:AAPL) provides that level of mobile-based shopping convenience and message customization. Here's how iBeacon, a digital location-sensor system, and beacon devices in general are shaping the retail industry for mobile consumers and retailers:
What is iBeacon?
Apple's iBeacon is short-range positioning technology that uses Bluetooth low-energy (Bluetooth LE or BLE) connection to communicate with nearby devices. The BLE enables the connection between your iPhone and strategically placed beacons. The location-sensing application connects with these in-store beacons while detecting enabled smartphones to send push notifications. An interested recipient can then download the mobile app specific to his or her location in the store or venue that's sending the messages.
The functionality of iBeacon was upgraded as part of the recently-launched iOS 7.1, reports Cult of Mac. The upgrade cancels iBeacon's opt-in invitations and user permissions. Once you download the store, stadium, museum or mall app, the store can interact with your phone, without your permission and without the app even running. Then, as the iBeacon system interacts with your enabled iOS app, you can receive messages such as "your package is ready for pickup" and "that painting you're looking at is by Da Vinci," explains Mashable. Messages can also include coupons and incentives, which is why iBeacon technology revolutionizes mobile retail engagement.
Influence on Mobile Retail Market
Since the rapid emergence of smartphone capabilities and mobile apps, the mobile retail and consumer experience continues to evolve in sync. While location-reading technologies transform the mobile retail space, social-search and image-recognition shopping apps also enhance fashion and shopping experiences. The ASAP54 iPhone app was launched last month and helps users find items through a social fashion community and visual recognition technology. Users can hunt down items using the visual search tool and even consult with a team of in-house stylists.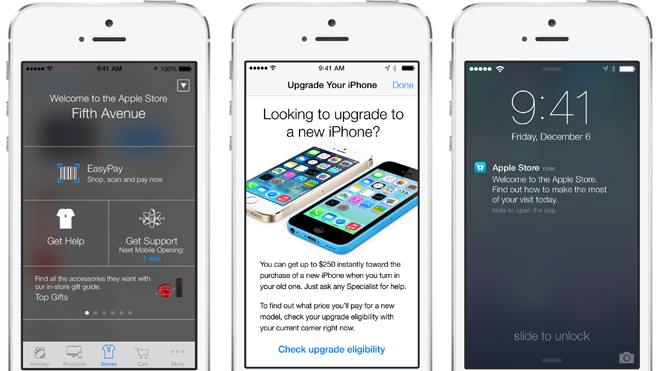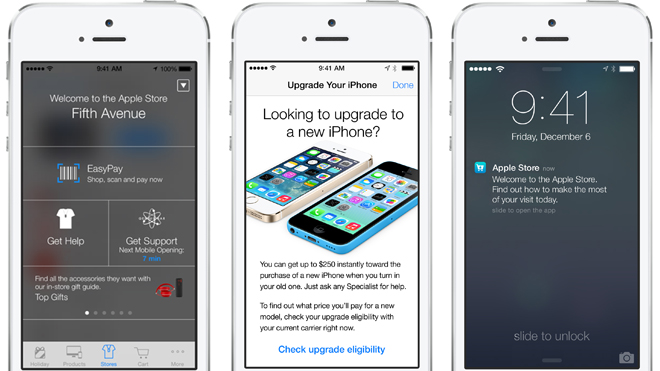 According to a retail study by mobile analytics company Flurry, 70 out of 100 surveyed retailers focus on apps and have at least one. Leading advertising platform TapSense shares in its "Mobile Marketing for 2014" report that Web retailer Wayfair's Joss and Main, a private sales site offering home products, preferred to develop "their apps before rolling out their mobile sites." The Joss and Main app consumers are more valuable than mobile Web consumers, says Joss and Main general manager Paul Toms.
The proximity-based broadcasting tech system iBeacon is similarly making its presence in the app-centric shopping and retail market. iBeacon emerged late last year as an extension of iOS's Location Services to pinpoint a shopper's whereabouts, help guide the shopping experiences and encourage purchases. Major retailers, such as Macy's and American Eagle Outfitters, tested iBeacon opportunities using Shopkick. Shopkick is an in-store shopping app that offers rewards, incentives and product alerts in the form of digital currency called "kicks." Macy's adopted shopBeacon, Shopkick's first iBeacon signal, in New York City and San Francisco stores to test special promotions and product recommendations emitted through iBeacon. As customers walked through the store with a shopBeacon-enabled iPhone, they received these types of messages from Macy's.
Push notifications tailored to a shopper's location could potentially transform the entire retail industry if retailers can cultivate consumer value with iBeacon opportunities. Beacons are relatively easy to install and provide cost-effectiveness — beacons are generally $40 and Qualcomm's model ranges between $5 and $10. As iBeacon systems become more widespread, critics are skeptical about privacy and relevancy. Yet, the excitement over the potential for greater convenience and personalization for consumers, as well as digitized sales and marketing for retailers, seems to outweigh the cons.