Google Inc. (NASDAQ:GOOGL) launched it's Chromecast device last year to stream content from mobile and tablet devices to televisions, and is reportedly developing Android TV as well. Amazon.com Inc. (NASDAQ:AMZN) released its Fire TV device this year, and Apple Inc. (NASDAQ:AAPL) is rumored to be upgrading its Apple TV. This sudden interest  by various tech companies in the content streaming segment, can be attributed to the increase in video viewing on connected devices. Video analytics company Ooyala, measured the consolidated viewing habits of 200 million unique views in 130 countries every month, in its Global Video Index for Q4 2013. According to the report, the share of mobile and tablet devices are the fastest growing segment in the online video category, and is expected to reach 37% in 2015, from 18% in 2013. By doubling each year, it is estimated that mobile will make up half of all online video consumption by 2016.
719% Growth in Video Viewing Time on Tablets And Mobiles
The share of time spent on watching videos on tablets and mobile devices has surged by a mind-boggling 719% since Q4 2011, and 160% since Q4 2012. With the number of smartphone users expected to reach 1.75 billion by the end of 2014, the mobile will continue to be the fastest growing segment of online video for the next two years. In 2013, the share of videos played on tables grew by 6%, while the mobile share grew 10 times more than that of tablets. The below graph depicts the exponential rise of mobile and tablets video consumption in just two years.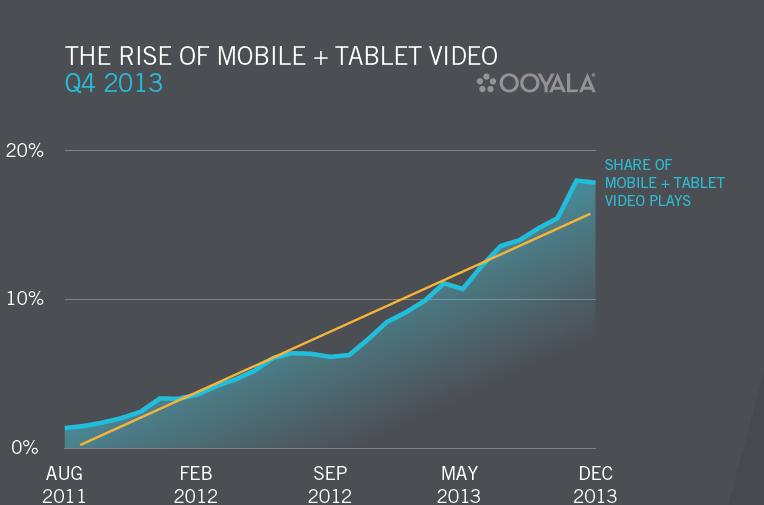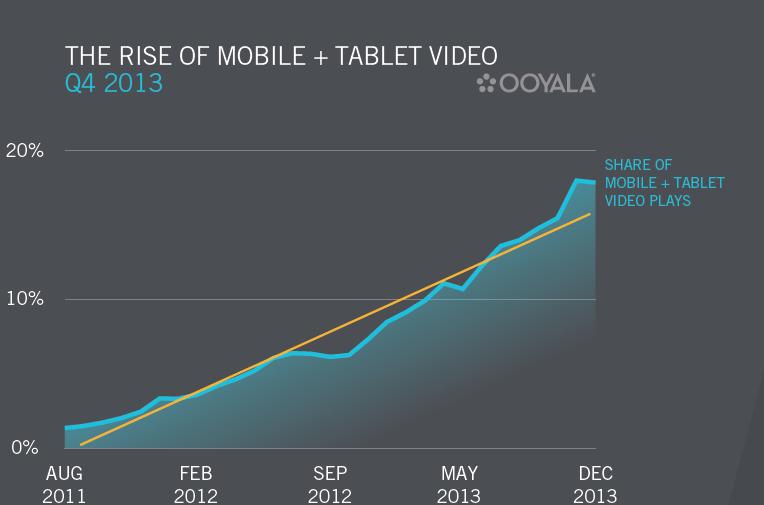 More smartphones and tablets are purchased during the Q4 2013, which is the holiday season, causing mobile viewing to increase to all time high. By the end of December 2013, mobiles and tablet devices, combined, had accounted for 26% of time spent watching videos. This is a 43% increase from October 2013, where both devices accounted for 18% of time played.
Among online video publishers and broadcasters, 99% said that delivering video to mobile devices was critical or important. One-third of all digital media brands surveyed felt they knew their audience extremely well, while 59% said they knew little of their audience. Monetization of video content on mobile devices was seen as a huge opportunity as 83% of publishers responding positively.
More Time is also being Spent in Watching Videos
Consumers are not just switching to mobile and tablets for watching videos; they are also spending more time in viewing. It can be clearly seen that across all platforms, at least 60% of time was spent on videos with a length of 10 minutes or more. The data also shows that  Mobiles and Connected TVs were the most preferred devices for watching longer videos. Desktops are still preferred over tablets for viewing videos between 10 and 60 minutes, by accounting for 49% of time spent in viewing videos under 60 minutes. Mobile viewers spent 53% of their time watching videos longer than 30 minutes, compared to 35% for tablet users.
Connected TVs attract users for the longest amount of time, with at least 62% of viewing time being spent in watching videos in excess of 30 minutes. This is the segment that several of the top tech companies are currently focusing on.
Live Videos And Sports Are The Biggest Draws In Mobile TV
Across all platforms, live events such as live sports, breaking news, special events are attracting the most number of viewers. Viewers watched an average of more than 42 minutes of live video per day on connected TVs, and 35 minutes on PCs. Also, Mobile users were 1.5 times more likely to watch live streams and not Video-on-Demand. Surprisingly, the amount of time spent in viewing videos of content other than sports, was the least on tablets and mobiles.
It's becoming increasingly evident that live sports are popular across all platforms, especially on mobiles and tablets. Major events such as Soccer, the Olympic Games, football and cricket draw the broadest audience. The increased availability of live action, VOD and other premium content is driving up online video viewing, with the statistics speaking for themselves. Irrespective of platforms, at least 10 minutes a day is spent on watching live sports.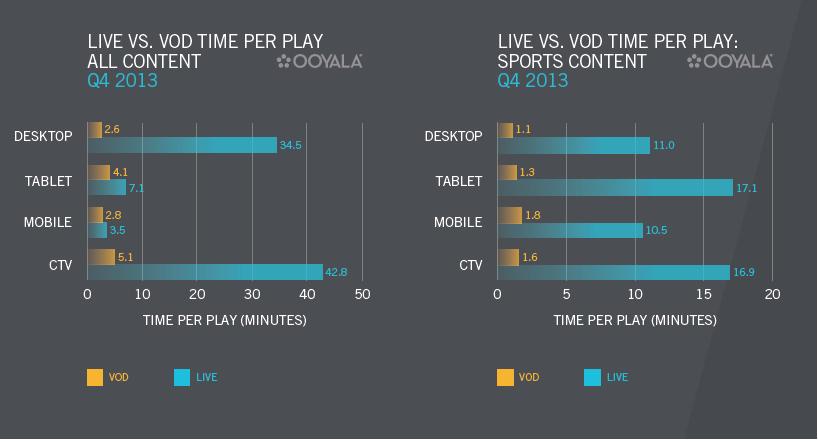 Connected TV watchers and mobile viewers respectively spent 87% and 63% of their total viewing time, watching videos longer than 10 minutes.  Tablet users are more likely to view content for shorter periods, with 60% of viewers watching videos between 1 and 6 minutes long.
This Is The Golden Age of Entertainment Experience
Consumers are now in charge of their entertainment experience, and mobile and tablets will continue to be at the core of that experience. According to ABI Research, mobile video viewing per user will grow to 21 hours per month by 2019, from 12.7 hours in 2013. Global sporting galas such as the 2014 FIFA Football World Cup in Brazil will continue to increase mobile viewership worldwide. It will also become increasingly important for content owners to maximize opportunities for monetization across all screens, from tablets to mobiles.