Apple Inc. (NASDAQ:AAPL) users are more attracted towards promotional e-mails than Android users in the United states. Smartphones have replaced the desktop PC as the most popular device for viewing e-mails, presenting e-marketers with a huge opportunity to reach customers anytime, anywhere on their mobile devices. E-mail marketing provider Movable ink collected data during the fourth quarter of 2013, the peak shopping season for consumers in the U.S. The research is based on aggregate e-mail statistics gathered from 100 businesses to customer (B2C) marketers across several industries. Movable ink evaluated customer interaction with brand e-mails, by observing the type of device used to view e-mails, the time spent in reading them and device popularity by state.
Apple iPhones Are The Best Devices For E-Mail Marketing
In Q4 2013, 65% of e-mails were opened on a smartphone or tablet device, an increase of 61% from Q3 2013. In stark contrast, 35.25% of e-mails were viewed on desktops during the holiday season, slipping from 39% in the previous quarter. This decline is consistent with falling sales of desktop devices globally, and exploding growth of handheld devices. Another interesting finding is the increased popularity of tablet devices, with 16% of all emails being opened on tablets during Q4 2013. This percentage is rising steadily with each quarter, even as tablet sales decline in North America.
Apple is currently the top OEM smartphone vendor in U.S accounting for 41.6% of the market share, for three months ending Jan 31, 2014. During the holiday season, the company's products accounted for 50% of all mobile e-mail openings in U.S. and a majority were seen on an iPhone. Apple's flagship smartphone was responsible for 35.39% of all e-mails opened, while Apple iPad accounted for 14.54% of e-mails viewed. These findings show the clear visibility any brand has in the U.S., when it chooses to send promotional e-mails to Apple users. They are also five times more likely to make purchases online when compared to Android users.
Android is still the most dominant OS  in the United states with 51.7% of the OS market share for three months ending Jan 31 2014. However, Android Phones and tablets were responsible for only 14% of all e-mail viewings, despite an increase from 10% in the previous quarter. Android tablets constituted a minuscule 1.8% of all e-mail openings during the fourth quarter, but doubled from the previous quarter. This dismal figure highlights the lack of interest shown by Android users in opening marketing e-mails. This is bad news for Android users as brands may cut back on marketing  during holiday season and focus on targeting Apple customers.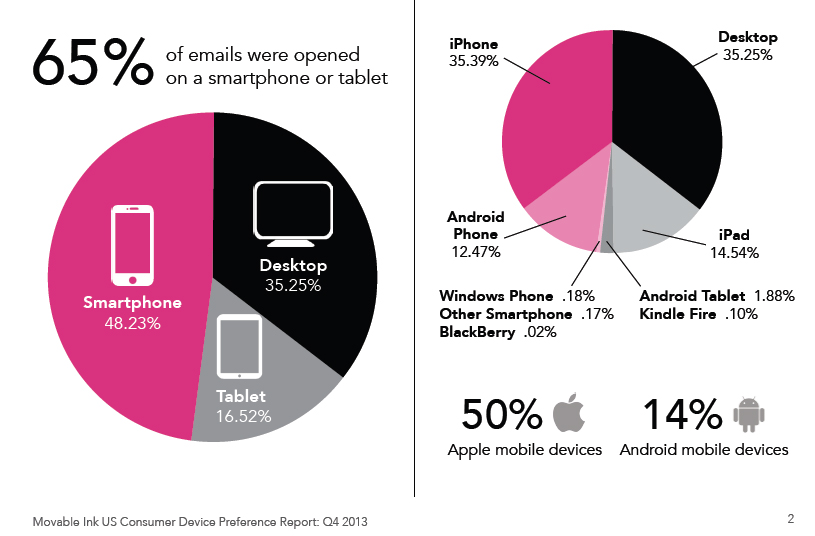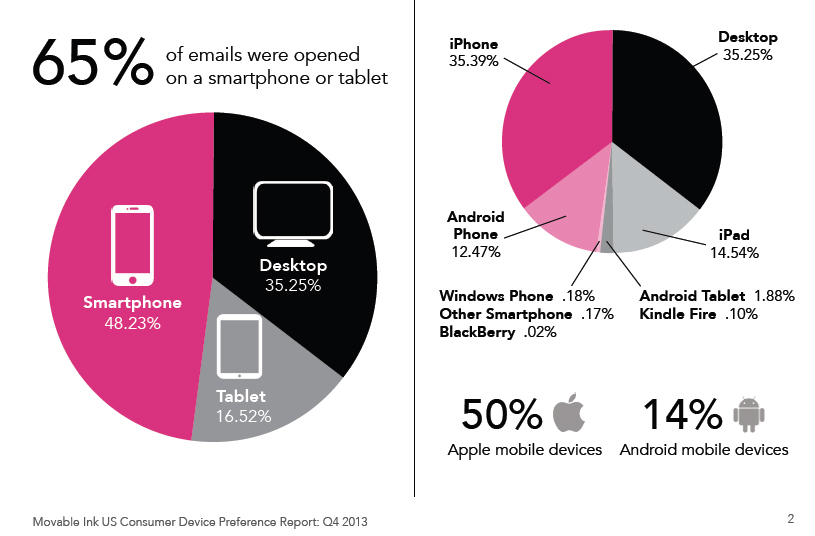 Android Users Are More Likely To Just Glance At Marketing E-Mails
The study also recorded the amount of time spent on devices reading e-mails, and which device had more interaction. The iPhone emerged as the most popular device for e-mail engagement with 38.31% of users spending more than 15 seconds reading an e-mail. During the busy holiday rush, 38.27% of iPhone users spent less than 3 seconds on an e-mail, to maximize potential by scouring all the offers. Among all the devices surveyed, Apple iPad had the least number of users spending more than 15 seconds on an e-mail,at just 28.36%.
Android Phones present a different scenario, with 34.76% of users spending more than 15 seconds reading an email. However, when it comes to the number of viewers spending less than 3 seconds, this figure skyrockets to 45.01%, almost 7% more users than iPhone. The situation is similar in the tablet segment, where 43.71% of users spend less than 3 seconds on e-mails. This increase in number of users spending less time on e-mails during holidays, is key for marketers to maximize their chances of luring potential customers through eye-catching e-mails.
Desktop devices recorded the largest number of users who view e-mails for a duration between 3 to 15 seconds, while tablets are still laggards when it comes to keeping users engaged for a longer duration.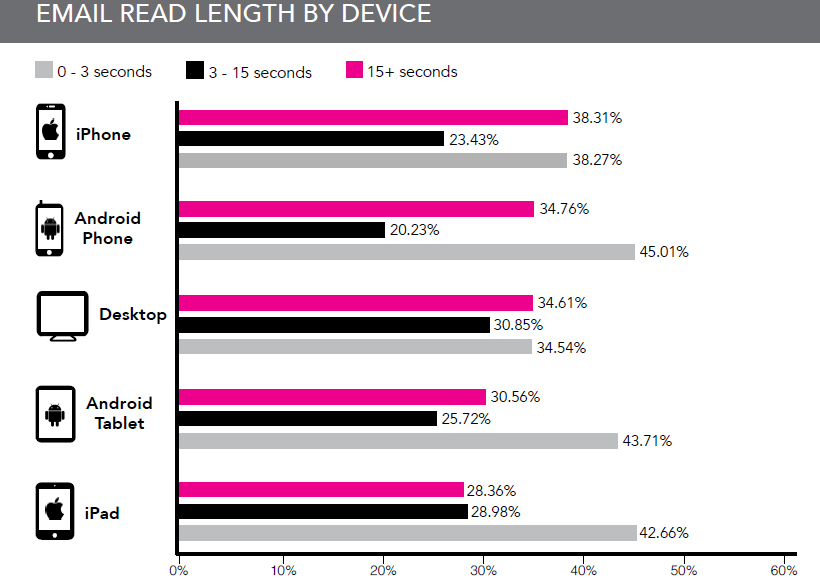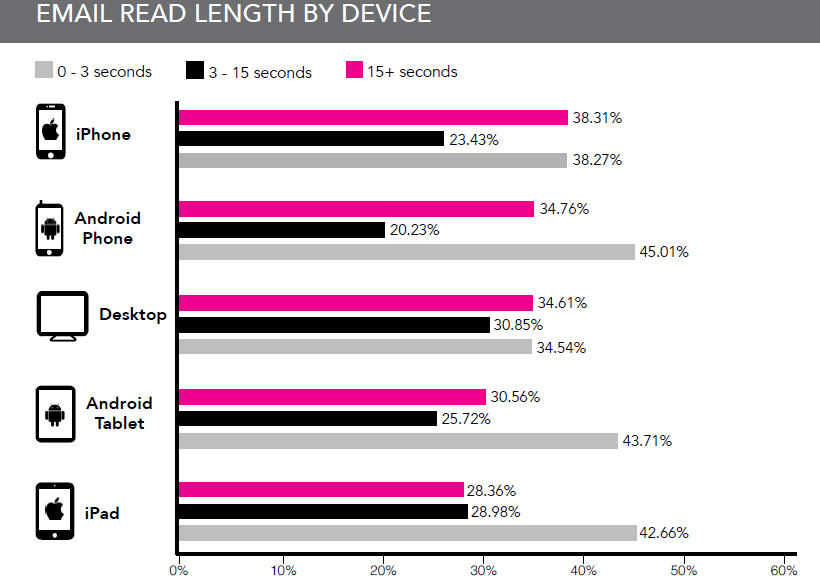 US Is Now Leaning Towards Smartphones
With the consumption of mobile email continuously on the rise, the firm identified the states where smartphone usage is steadily climbing.  The state of Texas reported the highest mobile e-mail usage at 57.6% , while Maine had the highest usage of desktop e-mail with 48.85%. One of the key findings of the report was that no states had more than 50% desktop usage. This implies that the entire U.S. was leaning towards devices other than desktops for reading e-mails, as smartphone usage surges across North America. During  Q4 2013, six out of ten mobile handsets in the U.S were smartphones, and the country is expected to have a total of 160 million smartphone users in 2014.
Key Findings From The Report
Nearly two-thirds of email openings take place on mobile devices, with smartphones emerging as the most preferred device.
50% of emails were opened on Apple products, while 14% were opened on Android devices.
Smartphones are more likely to be used for reading e-mails than tablets.
During holiday season, more users spend less time reading promotional e-mails. The only exception is iPhone where most of the users take longer than 15 seconds to read promotional e-mails.
The smartphone explosion in America is allowing users in all the states to answer e-mails through smartphones.