While many developed countries are witnessing slow down in Smartphone growth, global mobile advertising revenue market in 2013 could reach to new heights by beating all projections.  In 2012, global mobile advertising market brought in revenues of $8.9 billion – an astounding 82.8% growth compare to 2011. Though, market share of messaging revenue dived down, search and display advertising revenue compensated the loss, according to latest joined report from IAB and HIS.
However, the contribution of global Mobile advertising revenue is yet to reach to a sizable figure compare to global digital revenue that stood to $104 billion in 2012.
Global Mobile Advertising Revenue 2012
With 82.8% growth, mobile advertising revenue market in 2012 recorded significant surge in Display and Search advertising formats. Display advertising revenue market reached to $4.08 billion, resulting in 38.7% share of mobile advertising market, while Search advertising brought the maximum revenue of $5.5 billion contributing 52.8% share to global mobile advertising market.
This growth was primarily driven by North America as the region contributed $3.54 billion with a whopping 112% growth in 2012 compare to a year before. Though, APAC's contributed negligibly higher, $3.57 billion, the Y-O-Y growth saturated to 60% compare to 2011. This has resulted in positive gain for North America accumulating 39.8% of global mobile advertising market, unlike APAC that squeezed to 40.2% market share in 2012 – a loss of 5.7% market share compare to 2011.
So, what triggered such shift? This is clearly evident if you play close attention to nitty-gritty of the growth in each region. Apparently, mobile users in APAC are yet to adopt desktop behavior on mobile devices. They are more inclined towards 'pushed information' mechanism compare to 'pull-in information'. Consequently, North America leapfrogged APAC in Search advertisement (pull-in information) market in 2012 with a sizable margin. However, mobile display advertisement (pushed information) remained the most impactful in APAC with $1.68 billion revenue, beating North America that managed to generate $1.16 billion.
In contrast, APAC market is equally distributed in terms of mobile advertising revenue by formats. While others regions like North America and Western Europe are leveraging over Search advertising and pacing up in Display advertising too.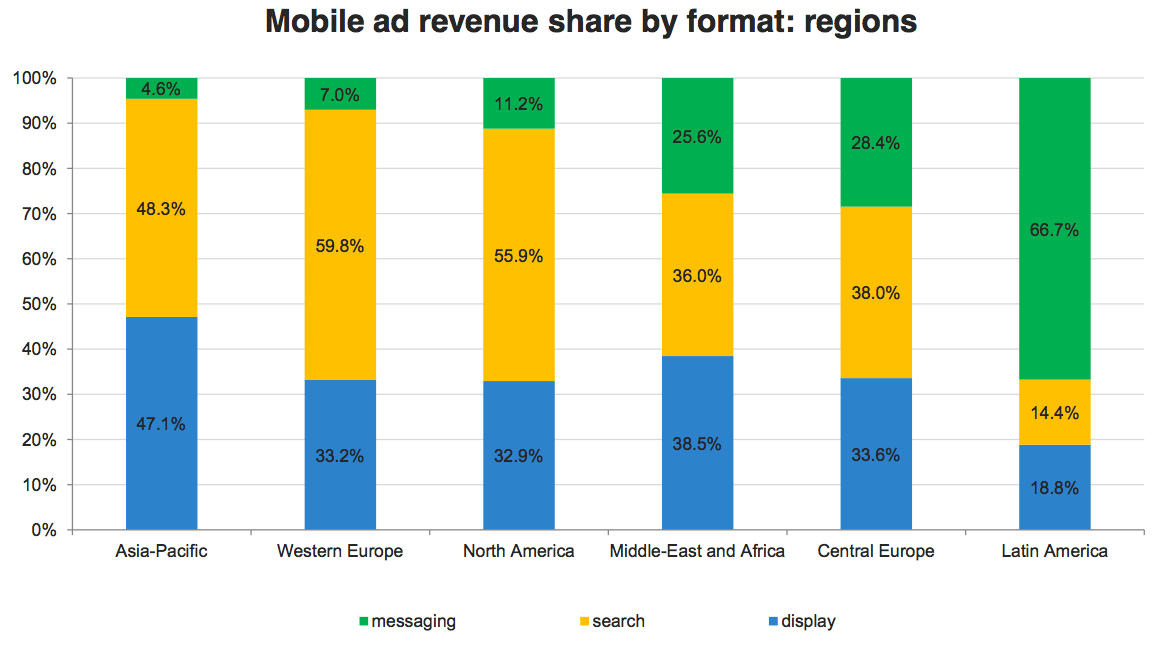 Surprisingly, in spite of that fact that APAC is the biggest contributor in global mobile advertising revenue market 2013, advertisers and marketers are spending much lower on each mobile subscriber compare to other regions especially North America in Western Europe. While, in North America, advertisers are burning 9.1 advertising dollar on each mobile subscriber now – nearly doubled the amount than 2011 – in APAC the figure remained to $1.21.
Mobile Advertising: The Future
The global scenario portrays a picture that clearly depicts how digital advertising industry is shaping up. Though, the contribution of mobile advertising in 2012 still remained less than 10% of global digital advertising market 2012, the share is bound to rise in next few years.
In developed and developing countries, adoption of Internet and Smartphone is on rise. World's two biggest producers of mobile phones, Apple and Samsung, are aggressively targeting market with new range of smartphones. In 2013, Smartphone shipments are expected to reach 937 million overtaking feature phones with 889 million.
In fact, more than 10% of global Internet traffic is being originated from mobile phone. Market leaders of digital advertisement industry, Google and Facebook, are also burning millions of dollars to strengthen their mobile advertising revenue, initiatives, products and presence. In 2013, Google Inc is pocketing 50% of worldwide digital ad revenue alone.
Global Mobile Advertising Revenue 2013
Global Mobile Advertising Revenue in 2013 is expected to beat all projections. In early this year Gartner projected mobile ad revenue as $11.4 billion in 2013 while another research firm Informa claimed it to be $12.8 billion. However, considering the growth in last two years and increasing adoption of Smartphone and mobile Internet it's clearly evident that global mobile advertisement market would register modest 50% – 60% growth in 2013, resulting in anything but more than $13.5 billion.