Who says money can't buy LOVE? To find true love, smartphone users worldwide have been spending more time and money than ever before on dating apps. This trend can also be seen in the most recent report by data.ai Intelligence. The global in-app spending on dating apps increased 11.3% YoY in 2022, while the downloads and time spent grew 18.8% YoY and 13.6% YoY, respectively.
What's more intriguing is that in 2022, consumer spending, the number of first-time installs, and the time spent on dating apps worldwide all reached record highs.
Consumer spending on dating apps by country
In 2022, love seekers across the world spent a record $5.9 billion for enticing premium features on dating apps. That's a significant rise from $3.1 billion in 2019 and $4 billion in 2020 and $5.3 billion in 2021. The additional features of dating apps like Tinder and Bumble help users get more views, likes, messages, and free boosts each month, among many others.
Between 2021 and 2022, global in-app spending on dating apps increased by a record $6 billion. A simple math tells us that dating app users spent as much as $16 million every day on in-app purchases during 2022.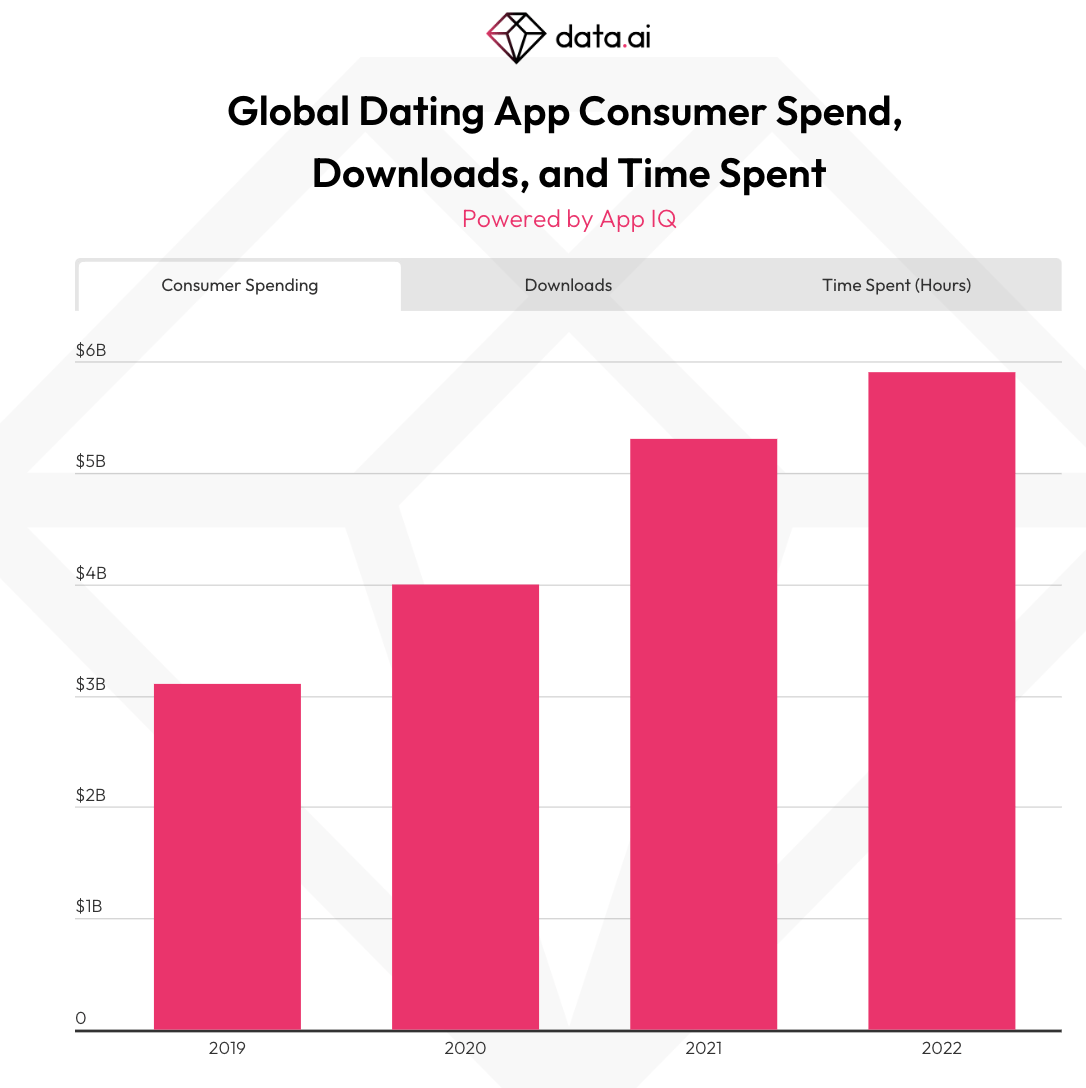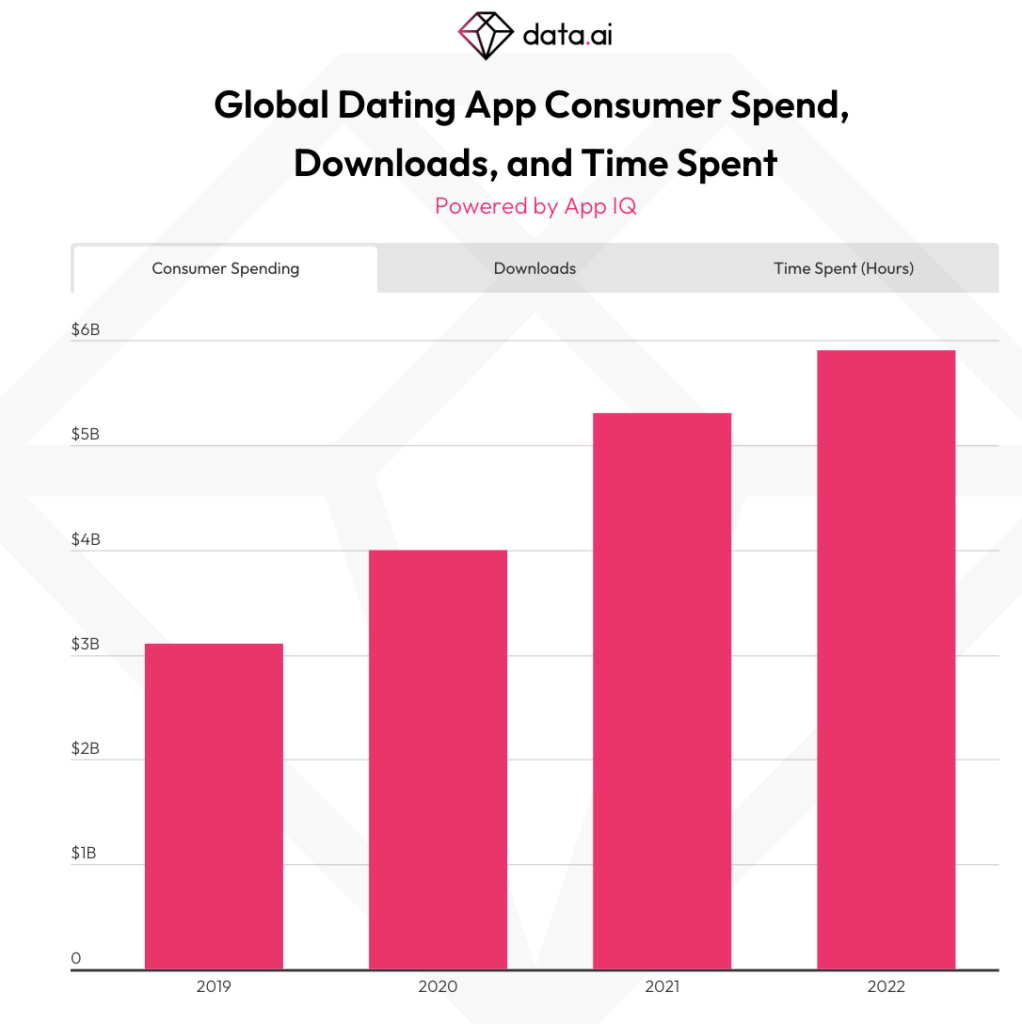 The United States emerged as the largest market for dating app users, accounting for a whopping 42.4% of all in-app spending in 2022.
In 2020, smartphone users in the United States spent $1.5 billion on dating apps, registering a 36.4% YoY growth. The spending further increased a strong 46.7% YoY in 2021 to reach $2.2 billion. However, in 2022, US consumers spent significantly less on these apps amid the fear of inflation, impending recession, economic slowdown, and other factors.
The dating in-app purchases in the US hit a new high of $2.5 billion in 2022, although the year-over-year growth was only 13.6% YoY.
What's more interesting is that the United States outpaced other nations to take the top spot in terms of global dating app spending in 2022, despite recording modest yearly growth.
In 2022, Americans spent $268 million more on dating apps than they did in 2021. That's nearly 3.6 times more than the United Kingdom, where people spent $75 million more over the course of a year.
Tinder, Bumble and Hinge are the top three dating apps in terms of in-app purchases on the US App Store.
Smartphone users in Canada and Australia also significantly increased their spending by $59 million and $41 million, respectively, on dating app subscriptions in 2022.
India emerged as the 5th fastest-growing market in terms of year-over-year growth in dating app spending in 2022. Indians spent $31 million more on dating apps in 2022 than they did in 2021.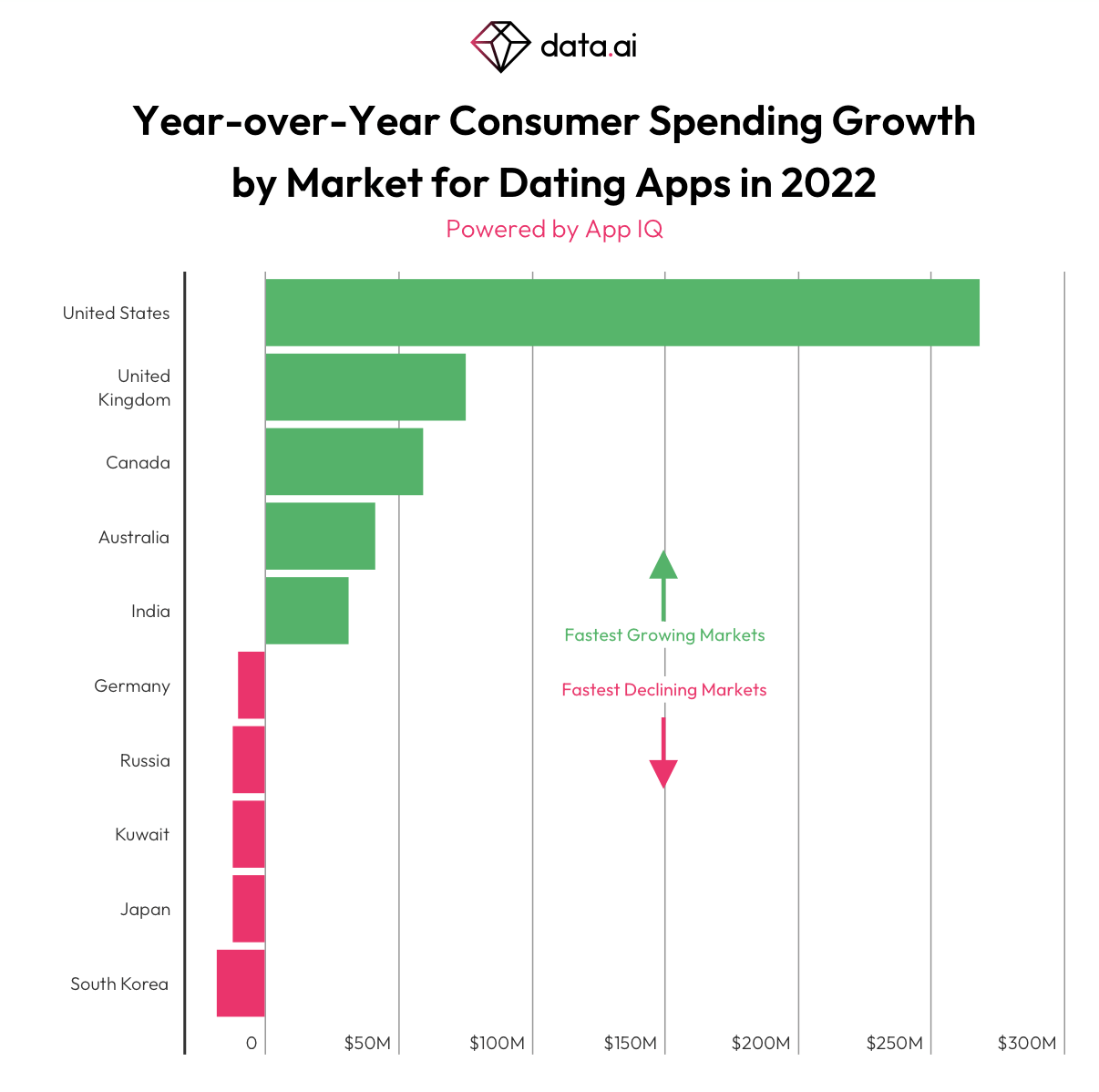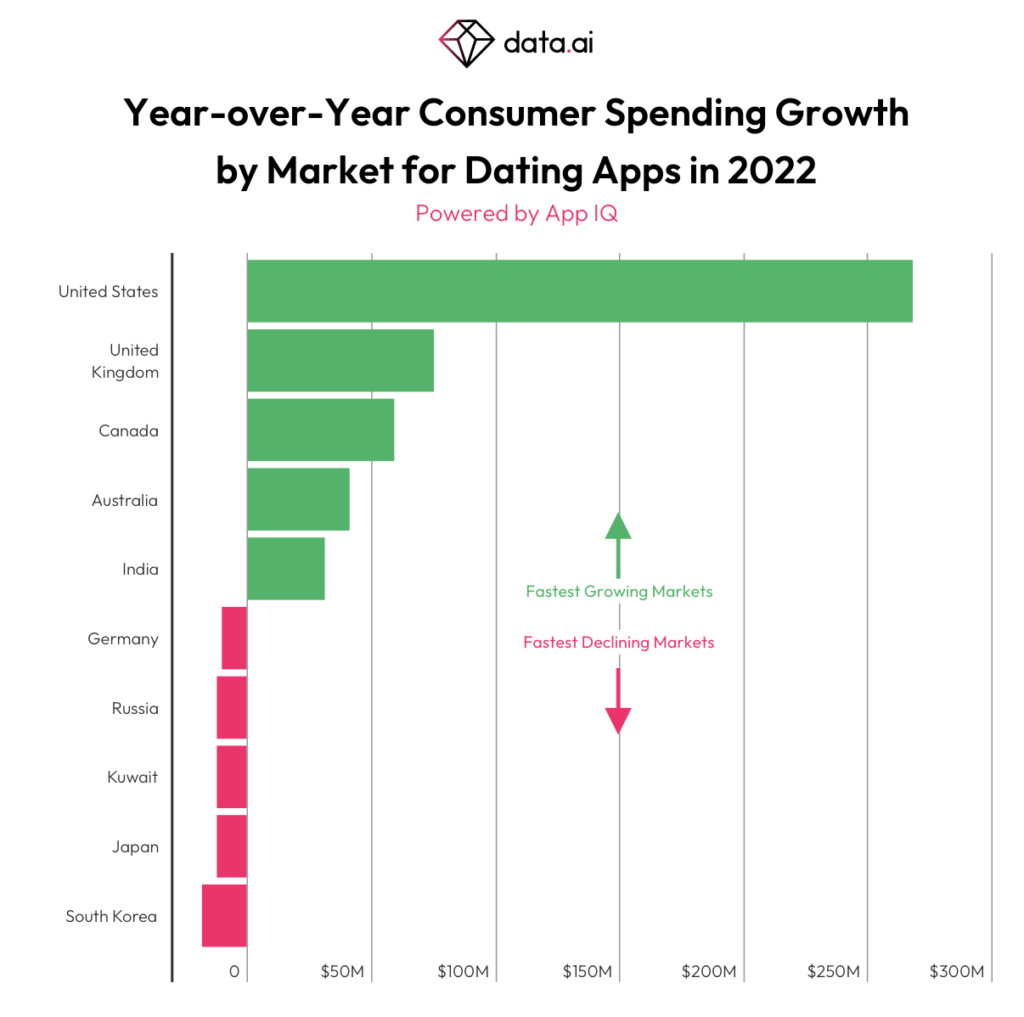 The above chart also illustrates the fastest-declining market for dating apps in 2022. The desire to find love via mobile apps dramatically declined in nations such as Germany, Russia, Kuwait, Japan and South Korea.
Dating apps by downloads and time spent in 2022
Now let's look at the growth in the number of downloads and time spent on dating apps worldwide in 2022.
Globally, the number of dating app downloads reached a record high of 1.9 billion in 2022, an increase of 18.8% YoY.
Globally, time spent in all Android dating apps hit an all-time high of 10 billion hours in 2022, up from 7 billion in 2019.
The United States once again proved to be the most lucrative market for people looking for love and life partners. The dating app downloads in the US grew 10.4% YoY in 2022 to 148 million.
US people spent 670 million hours on Android dating apps in 2022, representing an 11.7% YoY growth.
In India, where arranged marriages are still common, dating apps have revolutionized romance. Young people are now embracing the internet and apps to find love and companionship, even though they are not looking for marriage in a country where cross-gender and cross-religion relationships are not socially acceptable.
These exploded adoption and popularity of dating apps confirm India's rapid development, which is being accelerated with increasing technology access, particularly smartphones. Perhaps, it's the dawn of the new social era in India.