Google Inc. (NASDAQ:GOOGL) is reportedly making plans to develop Android TV, according to documents obtained by The Verge. The search giant, whose Android OS already powers 80% of all smartphones worldwide, is pushing for new platforms to expand on. Its previous attempt at connected television was the Google TV, which  failed due to its complex user interface. Through Android TV, Google is aiming to provide an entertainment interface, not a computing platform, to compete with the likes of Apple TV, recently launched Amazon.com Inc.(NASDAQ:AMZN) Fire TV, and Roku. The company already features a device named Chromecast, which streams video content from the computer, smartphone or tablet directly, to the HDTV. Several other such devices already exist in the market, and Google will be aiming to grab a share of the fast growing internet TV segment.
Tech Companies And Households Have Embraced Streaming Devices
Apple founder Steve jobs had apparently cracked the code of the rumored 'iTV', a device which would be the evolved form of Apple TV. Despite pressure and wide range of rumors, Apple has remained steady with its current version of  Apple TV. The company is working with content providers and cable companies to allow the devices to sync iTunes library with video content, for its latest TV. The delayed response has allowed other companies to boost their own streaming devices and expand into new avenues that Apple has previously avoided. E-commerce giant Amazon has officially entered into the foray by releasing Fire TV, priced at US$99. The device will sync up well for people already familiar with Amazon's ecosystem. The device can be used for streaming media, and features an additional controller as an accessory for gaming, that can be purchased for US $39.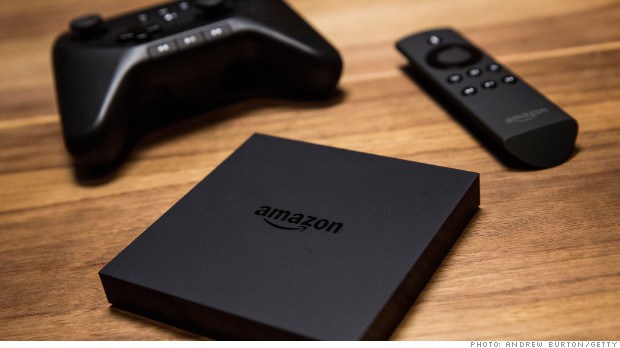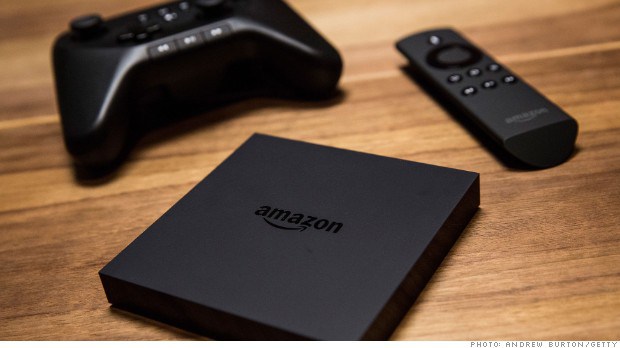 Research conducted by Parks Associate research, shows the number of U.S broadband households using a media streaming device has doubled since 2011 to almost 14%  in 2013. In an independent survey of 10000 U.S broadband households, conducted during the Q1 of 2013, Parks Associate found that among households with a media streaming device, 37%  primarily use a Roku compared to 24% that use an Apple TV. The market for such connected TV devices sold world-wide will reach 330 million units annually by 2017, as more households are expected to buy Smart TVs, gaming consoles, Blu-ray players and streaming video media devices in coming years. This will cause average product prices to decline and  force sales revenue to grow by 100%.
The television market and consumption of content has evolved rapidly and in different ways. Television viewing time has dropped, but media consumption by consumers is growing at an expedited rate. In the process, these set top devices have emerged as quick and efficient ways to access TV shows and movies. By entering this segment, Google will be looking to avoid the mistakes of Google TV, and take on Apple and Amazon directly.
Google's Foray Into The TV Segment Through Android TV
Google's new vision for Android TV calls for a simple, easy to use interface. Developers have been asked to develop extremely simple apps for a simple set-top box interface. The interface will reportedly will consist of a set of scrolling cards that represent movies, shows, apps and games sitting on a shelf. One Google document claims it should never take users more than three clicks or gestures to get from the home screen to new content, the Verge said. The system will also boast a universal search function that can quickly find content across content delivery services as well as individual apps. Several key features in Google TV which include VoIP, cameras, touchscreens and NFC support will be scrapped. Its own apps, including Google Play movies, YouTube and Hangouts will also be featured.
Google's premiere hardware partners including LG and Samsung are reportedly developing their own OS for their television sets. Samsung is currently the global smart Smart TV leader with a market share of 26%, while nearest competitor LG registered 14.4% of Smart TV shipments. Some rumors suggested that Google would develop Android TV by itself, forcing it to compete with its hardware partners. If the rumored TV is indeed an OS, several TV hardware makers will need to decide between using it for their televisions or risk going ahead with their own Operating systems. LG has already installed webOS on its range of  Smart TVs, which is based on the platform that appeared in Palm smartphones.
Google has already announced its OS for smartwatches, named Android wear. These new plans if confirmed, signals the company's intent to feature prominently in more platforms. Google TV has been given a quiet burial, and the tech giant has instead encouraged consumer electronics manufacturers like Hisense to use Android for their own TV experiences. Through Android TV, Google will be looking to represent its very own version on how an Android based TV should look like, as opposed to a platform that it tries to force the entire industry to adopt.