Low cost Smartphones and spread of 3G and 4G networks has made it possible for Smartphones to surpass the sales of basic phone devices. In 2013, Smartphones accounted for 57.6% of the total mobile sales. The growing market in Asia Pacific, Middle East & Africa caused  an increase in sales of Smartphones to surge by more than 42.3% to 968 million units in 2013. Comparatively the overall global mobile device market grew only by 3.5% in 2013.
Samsung Electronics Co. Ltd. (KRX:005935)  maintained its position as the market leader by selling 299,794 units of Smartphones in 2013 increasing its market share from 30.3% in 2012 to 31% in 2013. On the other hand, Apple Inc. (NASDAQ:AAPL) maintained its number two position with 150,785 thousand units, but its market share decreased steadily from 19.1 % in 2012 to 15.6% in 2013. Huewai, LG Electronics [Korea SE:066570]and Lenovo [NASDAQ:LNVGY] were at number three, four and fifth positions with 4.8%, 4.8% and 4.5% market shares respectively. All three showed an increase in market share as compared to 2012.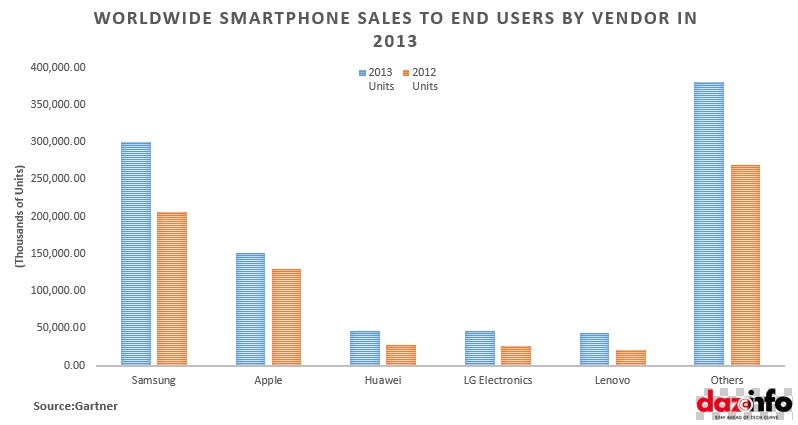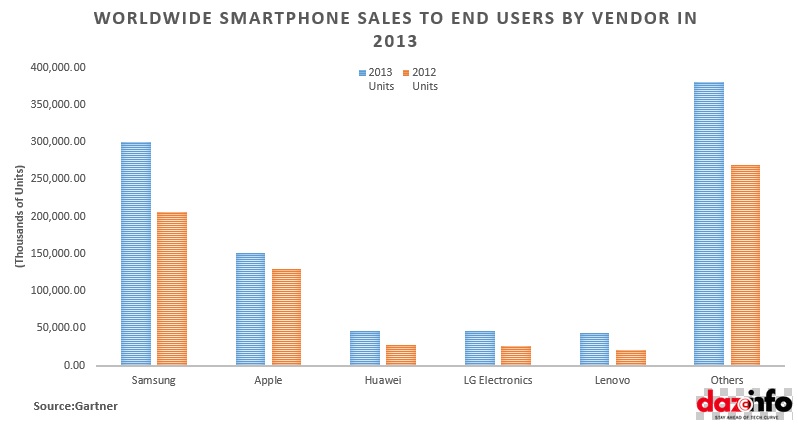 Among the top Smartphone vendors the sales of Samsung witnessed an upward trend up in Q4, 2013  to 83,317 units when compared to 64,496 units it sold in the corresponding period in 2012 although it's market share decreased from 31.1% in Q3, 2012 to 29.5% in Q3, 2013. Drop in market share of Samsung is being attributed to the saturation in markets in developed countries and the tough competition it is facing from local manufactures in emerging markets.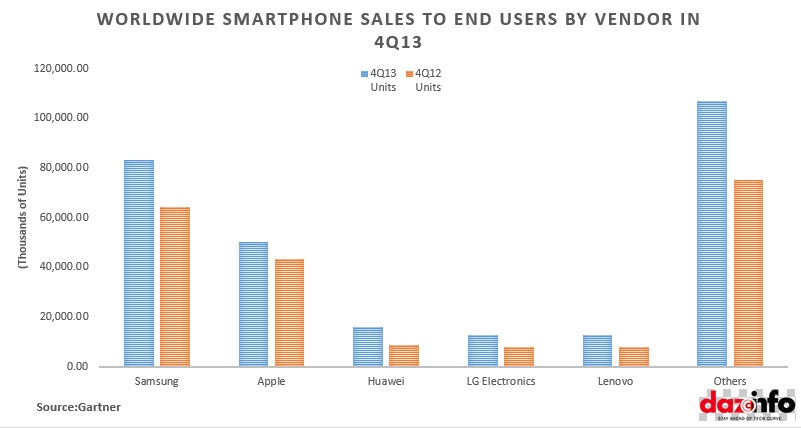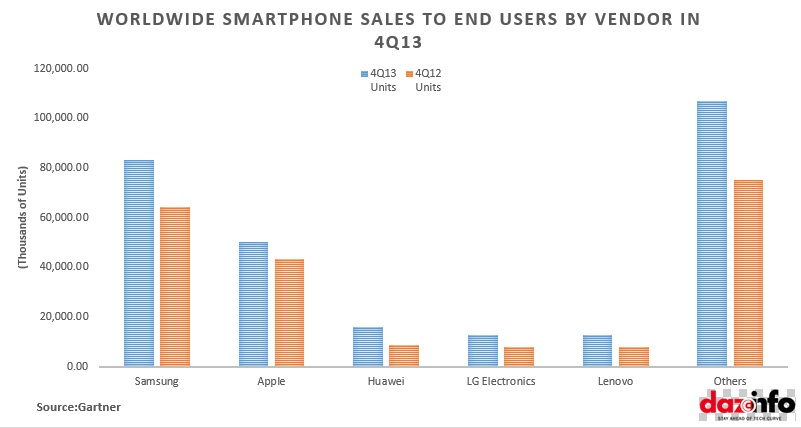 Apple maintained its slow but steady growth from 43,457 units in Q4, 2012 to 50,224 units in Q4, 2013 to maintain its second position in the market but its market share also fell from 20.9% in Q4, 2012 to 17.7% in Q4, 2013. This increase in sales for Apple is being attributed to good sales for the iPhone and the iPad in this quarter. However, the market is constantly abuzz  about Apple's ability to maintain its market share when the market is getting stagnant in several developed countries. Apple has been desperately trying to increase its market share and in the coming quarters it will be clear whether these steps can bring about some good news for Apple.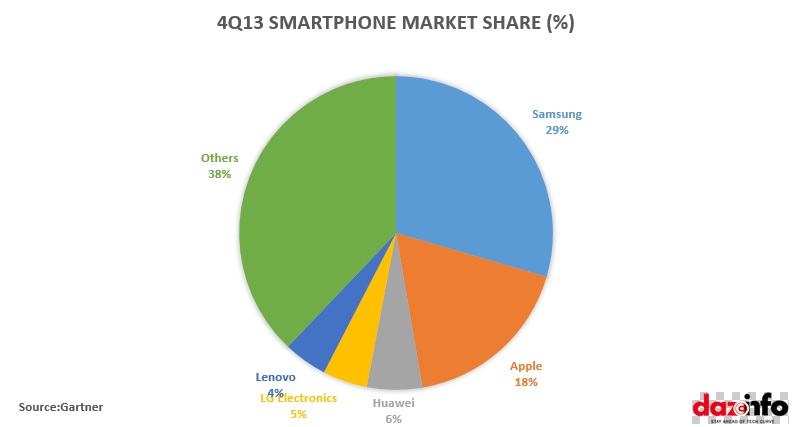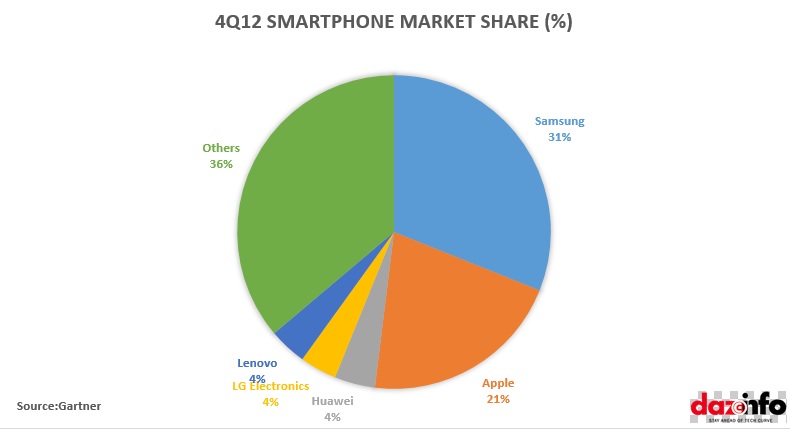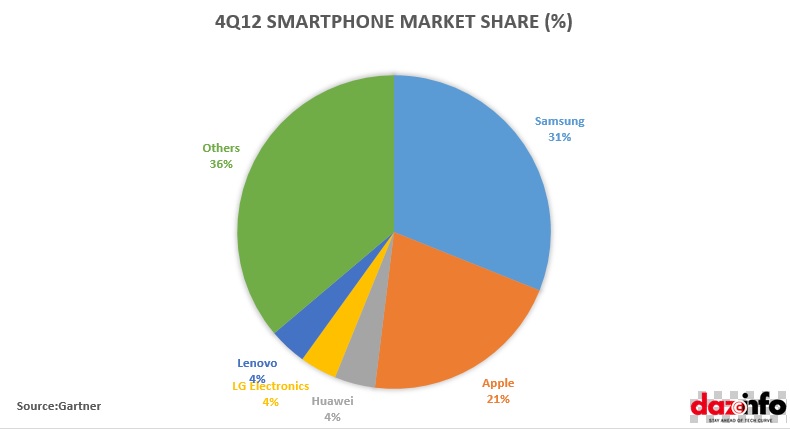 Chinese mobile makers and LG Electronics have seen a jump in their market share during this period. Huawei maintained its third position in the market by selling 16,057 units in Q4, 2013 and by increasing its market share from 4.2% to 5.7%. The increase in market share of Huawei can be attributed to its good performance in its native land China and other emerging countries. Lenovo & LG Electronics were number 4 and 5 by selling 12,892 and 12,822 units respectively in Q4, 2013 and with 4.6% and 4.5 % of respective market shares.With its recent acquisition of Motorola Mobility, sales of Lenovo are slated to rise and the company would become number 3 in the market and may also hold good chances to pose a tough challenge to the likes of Apple and Samsung.
As expected, Android phones maintained their market dominance capturing around 79% of the market share with around 758,719 Android devices being shipped in 2013 which is a drastic improvement from 66.4% in 2012 with 451,621 being shipped during that period. Market share of iOS devices dropped dramatically from 19.1% in 2012  to 15.6% in 2013, although the number of devices increased from 130,133 in 2012 to 150,785 in 2013.
Slowly but steadily Microsoft seems to be gaining a foothold in the Smartphone market with Windows based Smartphones increasing their market presence from 2.5% in 2012 to 3.2% in 2013 and the number of devices increasing from 16,940 in 2012 to 30,842 in 2013. Blackberry operated devices saw a steep fall in their market share dropping from 5% in 2013 to 1.9% in 2012, with only 18,605 devices being shipped in 2013 as compared to 34,210 devices in 2012.