Lenovo Group Limited (ADR) (OTCMKTS:LNVGY) chairman Yang Yuanqing is currently on a shopping spree, in three weeks Lenovo announced three big acquisitions, which nearly shocked (quite literally) the technology world. Lenovo started the shopping spree by spending $2.3 billion in cash and shares for International Business Machine Corp. (NYSE:IBM) low-end server business followed by US mobile phone company Motorola Mobility for $2.91 billion in cash and stock and it was followed by the supposed interest of Lenovo in buying business of Sony's flagship Viao outside of Canada.
Lenovo shot into fame in 2005 when it bought IBM's personal computing business including ThinkPad laptop and tablet lines. Lenovo paid $1.25 billion for IBM's computer business and assumed an additional $500 million of IBM's debt. This acquisition made Lenovo a brand name around the globe and the third-largest computer maker worldwide by volume. Lenovo used the deal to catapult into number one computer maker today. Lenovo is currently looking at using IBM's Intel based server lines, including IBM System X and IBM Blade Centre to gain major market share in Server market. Currently Lenovo has market share of only 2% and is the 6th biggest player in the market, but with IBM Acquisition it would catapult to no.3 with around 14% of Market Share.
Lenovo which was struggling as PC maker before it bought IBM's personal computing business is in a similar position in smartphone market. Lenovo's is currently world's 5th largest smartphone maker selling 45.5 million Smartphones in  2013 , This include 13.9 million smartphones in Q4 2013. Lenovo's current market share is way less than the major smartphone manufacturer Samsung and Apple Inc. (NASDAQ:AAPL) and its major revenue came from sales in mainland china. Elsewhere it is still trying to make a mark as Smartphone manufacturer. Currently its market share for the fourth quarter of 2013 was 4.9 percent, up from 4.1 percent in the same period in 2012.
"Lenovo has the expertise and track record to scale Motorola into a major player within the Android ecosystem,They have a lot of experience in hardware, and they have global reach. In addition, Lenovo intends to keep Motorola's distinct brand identity — just as they did when they acquired ThinkPad from IBM in 2005."

– Larry Page
With Google's struggling aquistion of Motorola Mobility (Read Dazeinfo Report: Google's Acquistion of Motrola turning into money pit), Lenovo saw the same opportunity as it had grasped in IBM's PC business 9 years back. It quickly took the Godsend opportunity to relive Google of its struggling acquisition and to catapult itself into Global Smartphone market. If the acquisition goes perfectly fine subjected to approval from US and Chinese regulator's Lenovo would straightaway become the third largest Smartphone maker globally and could start posing some serious threat to Samsung and Apple.
"Using Motorola, just as Lenovo used the IBM ThinkPad brand, to gain quick credibility and access to desirable markets and build critical mass makes a lot of sense,"

– Forrester Research analyst Frank Gillett.
Another major reason for Lenovo to clinch this deal was that as world would move towards mobility computing, its personal computing business would suffer an impact .Currently Lenovo earns about 80 percent of its revenue comes from it's personal computing business including laptop's and it would surely want that dependency to be removed.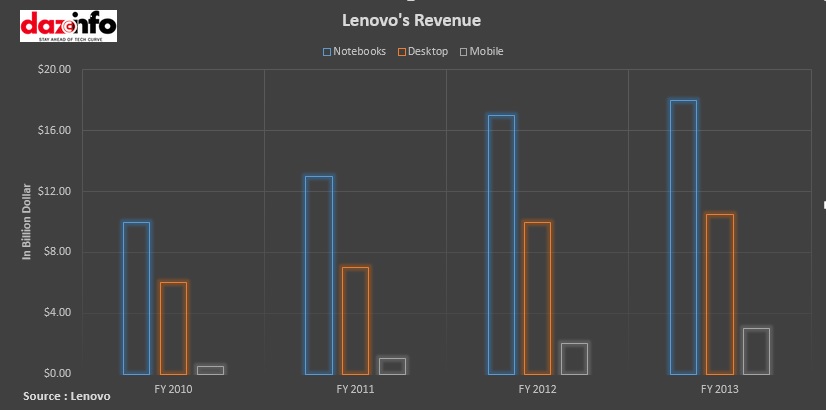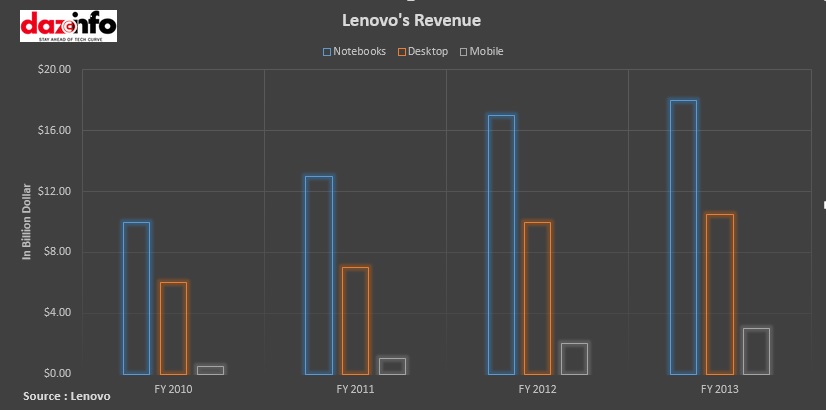 To increase its market share in a Market where it is late entrant and fighting well established competitors like Apple and Samsung, it was tough going for Lenovo. It's acquisition of Motorola would provide Lenovo with a brand name in rest of the world; wherever its own name would not sell Lenovo would use Motorola name to sell its Smartphone. Although Motorola is no longer a hot selling brand, but it still commands a more selling value than Lenovo.Motrola is still a strong brand in Latin America It was rumoured earlier that Lenovo was looking to acquire the struggling Canadian Smartphone maker BlackBerry, but buying Motorola made more sense, since Lenovo got exposure to the Android ecosystem in return along with a deal to use some of the Motorola Patents, although Google retained majority of Patents.
With its manufacturing base in China and an old but strong brand name like Motorola, Lenovo could go in for a kill against Apple and Samsung. It could flood market with it cheap but efficient smartphones under Motorola brand name in well-established market. It could use the strategy of low price to get foothold in the markets where it didn't have any significant market reach till now.
Rise of the Dragon
Currently after Apple & Samsung the other leading chinese smartphone makers – Huawei, ZTE Corp and Lenovo. These companies hold the position because of a buoyant market back home. These companies currently don't held any significant market share anywhere outside China and with the market becoming stagnant, these companies are currently trying to get a foothold in the world market. Lenovo's current acquisition of Motorola is a step in this direction only.
It would be hard for Lenovo a Chinese brand to make any inroads in the American market and it is now trying to use an American brand to capture this market.