Apple Inc. (NASDAQ:AAPL) was largely written off as a doomed company for some time. The company failed to launch any new product since 2010 and its own executives have expressed skepticism of the declining market share of the iPhone, which was 15.3% in Q1 2014. However, this trend was broken during the company's fiscal Q2 2014 results which were better than expected. The results surprised many analysts, who were left confused as to how Apple was finding new customers, given the high cost of the iPhone. It was also clear that Apple had gained most of its profits through the iPhone and not through sales of other products.
According to analyst Charlie Wolf of Needham & Company, the answer lies in Apple's aging iPhone 4S model, which was released almost three years ago after the passing away of Steve jobs. In a note issued to investors on May 13 2014, Wolf provided a clear breakdown of iPhone sales during Q1 2014. He also provided key insights into how Apple can continue to flourish without entering the lower end of the global smartphone market. However, it is important to note that these sales figures are based on the average selling price of the iPhone, which was disclosed by Apple as US$596.
The iPhone 5S Is The Latest And The Best Selling
Apple does not offer the breakup of sales model-by-model, hence such estimations carry importance. The average selling price of the overall iPhone was US$596 last quarter and the iPhone 5S was the most popular device accounting for 71% of Q1 sales. 43.7 million iPhones were sold in Q1 2014, so this works out to 31 million iPhone 5S sales. The flagship device was the best-selling smartphone worldwide for six months following its initial release.
This is not surprising as the iPhone 5S is the most powerful device built by Apple and has all the latest features. Its popularity has allowed Apple to retain its existing customer base in countries such as Japan, Australia, and UK. It will be interesting to see the reduced cost of the iPhone 5S after the arrival of the iPhone 6. Prices were already slashed by US$100 in March 2014 for both flagship iPhone models to clear out the existing stock inventory.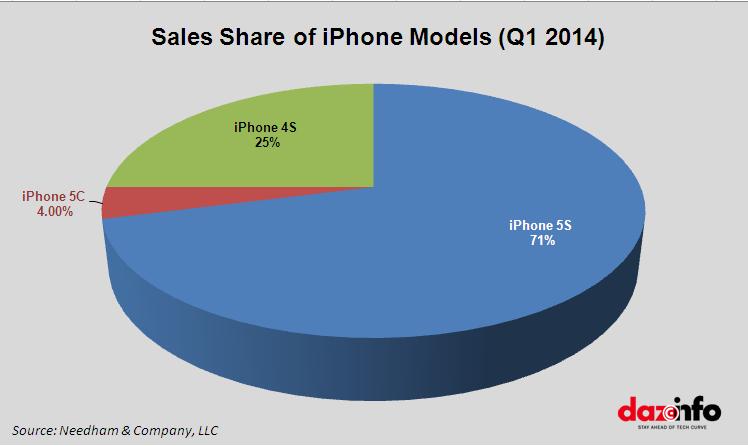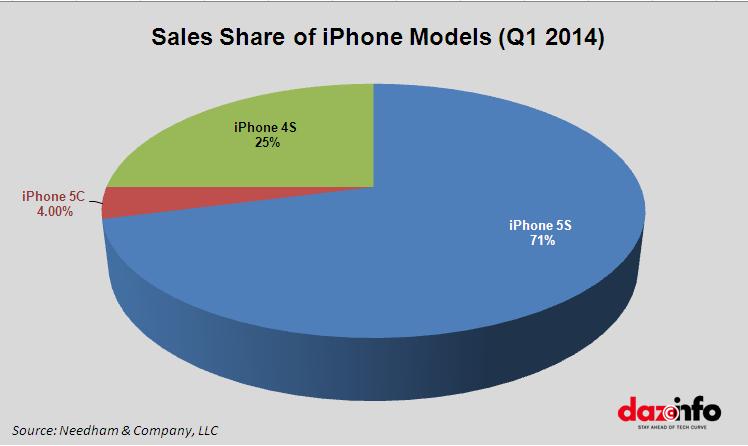 iPhone 5C Continues Its Disappointing Performance
The iPhone 5C is a sore point for Apple, one that simply refuses to go away. In Q1 2014, the sales share of the iPhone 5C was estimated at 4% which translates into sales of 1.8 million units. It was initially presented as an iPhone meant for targeting the emerging markets, but was sold at an extremely high starting price of US $650 for the 16 GB variant. The multi-colored plastic cased iPhone 5C  was a sore point for many users, who wanted only the best product from Apple. However, in emerging countries, especially India and China, an iPhone 5C 8GB model with a price tag of US$549 is being targeted for release in 2014.
iPhone 4S' Popularity Is Yet To Be Surpassed
The iPhone 4S was continued by Apple on a smaller scale to appeal to different segments of the market. It was the first device to feature Siri, the personal voice assistant for iOS and had improved features over the iPhone 4. According to the estimate for Q1 2014, the iPhone 4S was responsible for 25% of all iPhone sales in Q1 2014, which amounts to 10.92 million unit sales. Most of those who purchased the device are first time Apple users, which translates into 10 million new customers for Apple in Q1 2014 alone. According to Apple's own estimate, 85% of iPhone 4S users were new to the Apple platform.
Its popularity is unsurpassed among customers in emerging countries, mainly for its low retail price among all other iPhone models. Its average selling price is currently US$450, placing it in the mid-range smartphone market. This simple tactic contributed to sales of iPhone growing by 55% between Q1 2013 and Q1 2014 in India. Other countries such as Brazil and China reported strong increase in sales throughout 2013. Against all odds, Apple has succeeded in attracting more followers through this strategy. As the launch date for the iPhone 6 nears, Apple may finally be forced to drop the outdated 4S model.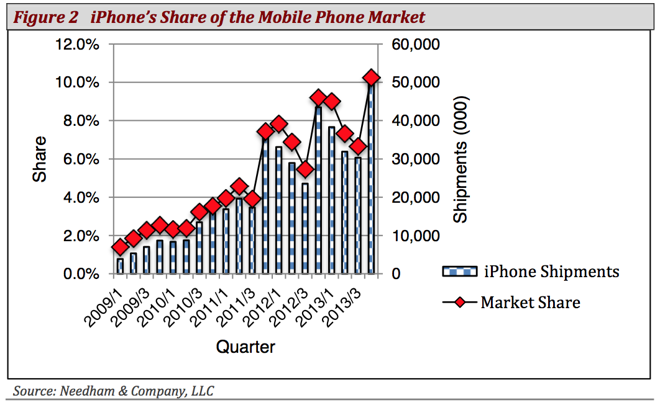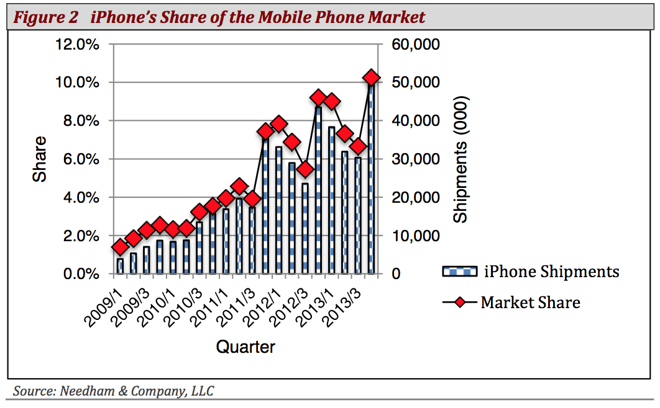 Brand Power Is Important For Users In Emerging Countries
The findings highlight the power of the Apple brand in emerging markets. It was believed for a long time that users in these countries would never purchase high priced smartphones, when other cheaper options were available. However, in these countries, aspirations of owning an Apple product are high, mainly because of the brand name and ease of functionality. The company also has the highest retention rate of 76% among all smartphone OEMs and massive customer satisfaction rankings among iPhone users. As Apple gains new users, they are more likely to stay within the ecosystem. In his note to investors, Wolf wrote:
"On innumerable occasions in the past, Tim Cook, Apple's CEO, has repeated the mantra that Apple would not stray from its strategy of building the aspirational brand in the smartphone market. If Apple can have its cake and eat it too, Apple and the iPhone could enjoy a prosperous future."
The flip side to this strategy is the rate at which Apple adds more customers. Smartphone markets in Europe and North America are saturating, and fewer users are upgrading their iPhones often. Analysts are still debating on how many older models of the iPhone, Apple can sell in emerging markets. The entry for budget smartphones such as the Moto G and Moto E are reducing the average selling price (ASP) of a smartphone daily, meaning Apple will struggle to keep up the high profit margins obtained through sales of older devices.
Apple is still a brand most smartphone users aspire to have, so there is no chance of  the company ever entering the low-end smartphone market. If these estimates are correct, the Cupertino giant is undoubtedly benefiting from its older products. Its main strategy is to remain a powerful aspirational brand, which no other company can currently aspire to be.