The main factors behind the purchase of a smartphone have long been the subject of a debate. Few OEMs, such as  Sony Corp (ADR) (NYSE:SNE), have focused on the camera of the devices, while  Samsung Electronics Co. Ltd. (KRX:005930) has used large screen size to attract more customers. A new survey from IDC's ConsumerScape 360, which involved 50,000 smartphone buyers globally, has thrown some interesting revelations. The online survey among users of all smartphone OS platforms, be it  Google Inc. (NASDAQ:GOOG) owned Android, Apple Inc. (NASDAQ:AAPL) iOS or Microsoft Corporation (NASDAQ:MSFT) Windows Phone, concluded that battery life was the most important factor for consumers while buying a smartphone.
The results are indeed surprising, considering that most users look for a variety of features on their smartphones. Among several categories surveyed, battery life was far ahead of others including ease of use and camera resolution. However the survey failed to mention some critical criterion such as the availability of apps, and price of a device.
Android Buyers Are Hardware-Centric
Among Android buyers, 56% of those surveyed saying that battery life was the most important issue while selecting a device. The availability tens of variant of Android devices is helping a buyer to choose a device with the best battery life. Interestingly, the hardware characteristics of a device, such as camera and weight/size, were more of an issue for Android buyers, than those on other operating platforms.
80% of smartphones worldwide are powered by Android OS, and an extensive range of devices, powered by Android OS, is available in the market. Hence buyers make their decisions based mostly on better hardware. 37% of buyers said screen sizes were another major issue as Android products are available in a wide variety of sizes. Operating system was the third major factor for Android buyers, largely due to Android fragmentation. Extra features, which are added on the software from OEM's, have also contributed to this trend.
Only one-third of Android buyers considered ease of use as a factor, while web browsing speed was the least important criteria.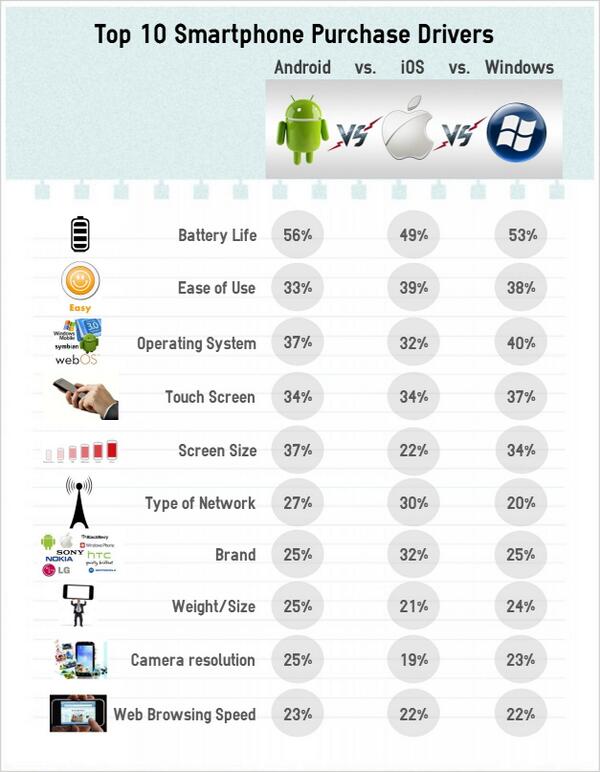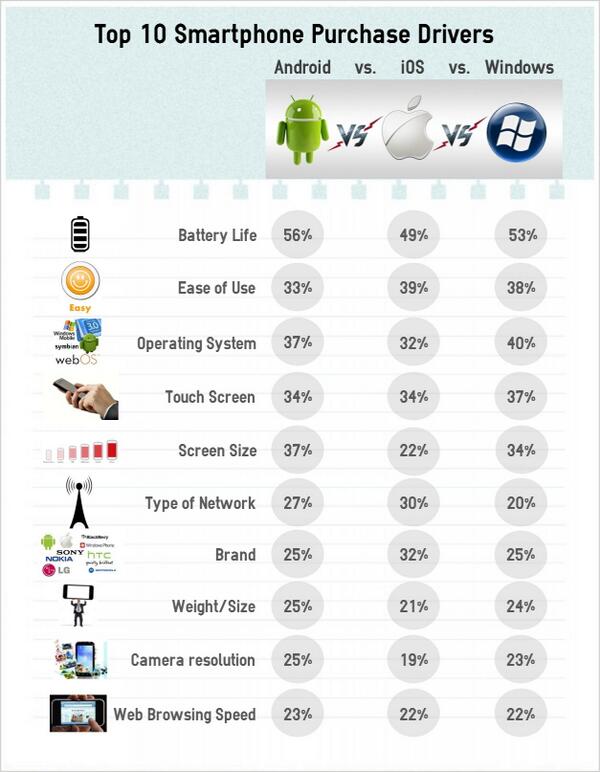 For Apple Buyers Brand Power Is Key
49% of Apple customers chose the device based on battery life. This finding is a surprise as Apple iPhones are known for their poor battery life . iPhone users are known to be greatest consumer of mobile data, therefore, faster connectivity plays a vital role here. This convinced 30% of buyers to go for iPhone based on listed network. Almost one-third of buyers purchased an iPhone based on brand, which was far higher than on the other two OS platforms.
The current iPhones have a  limited screen size of 4 inches, hence only 22% of Apple buyers took this factor into account. Camera resolution and the weight/size of the smartphone was of least importance to Apple buyers.
Operating System Drives Windows Phone Buyers
53% of Windows Phone buyers considered the battery life before purchasing a device. Windows Phone 8 devices are set to receive the 8.1 update in June 2014, and the updated OS is already garnering attention. The developers version reached 3.1% adoption rates within three days of its release. The Window Phone OS is a major attraction for buyers interested in the operating system of their devices. This has made OS as the second among factors at 38%.
Ease-Of-Use was the third most important factor for one-third of buyers. Despite the advanced camera features on Nokia Windows Phone 8 devices such as the Nokia Lumia 1020, camera was ranked as among the three least important issues for Windows Phone buyers. The other least important issues were the support of networks and web browsing speeds.
Improved Battery Life Is the Need Of The Hour
This survey highlights the need for smartphone OEM's to make massive improvements in battery life. Most users are still dependent on power saving applications and advanced features to improve battery life. As screen sizes become bigger and more cores and processing power are added, the battery life of the device takes a beating. With more advanced features  packed into smartphones, this will continue to be the biggest issue amongst smartphone buyers, irrespective of OS platform. Recently the latest high-end smartphones are packed with additional features for longer lasting battery life. The latest flagship devices such as the Samsung Galaxy S5 and the One M8 from HTC Corp (TPE:2498) have extreme power saving modes designed to extended battery life. In a recent test conducted on the battery life of various devices, it was found that the Galaxy S5 had the longest battery life of 8 hours and 20 min.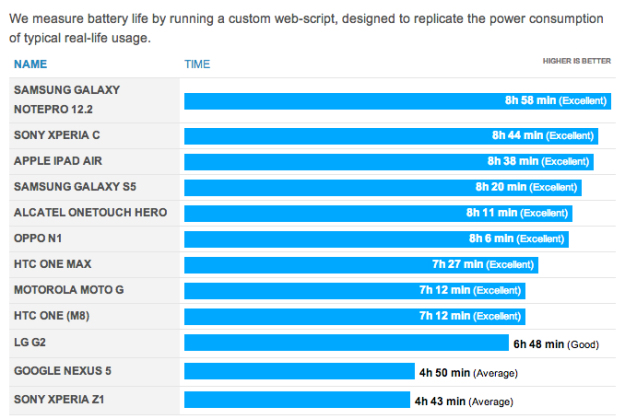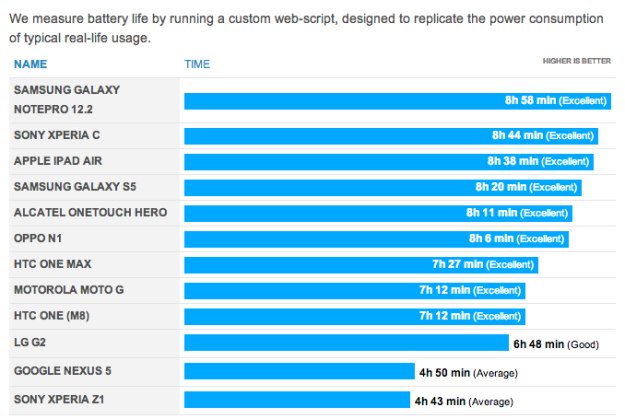 The findings are a clear highlight into the lack of interest shown by consumers in various other factors such as camera and web browsing speeds. For now, however, users will have to manage with all the options available to them, till the technology improves.
Is the device battery an issue in purchasing a smartphone? What can OEM"s do to increase battery life? Do let us know in the comments section below.