Apple Inc. (NASDAQ:AAPL)'s products are renowned for their high customer satisfaction rankings and its latest achievement puts global rival Samsung Electronics Co.Ltd. (KRX:005930) to shame. Marketing Insight, a South Korean firm, tracked smartphone user satisfaction rankings based on a number of factors and found that the iPhone 5S had the highest rankings among all the latest devices such as Samsung Galaxy S5, LG Electronics Inc. (KRX:066570) G Pro 2 and Nexus 5 in South Korea. This is a major embarrassment for Samsung whose overall satisfaction was just 52.3%, while Apple's was a massive 88.2%. The overwhelming positive feedback from the home base of tech giants Samsung and LG is a huge boost for Apple.
The survey was conducted among 9397 consumers who purchased a smartphone during the six months between October 2013 and April 2014. Apple received the highest score of 798 out of 1000 and was almost 200 points ahead of domestic vendor LG, which had a score of 609. Samsung had a score of 600 and Pantech, who introduced the kill switch concept, had a score of 577. 
Apple iPhone 5S and iPhone 5 Remain Unsurpassed in Customer Satisfaction
Samsung was ranked below Apple for a variety of factors including Display, Multimedia, Usability, Response to touch and UI design. 792 users of the iPhone 5S ranked the device as the best in all factors, with durability receiving the lowest rating of 66 out of 100. The total score was 810 out of 1000, while the iPhone 5 had a score of 742. Interestingly, despite the higher number of LG G2 and Galaxy Note 3 users, satisfaction levels hovered around a score of 650. It was also noted that product satisfaction usually decreases as time passes after a product's release and this is where the resilience of the iPhone is clear. Despite the release of the Galaxy S5 in March 2014 in South Korea, it fared miserably to reach sixth place while older models, except the LG G Pro 2, fared better.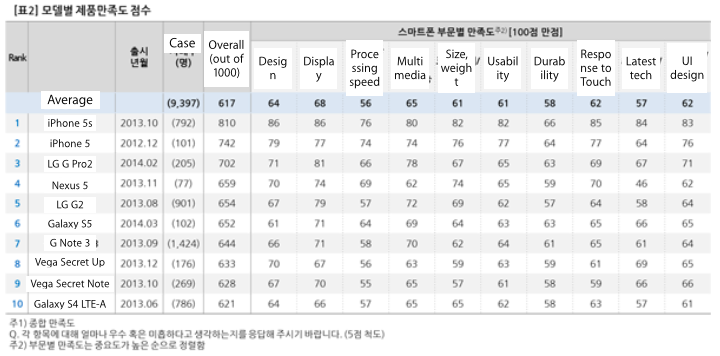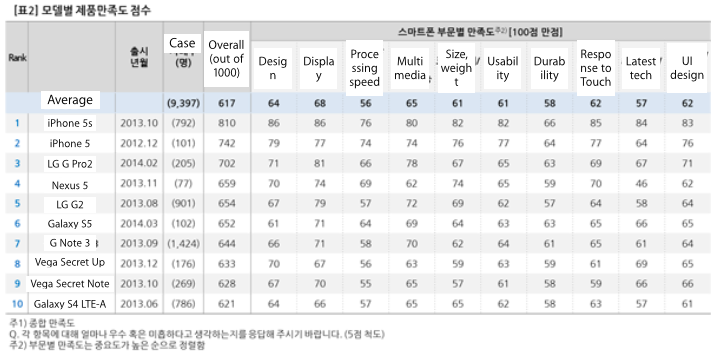 iPhones Have More Appeal Amongst Existing Users
The findings also highlight the difficulties faced by other brands in pleasing customers and building a steady fan base. Apple users are also among the most loyal, with 76% of iPhone users more likely to continue with their iPhones, rather than purchase a different product. Apple CEO Tim Cook has stated that Apple has always gone to great lengths to create products which are ranked high in customer satisfaction in product usage and customer loyalty. Apple is not interested in dominating the global smartphone market unlike Samsung and is eager to keep up the high profit margin it receives from the sales of the iPhone globally. Last year's poor sales of the iPhone 5C highlighted the customer's demand for a premium Apple device and not a cheaper variant.
43.7 million iPhones were sold in Apple's Fiscal Q2 2014, allowing Apple to maintain second place in the global smartphone market. However there also concerns of slowing iPhone growth and hence Apple is considering a radical new strategy for 2014. The appeal of the iPhone is much more among existing customers and the high-priced products are normally a put off for first time users. A third of all customers who switch from other brands prefer purchasing a  Samsung product, mainly due to lower priced products and the large screen sizes. According to CompareMyMobile, 40 % of iPhone users are reportedly trading their older devices to buy the Galaxy S5. To fight the competition, Apple is reportedly launching the 4.7 inch screen iPhone 6 in 2014.
iPhone 6 Could Trigger The Biggest Replacement Cycle
Apple sold 51 million iPhones in Q4 2013 and its was one of the best quarters for the company. However, it was also observed that upgrade cycles have declined drastically in the last two years, as users are happy with their current products. Customers who upgrade from earlier iPhone versions are crucial for Apple, as replacement sales are far higher than sales to  first-time users. According to ISI Apple analyst Brian Marshall, between 2011 and 2012 at least 10%-11% of iPhone users upgraded in any given quarter. However the upgrade rates in the past two years have fallen below 9% as customers were happy with their older products and saw no reason to upgrade. Out of the 500 million iPhones sold worldwide till date, at least 260 million units from the past seven quarters is the current install base. When the iPhone 6 becomes available, replacement sales could spike to anywhere between 13% or 14%, and make up 70% of total sales in fiscal 2014. 
There is no reason to doubt a large replacement cycle, if Apple launches a phablet – iPhone 6.  Apple's new device is sure to win back customers who migrated from the iPhone for lack of a large screen. Already these devices are a major attraction in China where phablets made up 40% of smartphone sales in Q1 2014. Apple reported US$10 billion of revenue from China in its fiscal Q2 2014 earnings report and the iPhone 6 is bound to be a huge sell-out as well. The market for phablets is estimated to reach 1 billion units by 2018. The possibilities are endless, as phablet users are more likely to watch videos on their devices and this will translate into plenty of revenue for carriers, thanks to the increased data usage. Already iPhone users are the most dominant data users worldwide.
Apple's replacement strategy is a winning move. By not entering the low-end market, the devices continue to stay premium, pleasing customers worldwide. This strategy is fraught with risks, as was proved with the iPhone 5c. If the iPhone 6 is a huge success, Apple will gain billions more in revenue and will brush off the competition. All it has to do is get the features right and sell the product at a competitively high price.