Apple Inc. (NASDAQ:AAPL) is taking the punch right on the face as the company has been constantly losing its Tablet market for last four quarters, despite of having ventured into small screen tablet market with iPad Mini. In 2013, Apple's tablet market share dived down to 36%, losing its potential market to Samsung, largely. Right opposite to Apple's performance, worldwide tablet sales grew 68% in 2013 and Android undisputedly captured 62% of the market. Overall, 195.43 million tablets were sold to end users in 2013, of which 120.9 million were powered by Android, followed by 70.4 million iOS powered tablets, according to Gartner.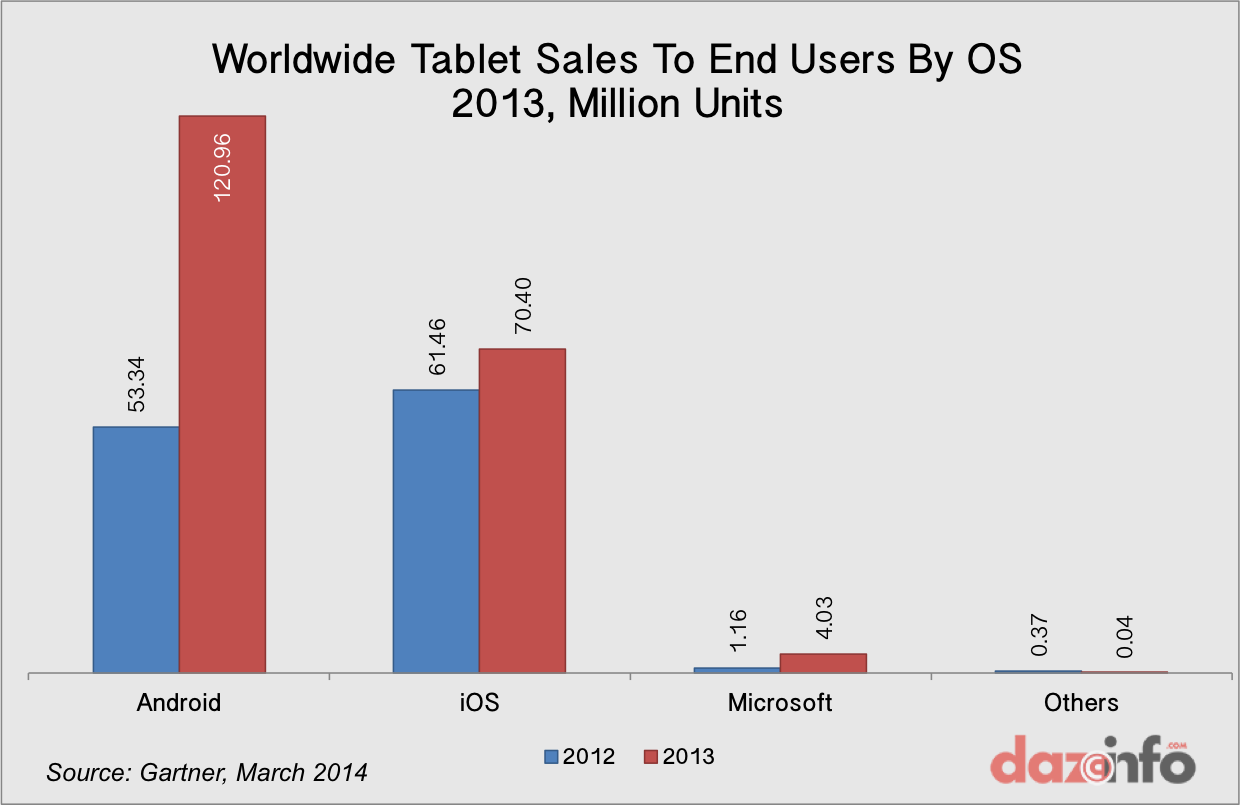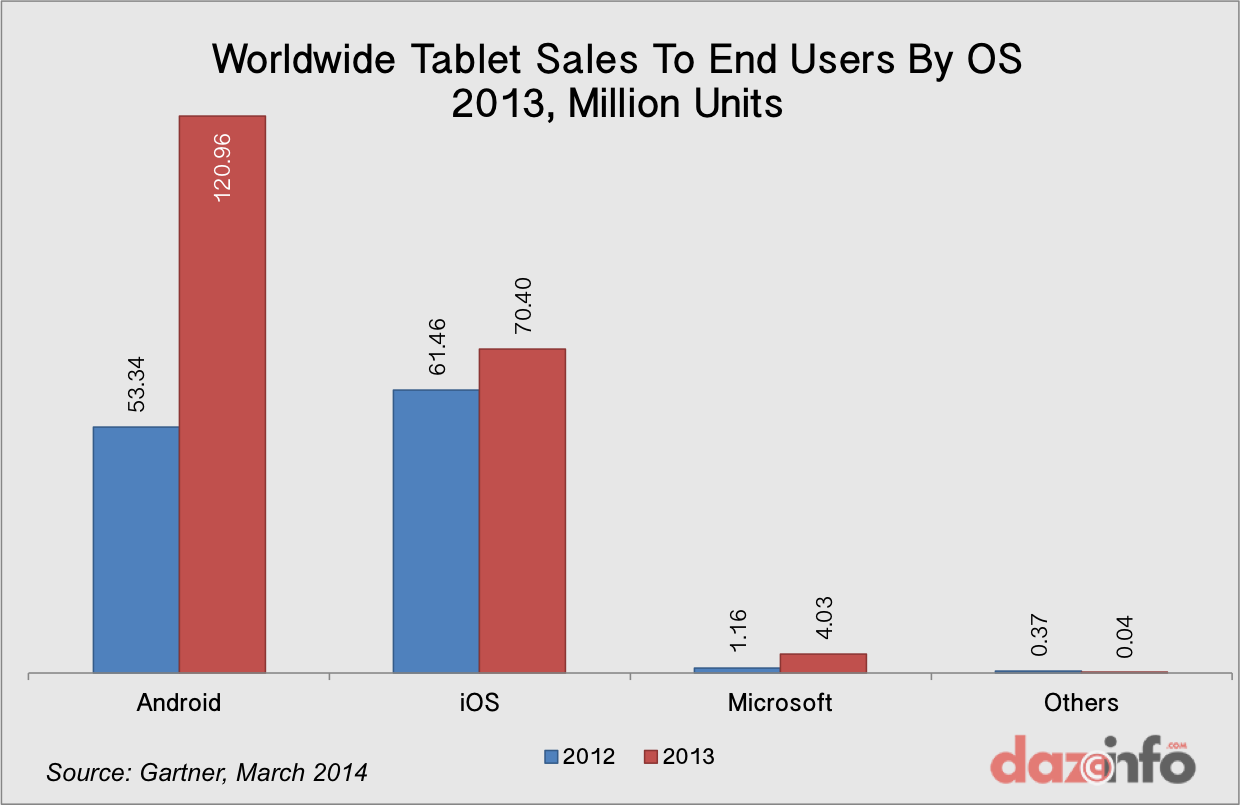 The low-price small-screen tablets fueled the growth of worldwide tablet market in 2013. Majority of first time tablet users rushed to grab 7 to 8 inch screen Android tablet that helped Android OS to secure the biggest pie of tablet market and also took the lead position leaving iOS behind, first time ever.
"In 2013, tablets became a mainstream phenomenon, with a vast choice of Android-based tablets being within the budget of mainstream consumers while still offering adequate specifications," said Roberta Cozza, research director at Gartner. "As the Android tablet market becomes highly commoditized, in 2014, it will be critical for vendors to focus on device experience and meaningful technology and ecosystem value — beyond just hardware and cost — to ensure brand loyalty and improved margins."
In 2013, Apple's iPad market share shrunk to 36% as compared to 52.8% in the previous year. From a vendor prospective, the company still holds the lead position, thanks to strong fourth quarter when Apple introduced iPad Mini 2 and iPad Air. Though Samsung exhibited the highest growth in tablet market 2013, it's still way behind Apple at number two position. The Korean electronics giant recorded 19.1% of total tablet sales 2013 with the help of aggressive promotion and marketing of its Galaxy range tablets.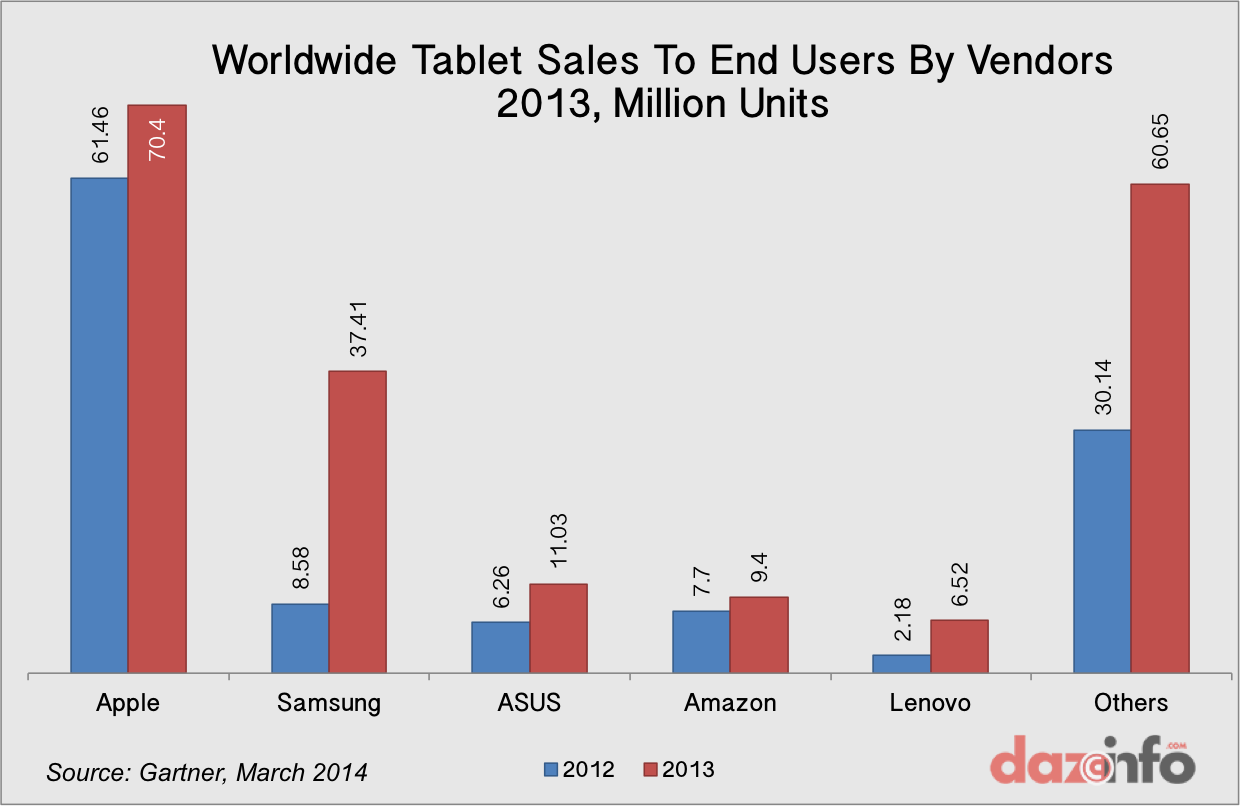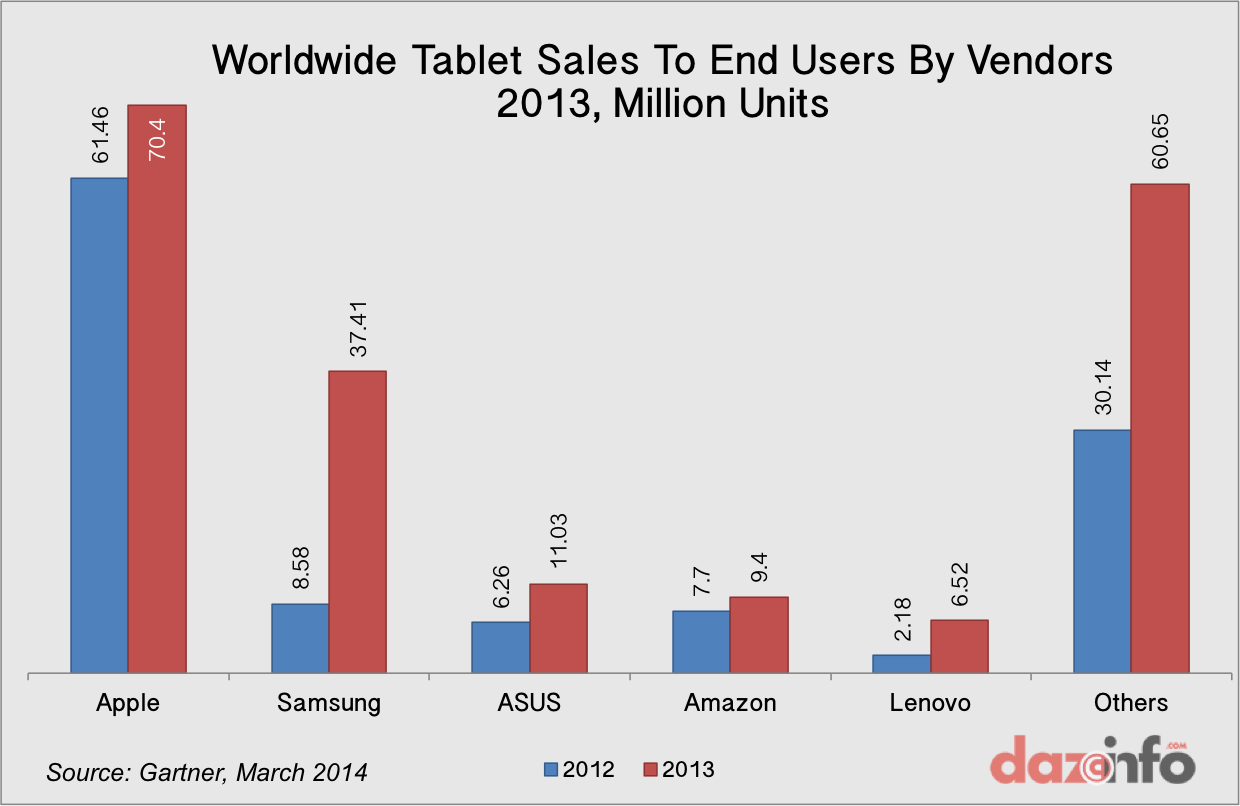 In 2013, tablet market also saw the emergence of many other players, who were on the margin earlier, with sizable market share. Companies like ASUS and Lenovo actively and quickly reacted to small-screen tablet market, estimated to control 57% of total tablet market by 2017, with Android and Windows 8 powered tablets. Though, ASUS failed to improve its market share in 2013, Lenovo's strong R&D capabilities helped the company to almost double its market share in 2013.
 Is Apple Really Losing Ground ?
Many of us see Apple's 2013 performance in tablet market in an assorted prospective. In 2013, Apple's iOS tablet market dropped to 36% though, the company sold almost 9 million more iPads during 2013. The drop in its market share was largely influenced by the improved quality of smaller low-cost tablets that grabbed more eyeballs than ever before. The demand of these tablets was relatively higher in emerging markets that recorded growth of 145% in 2013, while matured markets grew 31%. Apple iPads are still the most favorite in higher end of the market, while company is looking to improve its market share in emerging markets with iPad Mini.
The global tablet market has become a though ground to play for branded hardware driven players. Local players in emerging countries are constantly challenging Samsung and Apple, the two top players of tablets industry controlling 55% of total market. However, as more and more number of first time mobile device users are willing to upgrade themselves, smaller low-price tablet market looks promising in coming years.