While Apple is reportedly testing five variants of the large screen iPad for a 2014 launch, a recent study on worldwide tablet shipments forecast claims that small screen tablets will control 57% of the total tablet shipments in 2017. According to IDC's Worldwide Tablet Tracker, tablet shipments will peak at 386.3 million units by 2017.  The total tablet shipments are estimated to reach 221.3 million units in 2013, up by 53.5% from 2012.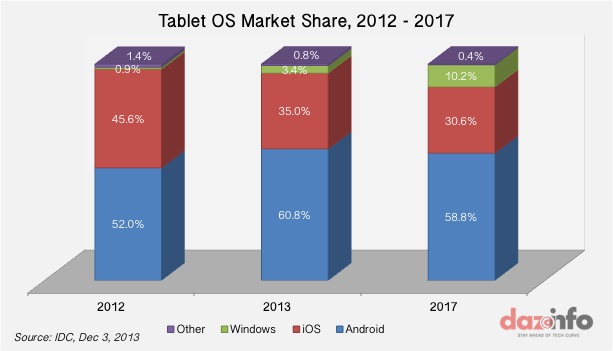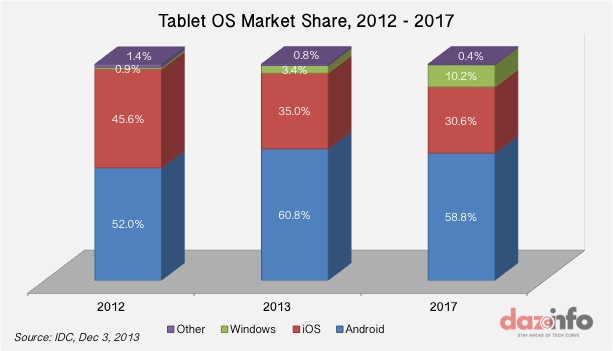 Small screen sized tablets are playing a crucial role in the overall market growth. In 2013, nearly 56.3% tablets will sport display-sizes between 7-inch to 8-inch. Surprisingly, despite of a warm response towards the new iPad Air, Apple is constantly losing its market to Google Android and Windows tablet. Apple's iPad is estimated to govern over 35% of total tablet shipments in 2013, while a little more than 60% of total tablets shipped in 2013 are projected to be powered with Google's Android OS.
Apparently, there is no end to Apple's declining performance in the tablet industry. By 2017, Apple's iPad market will be shrinked to 30.6% while the windows powered tablets will gain a sizeable chunk of the market by controlling 10.2% of the market.
"For months, Microsoft and Intel have been promising more affordable Windows tablets and 2-in-1 devices," said Jitesh Ubrani, Research Analyst, Worldwide Tablet Tracker. "This holiday season, we expect a huge push for these devices as both companies flex their marketing muscles; however we still don't expect them to gain much traction. We're already halfway through the holiday quarter, and though there have been some relatively high-profile launches from the likes of Dell, HP, and Lenovo, we've yet to see widespread availability of these devices, making it difficult for Windows to gain share during this crucial period."
Market analysts feel that a demand for big screen tablets is poised to grow due to the emergence of Phablet devices, which are narrowing the gap with the smaller screen tablet devices. Users prefer to invest in a 6-inch Phablet than a 7-inch tablet because a Phablet can give them many more features than a tablet at the same price.
Source: IDC