In the last few weeks, multiple reports have depicted that Apple Inc. (NASDAQ:AAPL), the leader in the global tablet market, is slowly losing its market to Android powered devices. In fact, a recent forecast report on worldwide tablet shipments projects Android and Windows tablet having positive growth at the cost of Apple iPad. Compared to 2012, when Apple iPad swiped nearly half of the tablet market by controlling 45.6% market share, the company is estimated to lose nearly 35% of its market before settling with 30.6% of the market share by 2017.
Despite of the eye-opening statistics, many die-hard Apple fans are not ready to accept the fact that Apple is losing its grip on the worldwide tablet market growth. To test the authenticity of their claims, we have pulled quarterly shipment data of the tablet industry, Apple's contribution and growth, and have framed all of it together for a tete-a-tete comparison.
For the last four quarters, the number of iPad shipments has been persistently declining. During the same time the number of overall tablet shipments, a majority of them running on Android kept on improving their market share quarter over quarter. Apple iOS tablet (iPad) shipments dived to 14.1 million units in the latest quarter, ended on September 30, 2013, from 22.9 million in the fourth quarter of the last year. However, Apple is expected to see a significant improvement with iPad shipments in Q4, 2013 due to the latest introduction of the new iPad Air, launched in October.
One big reason behind Apple's substandard performance is the poor pricing strategy for maturing, yet one of the biggest, markets such as India and China. The iPad maker apparently failed to fascinate new tablet owners in comparison to a growing tablet industry. Samsung and Google have both penetrated the maturing market with a low-priced small screen Android tablet. Understanding the fact that small screen tablets are controlling more than 50% of worldwide tablet market, Apple presented its bet with the iPad Mini to grab a sizable pie of it. However, the price conscious users in countries like India and China are finding more value in buying bigger screen Android tablets by investing almost the same amount, required to own an iPad Mini.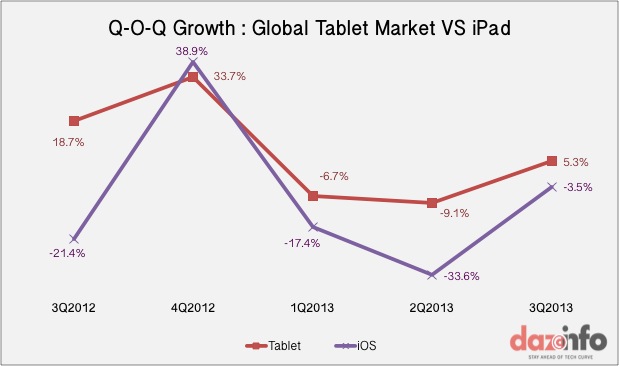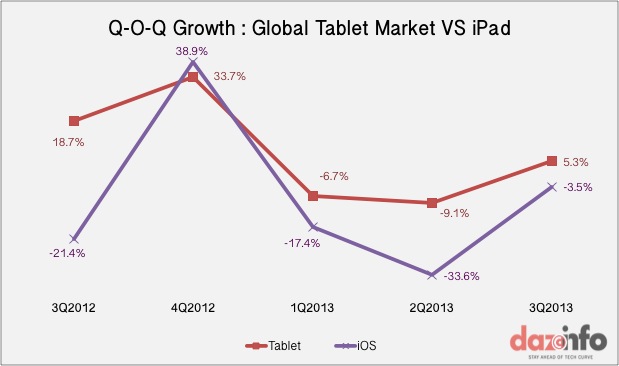 The situation is no different in the big screen tablet market. Apple, Samsung and Google are testing each other on various aspects, like price, features and after sales support. While Google is going gaga over its Nexus range tablet, Apple is maintaining high hopes with the new 9.7-inch screen iPad Air.
All such scenarios have forced Apple to explore new boundaries and consequently rumours are out claiming Apple is in advance stages of testing five variants of new iPad sporting giant 12.9-inch display.