Social media networks are drastically evolving themselves to battle the fierce competition with top players and emerge as the user's favorite. Facebook Inc. (NASDAQ:FB) which has over 1.189 billion monthly active users is struggling to keep the users engaged especially in developed states, it is seen as a utility and an obligation (as most of the user's close peers are still using the platform) rather than an exciting new platform that teens can boast of. Twitter Inc. (NYSE:TWTR) on the other hand is more fascinating only for a certain, elite user group and is failing to educate the common man, especially the ones from developing nations, about its rich custom and traditions. LinkedIn Corp. (NYSE:LNKD) is a leader in professional networking with a majority of its users involved in serious discussions, the users which tend to adopt LinkedIn fall in much different categories. Adoption of social media networks by web users across the globe varies with the age group as well as geographies.
Twitter Emerges As The Teen's Favorite, Followed By Facebook And LinkedIn!
According to the latest report by a leading researcher of digital trends, comScore Inc. (NASDAQ:SCOR), a major chunk of teenage social media users at the global level prefer Twitter over Facebook and LinkedIn. The trend shifts in favor of LinkedIn for higher age group folks.
If we analyse the picture above, in the age group 15-24, 32.3% of teens prefer Twitter compared to 28.9% in favor of Facebook and 21.4% for LinkedIn. Amongst users in the age group 25-34, Facebook emerged as a favorite with a 25.2% share, followed by LinkedIn with 23.9% and Twitter with 22%. An interesting observation was amongst the users of a higher age group of 35-44, where LinkedIn proved its dominance with 20.1% share, next in line was Facebook with 18.5% and Twitter with 17.6%.
Couple of reasons which can be attributed to Twitter's prominence in the teen group are that Facebook is losing its charm, although the social media titan is working hard to improve user experience in terms of brand engagement, it has lost its base as a networking platform and is used more for news consumption, brand engagement and to request or persuade other close peers to shift to Twitter or an alternate platform. Teens are highly impatient and hate reading long status updates on Facebook, involving too much of garbage comments and non-stop notifications popping up. On the micro-blogging site, the entire update is limited within 140 characters, which hardly requires anytime or effort to go through, and users can click the link or URL (included within the tweet) if they find the tweet update exciting. Twitter has also introduced visual tweets which encloses images and videos within the timeline feed providing a similar experience as that of Facebook photos/videos, hence teens find it as a much better alternative to Facebook.
Twitter is a powerful communication device, much more viral and exciting than Facebook. It has also emerged as a prominent player in the talent hiring arena with 15 new job posts every minute, resulting in more teens shifting towards the micro-blogging platform. Younger generations prefer following their favorite leaders, celebrities, sports star and youth icons on Twitter. The idea of having more privacy is yet another reason why twitter excites teenagers compared to Facebook. Usage of LinkedIn is more amongst the higher aged folks, as the adult group prefers switching to better job opportunities.
If we focus on the U.S population, the observed trend is somewhat similar to the one at a global level. In the age group of 18-24, Twitter usage was up voted by 18.2% whereas Facebook was used by 14.1%, LinkedIn was opted by 9.6% of teenage folks. In the following age group (25-34), Twitter again proved its dominance with 21.4% usage, Facebook with 19.2% and LinkedIn with 19.7%. As expected, higher age group focused more on LinkedIn (18.7%) rather than fun-filled Twitter (17.2%) or Facebook (17.2%).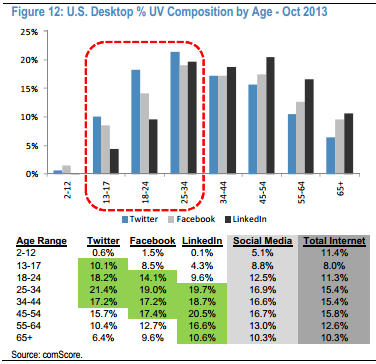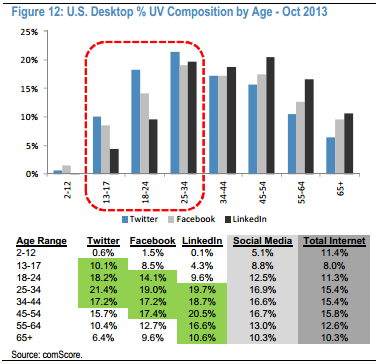 Social media giant, Facebook has nearly dried up in developed states like the U.S.A, teenagers have explored every single feature of Facebook and find it less exciting compared to contemporary social media sites like Twitter and Tumblr. In the above graph we can see an increasing usage of Facebook compared to Twitter in the higher age group people, which has resulted in majority of the U.S teens shifting to alternate service platforms due to privacy concerns.
Close To 25% Of Social Media Mobile Users (18-24 Age) Prefer Twitter Compared To 19.4% For Facebook!
The world is witnessing a go-mobile era, as usage of smartphone and tablets is booming at an explosive rate, emerging as an inseparable part of human body. The trend of surfing for information or social media is shifting towards the mobile platform at a galloping pace. If we analyse the mobile social media usage amongst the U.S folks, social media platform which is more suited to mobile platform is likely to emerge as the leading network with a better usage rate. About 24.8% of teenagers in the age group of 18-24, prefer Twitter whereas Facebook was opted by 19.4%, LinkedIn by 14.7%. In higher age group usage of Facebook and LinkedIn increased for reasons mentioned earlier.
Couple of points which justify the observed trend amongst social media mobile users especially teenagers is – Twitter's re-birth as a mobile network, increasing bandwidth consumption for Facebook on mobile and appealing Twitter features like re-tweet. Twitter was the first of the social media networks to adopt for the mobile first strategy, the soothing arrangements of Twitter features on miniature mobile screen are more engaging and attractive compared to Facebook's numerous features which hardly suit the mobile platform. Enormous data consumption for loading Facebook features in comparison with Twitter is yet another reason why teens (usually they are dependents) prefer Twitter more.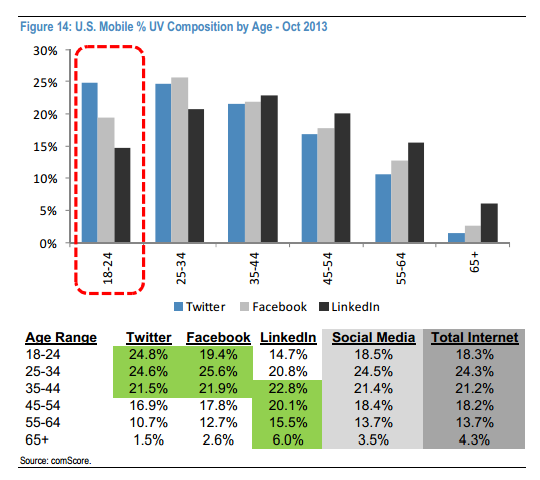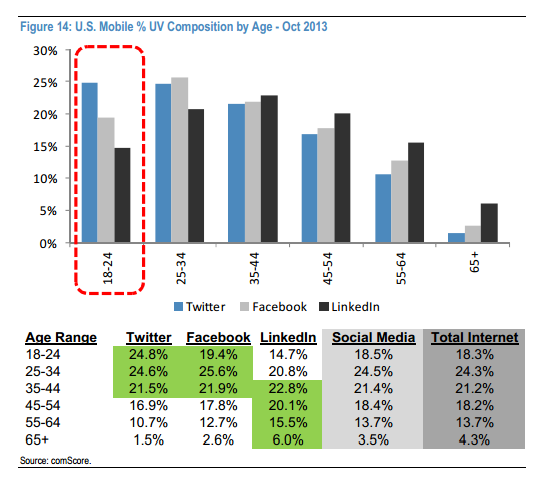 Source :  AllThingsD