Nowadays, mobile phones have become a crucial part of human life and are as popular as the internet. World has witnessed more and more magic generations of mobile phone. As we can see majority of people prefer using mobile for every single task, number of companies worldwide are striving to get adjusted to mobile platform by having an app and also making online presence more mobile friendly. The mobile consumer is on the move, and marketers will have to learn how and where their customers aggregate in this new digital landscape.
17% Of worldwide web usage is through Mobile
About 17% of world-wide web usage is through mobile phones and out of little over 1 billion Smartphone users across the globe, 80% is on social media. People prefer catching up an email or news over smart phone or Tablet instead of taking trouble of booting up a laptop. On an average each smart phone owner uses 41 apps and this figure will grow further as number of Smart phone users is expected to reach 1.82 billion by end of 2013. According to a study by New relics, on an average user spends about 70 mins/day in browsing, 127 mins/day on mobile apps and about 168 mins/day on mobile TV. Asia tops with 26.6% of its internet users using mobile phones in 2013 in comparison with 18.8% in 2012.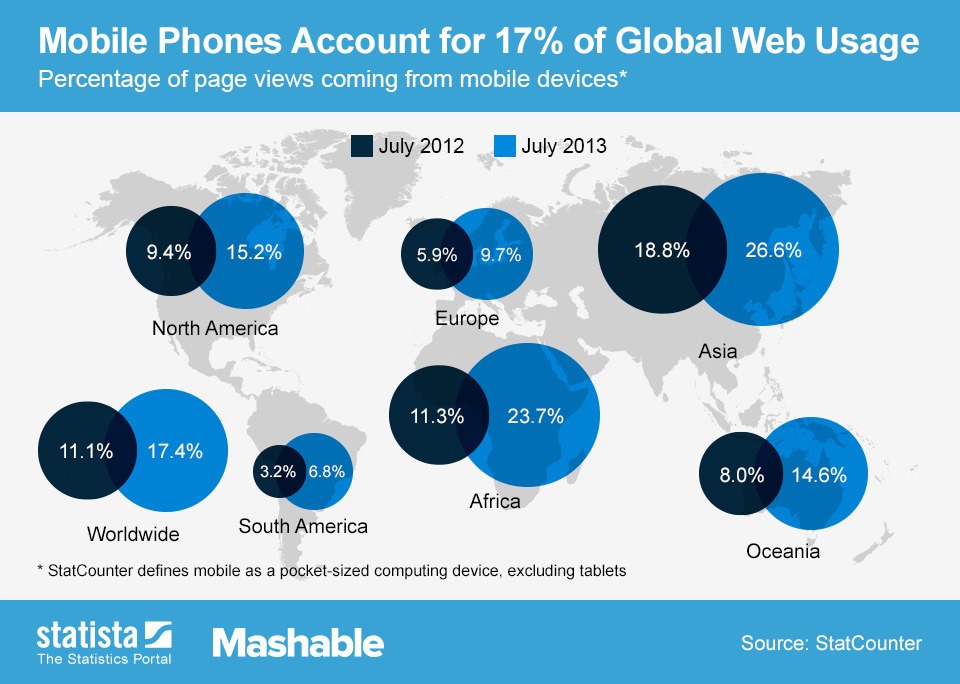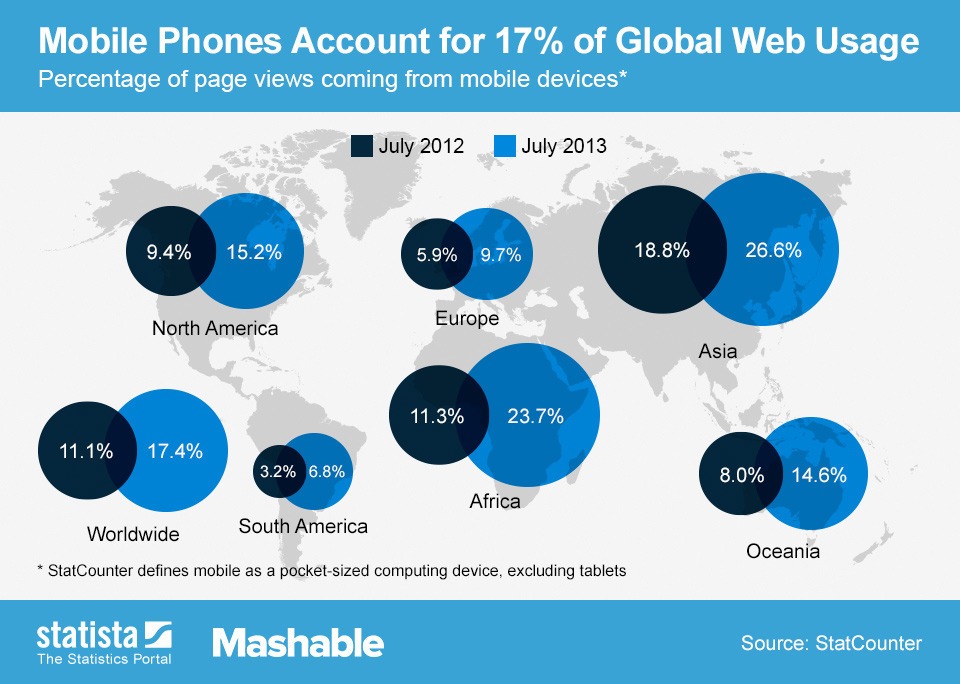 About 469 million DAUs of Facebook browse through Mobile
Out of mammoth 1.15 Billion Facebook users, nearly 469 Million of them are Daily Active Users (DAU) on mobile. Due to large mobile screens, web dwellers prefer using mobile phone over laptop/desktop for browsing Facebook. This statistics is very vital for Facebook to establish itself in mobile platform at the earliest. Even the advertisers would be eyeing on social media sites for publicity which would best suit itself on mobile platform. So all Social media sites, especially Facebook, need to gear up faster to attract advertisers.
On an average ,people check their mobile phone every 6.5mins
Very often a person pulls out smart phone his pocket, if idle for more than a second. Even while travelling to workplace or other places majority of people spend time downloading games, reading news, thumbing through photos. On an average a person checks his/her phone every 6.5 minutes and about 150 times a day. According to New Relic's usage breakdown, games make up 43 percent of people's time, while social media consumes about 26 percent.
With increasing amount of work pressure for all big and small corporate workers,  mobile phone are considered to be one of the best place to spend time during breaks, for reading news and to relax. Also majority of on-field and sales work is through tablets and mobile. Mobile is emerging as a powerful device of entertainment and source of information. Above statistics should be alarming for all B2C firms to have their online presence suited well for mobile platform and build exciting apps for users and driver traffic on their site.
Mobile e-commerce now accounts for 23% of online sales
Majority of brands selling their products online see a quarter of their sales coming through the mobile platform. This statistics is pretty vital and important for all e-commerce players to come up with mobile app for online purchase and various updates. With lot of companies introducing large mobile screens, online shopping has become much easier on mobile. According to eMarketer, In U.S, e-commerce sales, through mobile, is expected to reach $41.68 billion by end of this year and about $100 billion by 2017. Interestingly, about 62.5% of mcommerce sales is dominated by Tablets. According to a study by Adobe, 43% of tablet users prefer shopping through their device.
With advent of "Go Mobile" era, it's very vital for all the firms and brands to develop, improve their presence on mobile platform. Mobile applications can be one of the best ways to keep your consumers engaged with your brand. Android and iPhone apps are a brilliant opportunity to contact the media and let them know about your company and brand. It doesn't matter, whether you are a start-up or well established brand – media loves to talk about Android, iPhone apps and this is you chance to capitalize on that trend. A bigger chunk of IT-literate, smartphone-savvy, young professionals expect well-known brands to have an app now, so if a particular firm is foreseeing to be leader in industry – it should start thinking of creating an app.