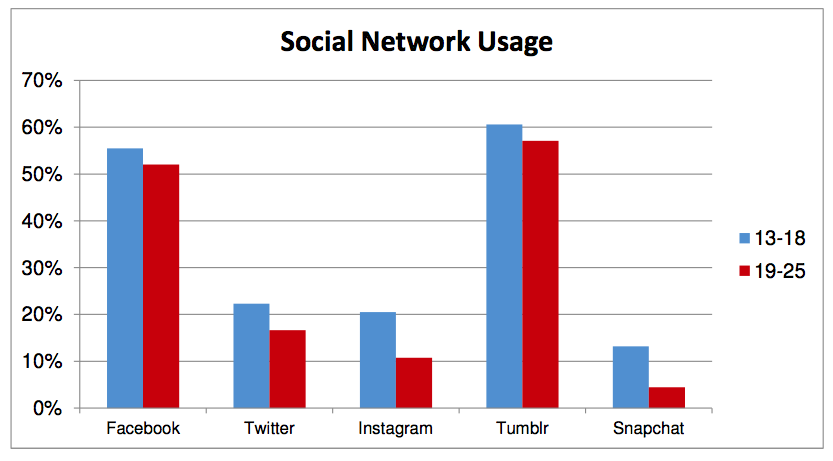 Facebook is losing its luster among teens; they think Facebook is pretty out-dated? A survey conducted based on two groups of consumers aged 13-18 (Teens) and 19-25 (Young adults), to find out which social networking sites they preferred most. The social media sites on which the survey happened includes, Facebook, Twitter, Instagram, Tumblr, and Snapchat. Astonishingly, Tumblr and Snapchat found to be more famous among young users, despite of they being newcomers, compare to the rest of competitors.
Very entertainingly, Tumblr is pocketing all the teens and they believe that Tumblr is the best platform to share their inner most feelings, though it's a petite comparison with Facebook. Tumblr not only hammers Facebook but also its photo-sharing site Instagram. This blogging site consists, 61% of teenagers and 57% of young adults. While in Facebook, 55% of users aged 13-18 were recorded and 52% users aged 19-25. The survey also points out that teens are not so interested in photo sharing the survey points, as Instagram is showed only 21% of teens and 11% of young adults.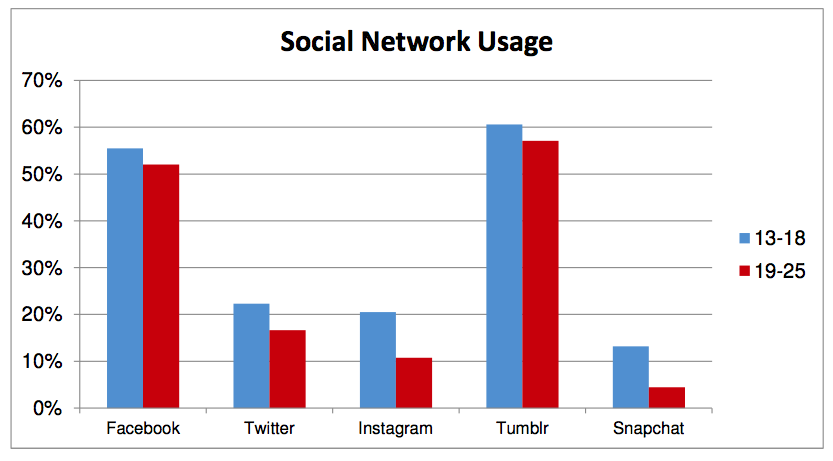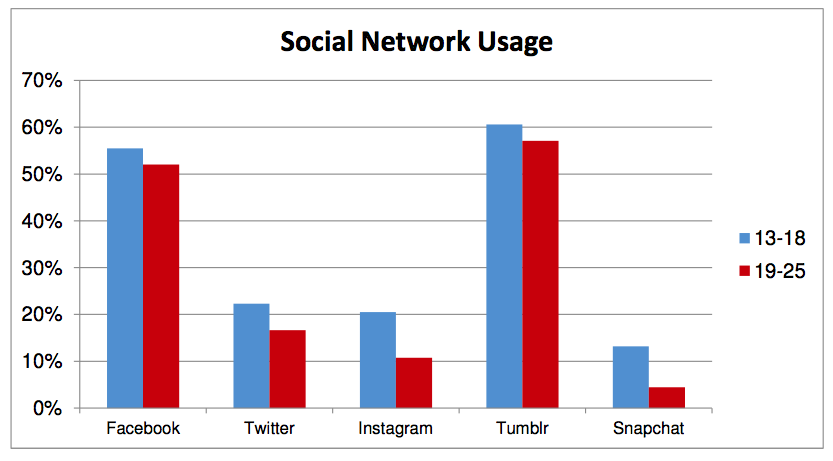 Guess those 140 characters are not engaging young users as just, 22% of teens and 17 % of young adults are seen in Twitter.
It seems, the photo-messaging app Snapchat doesn't disappoint young users because its quite close to the already-established sites, it accounts for 13% of teens and 4% of young adults.
Interestingly, across the survey we see, young teens show more interest in social networking sites than young adults.
Teens want to be the non-conformist, which is always been a tale of time. If its popular among adults (parents and family) they don't think it's cool anymore. What young users are looking out for is Animated GIFs and blogs? Is Facebook really boring to teens? Is the survey indicating, Twitter magic word's downfall in near future? Facebook's one billion gem going waste? It's the time to arouse, know better, the choices of users else these predecessors can easily lose their ground for the newcomers. Also, Facebook can think over the Acquisition of Snapchat and Tumblr.