LinkedIn Corp. (NYSE:LNKD) is, undoubtedly, leader in online professional networking with more than 259 Million users, using the platform for serious business purposes. Majority of users are using the platform for activities inlined with job hunt. Understanding Linkedin's users behaviour, majority of head-hunters have opened their online shop on Linked in a form of Pages and personal accounts, and the whole network is transforming into a Professional Recruitment Platform. But, the regime of Linkedin is being challenged by Twitter  Inc. (NYSE:TWTR)as the micro-blogging network has emerged into talent hiring market with more than 500,000 job posts per month and is likely to cross 2 Million job postings by 2014. These figures are indeed vital and a matter of concern for LinkedIn.
According to the report – base upon job related Tweets analysed between April and October 2013 – from social recruitment company Gozaik, , 15 new jobs are posted per minute on the Micro-blogging site, proving it as next possible competitor for LinkedIn. The number of job related posts have increased by whooping 32% in last 6 months.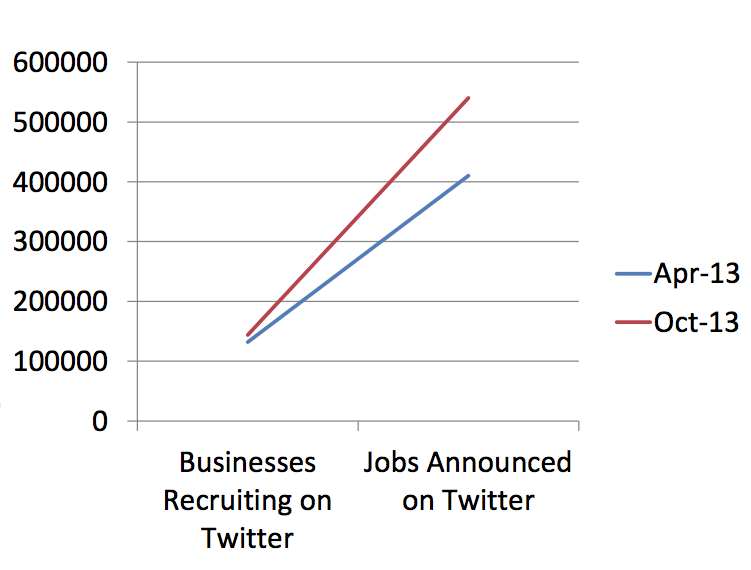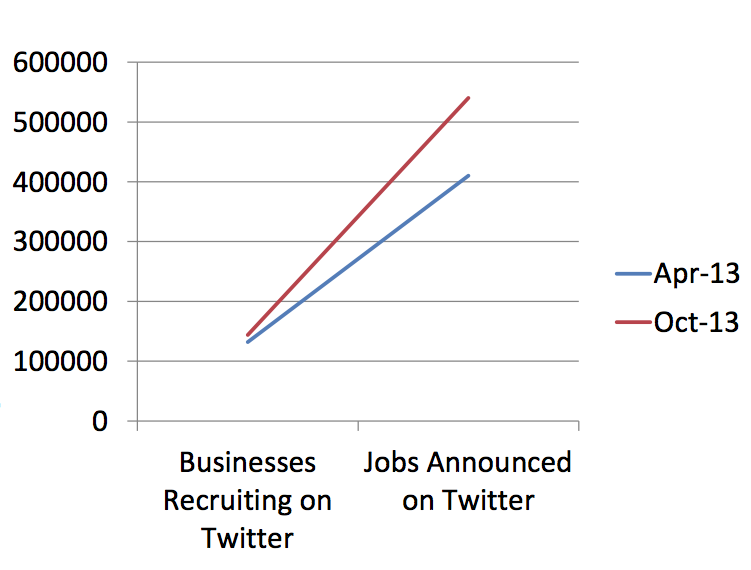 Majority of jobs available on Twitter are of sales profile followed by I.T. and other technology related fields; Sales Jobs accounted for 24.70%, followed by IT/Technology related profiles with 24.58% of total number of job posts on Twitter. Jobs postings from medical and dental industry with profiles of anesthesiologist, Orthodontist, Medical Director accounted for 15%. It was very astonishing to note that above mentioned medical profiles are rarely found on LinkedIn. This factor undoubtedly provides an extra edge to the micro-blogging specialist in talent hunt arena.
Why Twitter Is Likely To Soar High In Hiring Top-Talent?
Twitter continues to be the centre for users belonging to elite group of society, very few people are able to express their entire thought process or share their experience in 140 characters. Probably 140 characters depiction of user's thought process on the micro-blogging platform is closely associated with short and effective sales pitch required for sales representative and that might be the reason why sales jobs are more on Twitter. Generally Doctors, Surgeons and other eminent professionalises – always run tight with their schedule -prefer sharing knowledge, their day-to-day experience On Twitter by sneaking in few seconds enough to tweet. Consequently, Job posts in related field are always higher on Twitter.
It is well-known fact that Twitter is facing problem in educating layman about its usage and benefits over Facebook and other social media sites; but at the same time limited user-base of Twitter, has promoted itself as a social place for top talent pool, who appreciate Twitter's customs, traditions and are able to grasp the excitement of its viral nature. For the same reason, micro-blogging site is likely to be hotspot for Job hunt in future.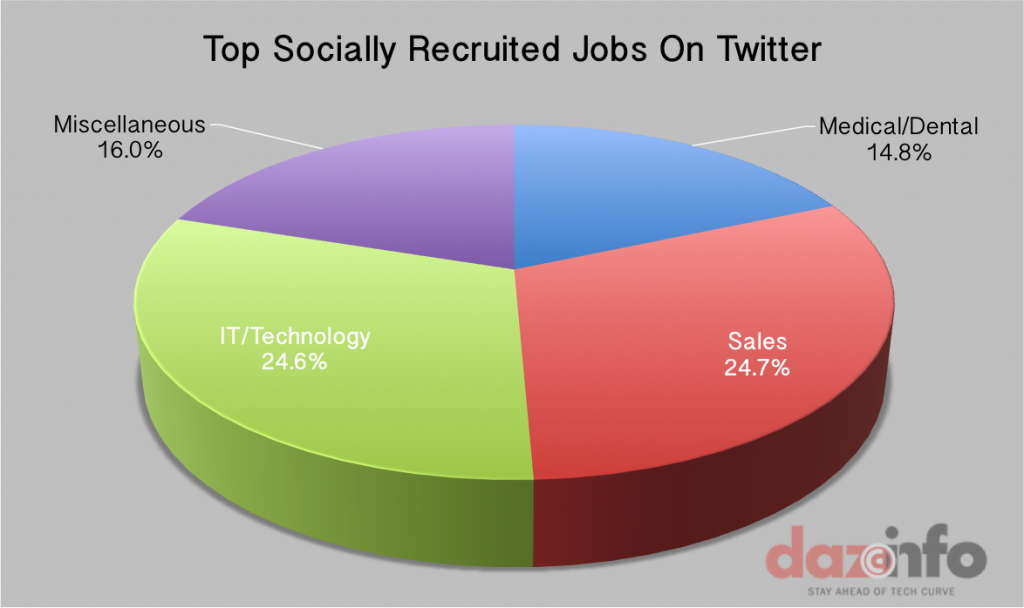 "They are recruiting surgeons on Twitter and top-notch oncologists — many roles you don't even see on LinkedIn," said Gozaik co-founder,Joe Budzienski – "There are a lot of professionals on Twitter who blog and tweet about the medical field, so therefore you get lots of announcements coming out in the hopes that these individuals will see them."
With such a massive growth rate of 32% in job posts every 6 months, Twitter is likely to challenge the career space giant LinkedIn. Users can find the professional networking platform of LinkedIn effective, only if a users is able to identify himself and if his profile is complete and heavy weighted. It is important for LinkedIn users to connect with everyone they know so that probability of accepting a 'connect request' to any employer is higher if there are many mutual contacts. Simply posting your experience and keeping it open for public to view won't help much unless you are active enough on various LinkedIn groups and knowledge rich platforms like Influencer's Program and channel content.
Twitter, with its limited intellectual user base who express themselves in minimal words, will continue to zoom higher in talent hunt field. Features like ReTweets help in spreading the message like a wild-fire to vast audience. Job seekers who are active on Twitter can easily search for their dream profile  by a simple search on the most relevant keywords such as profile, title and location. This will bring up relevant results for all open positions that have been tweeted by employers or even the ReTweets by other users. In minimal duration and at almost zero monetary investment of employer or recruiter, the tweeted jobs are put in front of a large talent pool of both active and passive candidates.
via Venture Beat