Digital content space is heating up with each passing day. First, it was Facebook, followed by Google and now it's time for LinkedIn to set its focus on data & information cleansing only to deliver most effective and valuable content to audience to keep all of them intact and engage.
LinkedIn has launched an "Influencer Program" where users could follow Top 150 professionals – Thought Leaders – without actually been connected with them. LinkedIn users can see those influencers news, updates without sending any connection request. The feature has been introduced to impress users who are quite fascinated towards latest news, reviews, gadgets and stay connected with internet around the clock through various channels and devices.
It's been some time when LinkedIn introduced 'News section' which is proving to be very helpful for world's largest professional network to increase engagement ratio of users. Now, the latest feature is, apparently, an extension of the same which could help users to stay updated with information that could have maximum impact and buzz in the market.
"For some time, you've been able to follow news by industry and sources, companies, and groups — these updates have seamlessly become part of the discussions you're having everyday on LinkedIn with your peers. And now, you can follow other professionals on LinkedIn." Said, Ryan Roslansky from LinkedIn.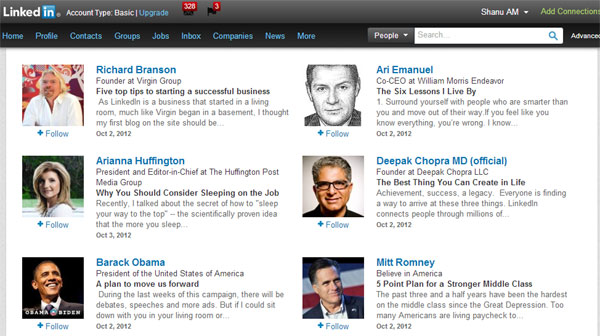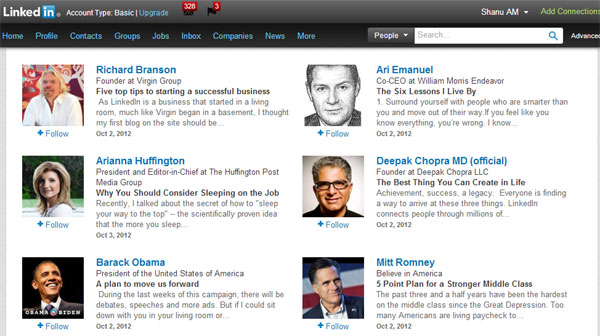 Definitely, the much appreciable move could be very helpful for many LinkedIn users who always look forward to consume information right from authentic and originated sources. The list comprises of many well-known personalities – including LinkedIn CEO Jeff Weiner, Richard Branson, U.S. president Barack Obama, Deepak chopra and many more – who have millions of followers at other social networks and people, too, like to hear from them frequently.
Intelligently, LinkedIn has not restricted the list only for hand-picked public figures. It's also welcoming those who may not stand next to celebrities but have significant influence over people or communities in their own niche. Such influencers have a chance to join the elite list of LinkedIn Influencers' network and could make their network more strengthen and interactive.
If you feel that you are among one of them or like to nominate someone, here is the link to do so. However, LinkedIn is actively working on the list to make it more reformed, responsive and impressive and in coming few months we could see many more categories and most active influencers in the list.